There are countless ways to share your service and achieve the Third Goal.
---
Peace Corps' Approach to Ethical Storytelling Toolkit
Ethical storytelling is a practice of sharing stories in a way that is conscious of power dynamics and grounded in mutual respect. There are many organizations working to promote ethical storytelling in their domains, especially organizations that engage in intercultural dialogue. This toolkit builds upon existing work and centers it in a Peace Corps context – rooted in building and celebrating person-to-person relationships, and tied to our approach to intercultural competency, diversity, equity, and inclusion.
Storytelling is at the heart of the Peace Corps experience, and this toolkit, which is intended to support RPCV storytellers, is just one way in which we are working to strengthen our storytelling approach. We look forward to partnering with all members of the Peace Corps network – RPCVs, staff, Volunteers, and host communities – to continue to grow our capacity to ethically and responsibly share our stories.
This toolkit consists of a video and a workbook, which are intended to be used together. Whether working alone or in a group with other storytellers, we hope that you will watch the video and throughout, thoughtfully respond to each question and exercise in your workbook. Note that the toolkit is not intended to serve as a how-to guide for crafting a story. Instead, it will help you apply the same foundational intercultural tools that guide Volunteers in integrating with their host communities to your storytelling, using the Self-Other Bridge framework and other strategies to help you mindfully craft your story.
It should take about 90 minutes to complete the video and all activities. At the end of the workbook you'll find a few suggested ways to share your story, and we hope that you will consider doing so.
Download the Peace Corps Approach to Ethical Storytelling Workbook and watch the video below.
---
Social media
Share the culture of your country of service on social media.

---
Global Connections
The Global Connections program allows learners to experience different countries, cultures, and traditions by introducing them to customs, beliefs, and adventures many have never imagined. These connections inspire global competency in the classroom and beyond, and give students an insight into the Peace Corps experience.
Get details on Global Connections
---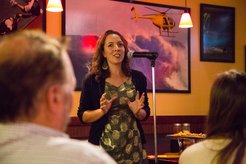 Tools and resources