Indonesia
Projects in Indonesia
Education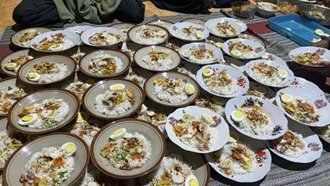 Teaching English as a Foreign Language (TEFL)
As English Teachers, Volunteers in Indonesia will have the opportunity to collaborate with one or more local teachers in a middle school, high school or vocational school setting to support English language acquisition. Together with teachers and community members, you are able to achieve measurable impact in the students' academic skills and professional outlook.
In co-planning and co-teaching alongside Indonesian teachers, Volunteers are able to simultaneously reinforce English fluency and engage in instructional capacity development. Volunteers will have the latitude to collaborate on locally-prioritized extracurricular projects such as English clubs, after school sports, or arts. Currently Volunteers are matched to communities and schools in one of three Indonesian provinces: East Java, West Java or East Nusa Tenggara.
Volunteers teach in either public schools or madrasahs (Islamic schools). Though governed by different ministries, public schools and madrasahs have many similarities. Both schools apply a Monday through Friday/Saturday schedule, run on the same year-round, two semester schedule (with breaks in December and June-July), and both are working to integrate recent education reforms, the Merdeka Belajar (Freedom to Learn) initiative, which focuses on interactive student engagement, enhanced performance assessments and practical classroom teaching plans.
The language of instruction in both schools is Bahasa Indonesia, though local or regional languages may be offered as a school-specific subject. In public schools and madrasahs, English is a mandatory subject for students in 7th to 12th grade; English is an optional subject in elementary school.
TEFL Certificate Program
Qualified candidates for Peace Corps Indonesia's TEFL Education Project will have the opportunity to enroll in the Peace Corps TEFL Certificate program. This program provides 120 hours of standardized training and practice teaching along with supervised teaching experience framed through quarterly online learning events facilitated by post staff. Teaching observations, Online Learning Community events (both before arrival and during service), written assignments, and in-person training events will be required throughout the program to support professional growth, provide feedback, and support Volunteers enrich their teaching repertoire. Please see the TEFL Certificate program video below for more information.
To learn more about Peace Corps Indonesia, including project achievements and success stories, please refer to our annual reports: Annual Report 2017, Annual Report 2018, Annual Report 2019, Annual Report 2020, Annual Report 2021, and Annual Report 2022.
---