These 4 Volunteers with disabilities were determined to serve
People with disabilities experience challenges that many able-bodied individuals don't think twice about — whether it's the ability to hear what someone is saying, read a street sign, or pick up on social cues. Living and working abroad, far from familiar people, resources, and services, can multiply the challenges.
And yet, some intrepid individuals who have physical challenges or are neurodiverse can and have served successfully abroad.. Their determination to serve—and their successes in doing so—have made it easier for others with similar issues to follow their lead.
Part I: The application process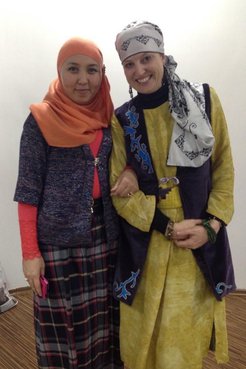 Applying to—and being accepted to serve with the Peace Corps—is the first challenge many people with disabilities face.
Serena Olsen, who served as a Community Development Volunteer in the Kyrgyz Republic from 2014 to 2015, is blind. Her application process took about two years, well beyond the typical seven-month process.
"In addition to delays created by accessibility issues and other technical glitches, I had to jump through additional medical clearance hoops related to my blindness," Olsen said. "While I understand the importance of evaluating safety and medical concerns, my blindness has no accompanying medical issues. I've also benefited from top-quality training in alternative skills for those who are blind."
Olsen was eventually accepted, but after going three months without hearing from the Peace Corps she began to lose hope that she would receive a placement. During that time, Olsen was put in contact with someone overseeing the construction of a new training center for the blind in the Kyrgyz Republic. When Olsen discovered that the country also hosted Peace Corps Volunteers, she asked to serve at the new center.
"I felt that my counterparts at the training center, as well as a supportive Peace Corps staff member, were invaluable advocates for me. When I arrived, my community, which included a lot of blind people, welcomed me with open arms," she said.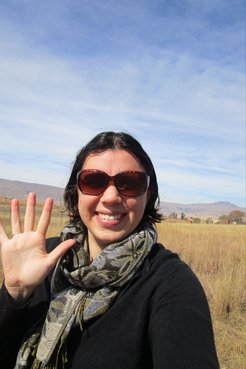 Katey Redmond was diagnosed with autism at the age of 5. A Volunteer in South Africa from 2015 to 2016, she too found the application process to be very challenging.
"Initially, my recruiter felt my previous experience would make me competitive for roles in multiple African countries. However, my autism diagnosis and anxiety disorder required a medical preclearance," Redmond said.
Redmond's application process, which took over a year as the Peace Corps Medical Office and other doctors reviewed two decades of medical history, meant she had to change her expectations of starting service right after college graduation.
"If you have a disability or specific health care needs, you must be very flexible because you are dependent on whether the Peace Corps feels you can receive appropriate support," she said.
Uncertain whether she would be accepted, Redmond started graduate study in public health, finishing her first semester at the University of Arizona before leaving for South Africa. An unexpected bonus that came of studying at Arizona was discovering a large network of returned Peace Corps Volunteers (RPCVs) enrolled in the Paul D. Coverdell Fellows Program who were eager to share their experiences with her.
"I learned about challenges they faced during service so I could anticipate issues. These RPCVs also became my readymade support system once I started my service," Redmond said.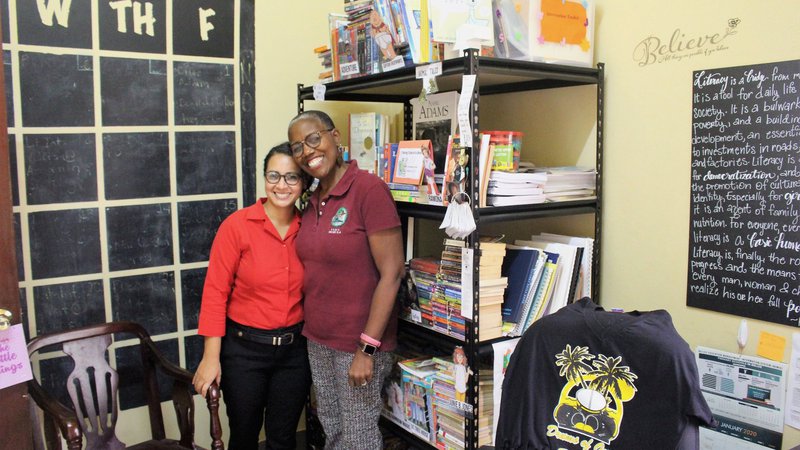 After retiring from teaching at 55, Judy Jones decided to serve with the Peace Corps. She soon learned that her various health conditions were considered disabilities.
"I have spinal stenosis, which is like arthritis of the lower back, and a herniated disc disease which can cause a lot of pain," she said. "I also have a moderate case of asthma, for which I use an inhaler and take medicine. Additionally I have a thick optic nerve, which doesn't cause any problems, but the ophthalmologist likes to keep an eye on it. Whatever your problems, you have to prove to the Peace Corps that you can manage abroad."
Jones applied for Jamaica, but was not accepted because of her back issues.
"If you are placed in the Jamaican countryside, there may be terrible roads, and you may have to carry water over long distances or stand by the river to scrub your clothing. All of that could have exacerbated my back issue," she said.
Jones ended up applying for a shorter term Peace Corps Response position in Belize that meshed perfectly with her professional experience teaching reading and writing, and working with English as a second language learners.
"It seemed as if Peace Corps was never going to accept me, but when I applied for a second time, to my surprise, they did. It actually wasn't hard the second time because the agency had all my medical information."
Rachel Chaikof has Usher syndrome, which affects hearing and sight. She was born deaf, but has a cochlear implant that allows her to hear and speak without the need to read lips or use sign language. Chaikof also has partial blindness at night.
She learned early on to persevere. Her request to take French in high school was denied, so she fought the denial and took French all four years of high school. She went on to travel overseas during college, including a trip to France. Chaikof's passion for cultural exchange motivated her to join the Peace Corps, but when she applied during her senior year in college, she was denied.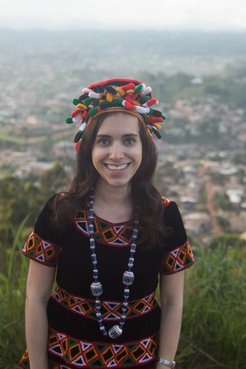 "In the rejection letter, they said, 'how can you learn a new language when you don't use sign language or read lips?' They didn't understand that I communicate through hearing and speaking with my cochlear implants, which is why I don't read lips or use sign language," she said. "They were also concerned about the progression of my blindness. Never mind that Volunteers who are legally blind had served successfully."
Chaikof went to graduate school and reapplied to the Peace Corps a few years later. She served in Cameroon.
"During my second application process, I vowed that I would fight all the way. I reached out to Mobility International USA and got great tips on applying as a person with disabilities. The medical process was arduous and challenging. But I felt that if I could get through the medical process, then I could get through two years of being a Volunteer," Chaikof said.
Part II: Cultural integration, work, and the future
Integrating into the local community, the goal for all Volunteers, comes with specific challenges for people with disabilities, and can include different host culture perceptions and expectations about disabilities.
"The general public in Kyrgyzstan was less comfortable with blind people living independently. One day, I was waiting to cross the street and a guy jumped out of his car because he thought I needed help crossing the street," Olsen said. "In the meantime his red light had turned green but he was not in his car. That was really awkward."
Olsen relied heavily on her language and cultural facilitator in pre-service training, who went on to become her regular tutor throughout service.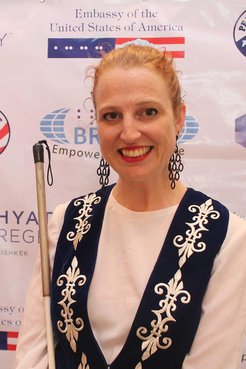 "She improved my language and communication skills, which I relied on tremendously, as I can't read street signs," Olsen said. "She also coached me in preparing traditional Kyrgyz foods and gave me tips for finding ingredients and supplies at the bazaar. She taught me how to properly wrap my head in a scarf, told me where to get the best jewelry at the bazaar, and helped me with all the local things that made my experience so rich."
Redmond discovered that the grit she developed to manage her disability throughout her life helped her thrive during service.
"A lot of time, I am the first woman on the autism spectrum that people have encountered, so I have to trail-blaze, like it or not. I had to change sites twice because of security issues, but because I've spent my entire life adapting to changes, finding small victories, and figuring things out as I go, I managed."
Redmond's autism proved of little consequence in her ability to serve.
"Just being someone willing to sit and listen and, especially in a post-apartheid state, admitting that as a white person I didn't have all the answers was so important. My unique behaviors like limited eye contact didn't matter," she said.
At other times, autism proved to be a cultural asset.
"I average about five minutes of direct eye contact, which can be a problem in the U.S., yet in South Africa it was an expected behavior for women in Zulu culture … During pre-service training, my language and cultural facilitator came for a home visit and observed me practicing isiZulu with my host mom. Unexpectedly, he paid me a compliment by telling me that I behaved and carried myself well. I've had my behavior scrutinized since I was a kid, so hearing that was so empowering," Redmond said.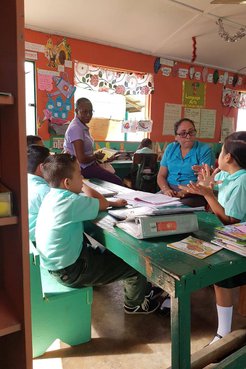 When Jones arrived in Belize, she was placed in the capital, which had good roads and public transportation. The country provided other unexpected benefits for her health.
"Being in a warm climate was great for my back and my asthma. I never had a back problem or an asthma attack, and staff were additionally very careful about making sure I was taking my medicine," she said.
Chaikof worked on health and disability issues with her counterparts, two Cameroonian disability advocates. She felt that the challenges she faced were very manageable.
"I thought I would be placed in a country where there would be support for cochlear implants because my implants require tuning up. There was no cochlear implants center there, but I felt I could make it work."
In the end, Chaikof's audiologist in the U.S. was able to tune up the cochlear implant remotely using special equipment Chaikof brought to Cameroon.
Chaikof felt that communication, a challenge most Volunteers face, was the least of her worries, as communication barriers were a normal part of her life. She also had the advantage of knowing French, an official language in Cameroon.
"One small barrier I faced was going out at night. My night vision is somewhat limited. … At night, I asked a counterpart or another Volunteer to pick me up on a motorcycle in front of my home (Peace Corps Cameroon is one of the few countries that allows motorcycles).
"Another small challenge was phone calls. … I had to use a very cheap phone with poor sound quality. Understanding accents was a challenge. But by 2015, the midpoint of my service, cell towers started to pop up and, by the end of my service, many Cameroonians [had] smart phones with captioning capabilities," she said.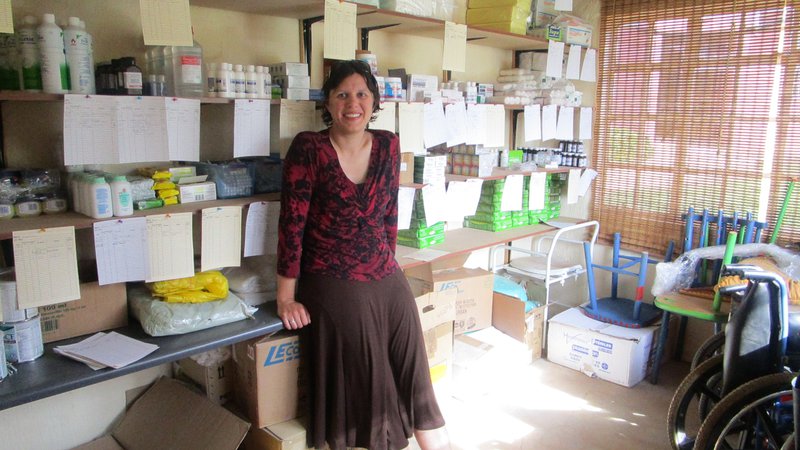 Part III: Looking to the future
Redmond is grateful Peace Corps service provided experience that helped her move ahead in the field of global health.
"It's critical that individuals with disabilities get opportunities to learn foreign languages. Peace Corps was a great experience that gave me a needed technical skill set," she said.
Jones said that Peace Corps changed her life and gave her purpose in retirement. She was evacuated with all other Volunteers in March 2020 and then served in the Peace Corps' domestic effort to provide COVID-19 vaccination outreach to underserved communities from May to August 2021. When programs resume abroad, Jones is ready to serve again.
"The Peace Corps absolutely needs greater diversity. I am a 60-year-old African-American woman. Older Volunteers are needed. They are listened to abroad. If Peace Corps is your dream, go for it. I encourage you to persevere and try several times if you need to," she said.
Redmond feels good about her role in making change.
"Each of us sticking it out and persevering has played a small role in making this opportunity more accessible to others. Moreover, it sends a clear message to the countries we serve, that their community members with the same conditions are just as valuable and deserve similar opportunities," she said.
Olsen sees concrete signs of progress around inclusion of Volunteers with disabilities in the Peace Corps.
"In the Kyrgyz Republic the following year, they brought in another blind Volunteer. I kind of laid a foundation to make it more OK. She was placed in a more mainstream post, whereas I was the blind person working with blind people. She got to break out of that box a little bit and I see that as a sign of growth."
Perhaps most importantly, there is a need for Peace Corps Volunteers who can assist the disabled community around the globe.
"What I learned over my two years was how little attention was being given to persons with disability in developing countries. I saw how many people with disabilities stay at home because there are no assistive devices in public buildings," Chaikof said. "Cameroonians in the disabled community have so much hunger for advocacy. They are the ones who sparked my interest in having a career focused on global health and disability inclusion."
Redmond feels that Peace Corps Volunteers with disabilities act as powerful models and resources for people with disabilities abroad. Part of the Peace Corps mission is showing the world the full diversity of the United States, and increasing the population of Volunteers with disabilities is a good way to do that.
Category:
Eastern Europe and Central Asia
,
Kyrgyz Republic
,
Africa
,
South Africa
,
Cameroon
,
Central America and Mexico
,
Belize
,
Education
,
Community Economic Development
,
Becoming a Volunteer
,
Diversity
,
After Service
,
Returned Volunteers
,
Prospective Volunteers
,
Peace Corps Volunteer
,
Peace Corps Response
,
Coverdell Fellows
---