Paul D. Coverdell Fellows Program
When you are ready to go to graduate school, we are ready to help. The Paul D. Coverdell Fellows program is a graduate fellowship program that offers financial assistance to returned Peace Corps Volunteers.
---
Jump to:
View full list of partner programs Partner program events
---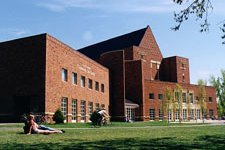 All fellows complete internships in underserved communities in the United States, allowing them to bring home and expand upon the skills they learned as Volunteers. These skills in adapting to new cultures, developing and managing projects, dealing with language barriers, and leveraging limited resources attract the attention of prospective schools.
Since the inception of the Coverdell Fellows program, more than 5,000 returned Volunteers have participated in the program and made a difference across the country.

---
Why become a Coverdell Fellow?
The Coverdell Fellows program provides a great opportunity for returned Peace Corps Volunteers to continue their service to underserved communities while also pursuing graduate studies at a reduced cost.

As a Coverdell Fellow you receive the following benefits:

Financial assistance: Financial aid may include tuition reduction, full scholarships, stipends, or assistantships.

Professional experience: Your internship will allow you to apply what you learn in the classroom to a professional setting.

Helping others: As part of the program requirement, you'll provide much-needed assistance to some of the United States' most underserved communities.

Furthering the Peace Corps mission: By sharing your experiences in classrooms and in communities, you will help fulfill the Peace Corps Third Goal: to promote a better understanding of other peoples on the part of Americans.

Choice: Earn your master's degree, doctoral degree, or professional certificate from one of over 200 programs at more than 120 university partners across the country. The choice is yours!

Federal jobs: If you enroll in school soon after service, your one-year noncompetitive eligibility status for federal jobs applications may, at the hiring agency's discretion, be extended up to three years from your close of service date.

---
The search for master's degree funding is challenging. I was grateful that my experience in the Peace Corps put me in a special category at my school, which provided tuition forgiving and a paid internship."

Debbie Curley, Returned Peace Corps Volunteer, Cameroon
---
Eligibility
Peace Corps Volunteers earn lifetime eligibility for the Paul D. Coverdell Fellows program if they fall into one of the following categories:
Peace Corps Volunteers who complete the full two-year tour of Peace Corps service or are otherwise given "completion of service" (COS) status

Peace Corps Volunteers who are medically separated

Peace Corps Volunteers who are given "interrupted service" status because of circumstances beyond their control

Peace Corps Response or Global Health Services Partnership Volunteers who complete twelve months of service within a twenty-four month period

Exception: The 12 month requirement was waived for all Peace Corps Response Volunteers evacuated in March 2020 due to COVID-19.

Two-year Volunteers who resign or are administratively separated are not eligible for Coverdell Fellows unless they had already earned eligibility through a previous Peace Corps tour.
If you have questions about your eligibility status, you may contact the Peace Corps' Office of University Programs at [email protected].
---
Application process
Partner universities, not the Peace Corps, handle all applications for the Coverdell Fellows program. The number of fellowships awarded by each school depends on many factors, including available funds, employment opportunities, and enrollment capacities. 
Use the list of participating universities for more details.
---
Tips for applying
Contact the program coordinators at the universities that interest you to request program and application information.

Follow each university's application instructions and deadlines. In many cases, you can even apply online while abroad.

Deadlines for programs vary, so be sure to check each school's application due dates.

Most programs require applicants take a standardized test, such as the Graduate Record Examination (GRE) or the National Teacher Examination (NTE). If you will apply during or shortly after volunteering, you may need to take standardized tests prior to service or before returning to the U.S. Check with the appropriate testing service to learn more about test locations, schedules, costs, and how long test scores are valid.

Keep a signed copy of your description of service (DOS). Coverdell programs will request this during your application process as it is an official record of your Peace Corps activities. If you lose your DOS, you may request a copy via the certification of service process.
---
Become a partner university
The Paul D. Coverdell Fellows program is a graduate school program for returned Peace Corps Volunteers. Through this program, schools across the country offer financial support to returned Volunteers who, in turn, complete substantive internships related to their program of study in underserved communities in the United States. 
There are no limits on the number or kinds of degrees/certifications that can be offered through the Coverdell Fellows program.

Why partner with the Coverdell Fellows program?
Recruiting a unique brand of graduate student:
On campus: Returned Peace Corps Volunteers (RPCVs) bring with them a wealth of international experience in a variety of fields. In the classroom, Peace Corps fellows are motivated, ready to learn, and eager to expand upon their Peace Corps experiences. Peace Corps fellows also help create a community of those interested in the mission of the Peace Corps, often organizing campus-wide volunteer events and promoting international understanding.
In the community: Returned Volunteers are experienced in adapting to new cultures and environments, developing and managing projects, dealing with culture and language barriers, and capitalizing on limited resources. These skills and experiences are transferable to the underserved communities where Peace Corps fellows complete their internships.
Through new channels: As a university partner, you will gain access to future, current and returned Peace Corps Volunteers through Peace Corps regional offices in the United States and the Peace Corps Office of University Programs. Regional staff, many of whom are returned Volunteers, work closely with schools to coordinate on a variety of recruiting activities. Contact your local Peace Corps recruiter for more information.
University partners also enjoy the benefit of having their Coverdell Fellows program advertised on the Peace Corps website frequented by prospective, current, and returned Peace Corps Volunteers.
How colleges and universities apply
In 2023, the Peace Corps will not accept any proposals from graduate school programs or institutions to establish new Paul D. Coverdell Fellows programs.
If your department or institution is interested in learning more about the program and future proposal cycles, please contact the Peace Corps at [email protected] or (202) 692-1643.
During open proposal cycles, new partners are added through a competitive proposal submission process. To prepare for future cycles, explore the following:
Identify supporters on campus: Gather faculty and administrators interested in bringing the skills and experience of returned Volunteers to campus and discuss how the program would be supported on campus.
Identify a Coverdell Fellows program coordinator: This individual develops a framework for a Coverdell Fellows program partnership and will be instrumental in the proposal process. Having someone committed to shepherding the program from inception to establishment and maintenance is critical to a program's long-term success.
Identify resources: There are two key pillars of the Coverdell Fellows Program:
Financial support for the Fellow equal to at least 25% of the program's tuition and mandatory fees.
An internship related to the program of study in an impoverished and/or socially disadvantaged community in the United States.
Identify a community need: Each Coverdell Fellow is required to participate in a meaningful internship related to his/her program of study. A critical element is identifying an impoverished and/or socially disadvantaged community or organization in the United States that would benefit from hosting a fellow.
Note: The Peace Corps is not able to accept all proposals from prospective Coverdell Fellows university partners.