Volunteers and communities plant trees to protect the environment in Uganda
World Environment Day (WED) is celebrated on June 5 every year and encourages awareness and action for the protection of the environment.
What is World Environment Day?
First held in 1973, WED is a platform for raising awareness on environmental issues such as air and water pollution, overpopulation, global warming, sustainable development, and wildlife crime. Each year, WED provides an opportunity for businesses, non-governmental organizations, communities, governments, and environmental advocates to bring attention to issues that affect the environment and to strategize on sustainable solutions to the environmental crisis.
Plastic pollution
This year's theme focused on "solutions to plastic pollution" with the #BeatPlasticPollution campaign. Plastic pollution is a major challenge to the world. The seas and oceans are clogged with plastic affecting marine life. In Uganda, plastic pollution primarily affects smallholder farmers taking long to decompose. Farmers loose livestock after they consume plastic waste littered on farmlands and household village paths. Plastic pollution is more rampant in urban and peri urban areas due to inadequate waste disposal behaviors and systems. With limited financial resources, many cities have no budget for waste management. The problem in Uganda is worsening with a lack of proper disposal facilities as well as structured recycling projects and programs. Plastic blocks water channels and cause flooding, especially in the capital city of Kampala and other urban areas leading to loss of human life and property. Plastic disposal in Lake Victoria has diminished marine life, especially reduction in fish quantity affecting food and nutrition for the people of Kampala and its suburbs. This has also affected incomes of the fishing communities in Uganda. With minimal regulation, plastic pollution is a significant threat.
Uganda's AED program
Peace Corps Uganda's Agribusiness & Economic Development Program (AED) focuses on supporting government's efforts to improve food security and nutrition interventions. Volunteers support the four food security dimensions of availability, accessibility, stability, and utilization of food by all the people all the time. The project goal is "Household members-especially women, youth and farmers-pursue new economic opportunities and achieve improved food and nutrition security". The program objectives are: 1) To increase the capacity to apply improved money management practices; 2) To develop the entrepreneurial potential of women, youth, and farmers' groups; 3) To improved capacity to implement income generating activities (IGAs) and 4) To Increase households' adoption of nutritious diets and choices.
What do AED Volunteers do?
The cross-cutting themes of the AED program are climate change, youth as a resource, and women's empowerment. The AED program currently has 9 Volunteers who work with rural communities supporting farmer groups to improve agriculture production, value addition, post- harvest handling, and market linkages. Other Volunteers work with, community-based organizations and non-governmental organizations to build the capacity of Village Savings and Loans Associations (VSLAs) in money management, financial literacy, and exploring alternative household incomes through promoting income generating activities and youth entrepreneurship principles. Other Volunteers support nutrition interventions through creating awareness about the importance of consuming diverse, nutritious diets including biofortified Orange Fleshed Sweet Potatoes, Iron Rich beans, and yellow corn. They promote improved gardening for vegetable production through climate smart micro-gardens.
Volunteers plant trees for World Environment Day
During the World Environment Day on June 5th, 2023, 14 Volunteers in the Education, Health, and Agribusiness sectors and their host organizations mobilized community members in a massive tree planting activity. Over 2000 fruit trees were planted in the districts of Kayunga, Mityana, Kyenjojo, Kabarole, Oyam and Lira. Tree planting is one of the Peace Corps' climate change mitigation initiatives working towards environmental conservation. Fruit trees boost household nutrition, incomes, and food security. Volunteers implement trainings focusing on proper disposal of plastics targeting both community and school-going children. These activities will help to reduce greenhouse gas emissions and promote food security in the communities where they serve.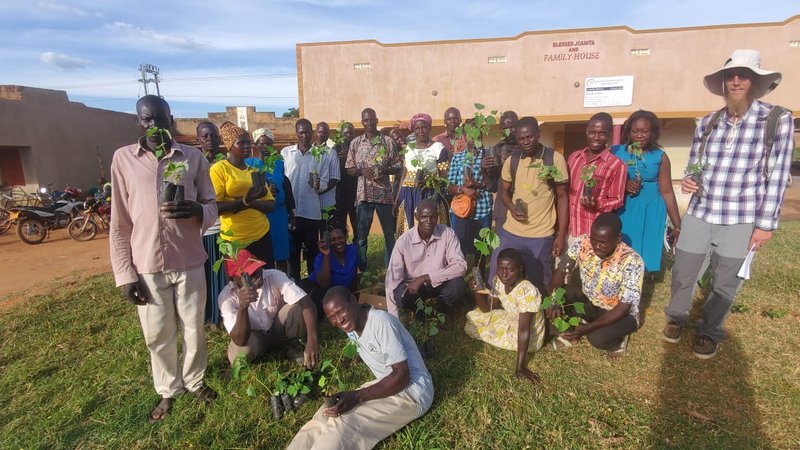 Other Volunteer activities to protect the environment
Other Volunteers activities to protect the environment include: waste management, promotion of efficient energy saving cook stoves, water resource use and management, and awareness raising about the negative effects of climate change. Climate Change Mitigation and Resilience activities at Peace Corps Uganda support Government of Uganda's National Development Plan priorities to increase sustainable production and productivity and value addition in key growth opportunities. Involving school children in environmental activities is critical for sustainability. Educating children is the best possible way to create a generation of environmentally minded future protectors of the earth.