Virtual partnerships with impact: one relationship at a time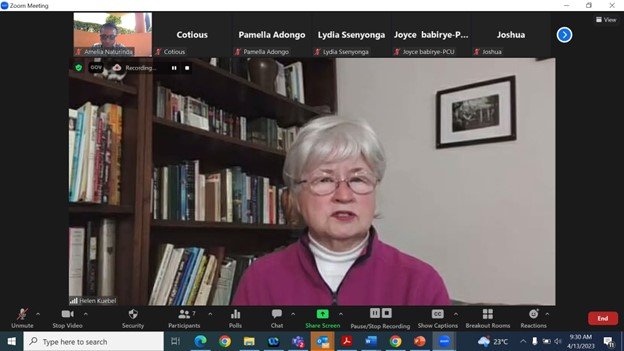 June 6, 2023
As COVID-19 continues to spread and international travel becomes more and more challenging by the day, we are acting now to safeguard your well-being and prevent a situation where Volunteers are unable to leave their host countries. I have made the difficult decision to temporarily suspend all Peace Corps operations globally and evacuate all of our Volunteers. - Peace Corps Director Jody Olson.
The global evacuation
The above message was received by 7,000 Volunteers in March 2020. Subsequently, in an unprecedented move, the agency evacuated all Volunteers from across the globe, including 136 from Uganda alone. It was sudden, abrupt, and traumatic for staff, Volunteers, and host communities alike.
A new idea is born
As reality set in, it was quickly realized that Volunteers continued to communicate with their host communities, counterparts, and host organizations. They extended their personal relationships to the virtual space and continued to support their organizations and communities. Recognizing this, in October 2020, the Virtual Service Pilot (VSP) was born.
Expanding the model
It was initially launched to facilitate the continuation of support to host communities and partners that were working with Volunteers at the time of the evacuation. Peace Corps/Uganda started participating in the second phase of the VSP with evacuated Volunteers from Uganda. The model proved successful, participants wanted to continue to offer support, and organizations and institutions continued to seek virtual support. Despite having started out of necessity, it has since been expanded and is providing greater opportunities to serve.
The demand continues
Despite the return of Volunteers, the need for virtual service continues. The pilot was an opportunity for RPCVs to engage remotely in support of the Peace Corp's while testing the feasibility of virtual service as an alternative form of service. Participants are private citizens who donate their time to engage virtually and contribute to the requests of interested host country partners. Engagements are between 12-27 weeks long. Participants engage for 5-15 hours per week. Both parties mutually agree on meeting times and frequency. See FAQs on Peace Corps VSP
Everyone wins
The VSP addresses needs of host country partners and communities in areas and locations where Volunteers cannot serve. Despite the return of Volunteers on the ground, the Virtual Service Pilot continues to meet a need for short-term and highly skilled individuals who can provide virtual support. RPCVS/RPCRVs who served the agency decades ago return with specialized skills and are able to give back again. The program takes advantage of modern technology in creative ways to connect individuals with partners. With a narrow focus, specific tasks, relatively few hours per week, and making the right connections between the available technical skills and the need, VSP provides high impact. In the end, everyone wins!
Virtual Service in Uganda
Peace Corps Uganda launched into virtual service in February 2021, with 3 evacuated RPCVs virtually engaging with host country organizations. To present, the Uganda program has seen eighteen VSPPs engage with Ugandan host organizations in the Health, Agribusiness/Economic Development (AED) and Education sectors. Virtual Service Pilot Participants donate their time and services with support of PC/Uganda staff. Staff orient and hold regular virtual meetings with the teams along their engagement journeys.
Capacity building
While virtual service participants engage in all the sectors, the primary role of participants is technical capacity building for organization staff. Participants build and enhance staff skills in areas such as: strategic planning, project management, training design, lesson planning, stakeholder analysis, grant writing, communications and website design, and monitoring and evaluation to name a few.
Results
With the support of VSPPs, organizations in Uganda have achieved significant results including the development of training content, materials, and assessment tools. Organizations have successfully engaged with new/potential partners by utilizing stakeholder analysis tools. They have raised the online profile and visibility of their organizations through improved content and website designs. They have built the capacity of their staff in: lesson planning, learning styles, facilitation, and creating smart plans. New curricula have been designed and university students have benefited from on-line nursing lectures. What can be achieved through virtual technical support is limitless and bound only by the parameters of time, will, and imagination.
Challenges and successes
Like any new program, the Virtual Service Pilot had its challenges. The parameters of participation had to be established. Staff had to be oriented on what this is and how to operationalize it. Those who serve are called "Participants" rather than "Volunteers". Differences in time zones and technology and internet capacity can make virtual engagement challenging. Challenges arose, were addressed, people continue to sign up to serve, and ultimately, the demand continuous to outpace the supply. The Virtual Service Pilot is a success and is one of the many ways that the Peace Corps is changing with the times.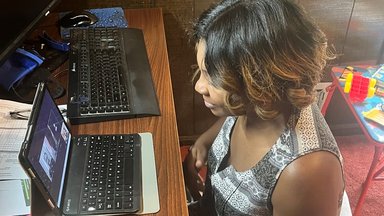 Host Organization Perspectives
"The time Prof. Sarah virtually joined our team, we needed medical and surgical nursing lectures and support in the completion of the curriculum for the completion program of the Bachelor Nursing completion program……. She has been a valuable addition to our team and having her in our department has added an extra dimension and motivation for our students as she shares perspectives from another setting."
Busitema University professors
"Through harnessing knowledge and leveraging on the expertise of a Peace Corps Virtual Service Participant Jean-Pierre, we have a more accessible digital library, able to attract interested partners to build their tourism enterprise, and we have a better way to hook potential students and partners with more specific agricultural education content online."
Busitema University professors
"What I have appreciated so much is the application of the nursing process regarding management of patient condition...she gives us her experiences from the US and is also very familiar with the Uganda hospital setting...she explains everything deep and comprehensive yet easy to understand."
Busitema University nursing students
"The grant we won after getting virtual support from Robin to write has increased the number of men who come for HIV Testing and Safe male Circumcision. Her grant writing skills and reviews helped us win the most competitive grant and reach more people with HIV prevention interventions."
Achilles Wasswa, Director, Organization for Community Empowerment (OCE)
"Suanne supported the organization in improving our social media platforms. Through her efforts, our instagram following improved & she also supported in reviewing our website. We co-designed IEC materials for some of our programs. She is still being supportive till now and this relationship is so beneficial to us."
Isaac Wamatsembe, Goshen's Fountain of Nutrition and Health
"In concert with her counterpart, she virtually worked on a peer-learning initiative. She integrated effective peer learning principles and activities into workshops and trained staff on the implementation of peer learning modalities. They finalized the curriculum and created an interactive PowerPoint presentation so that the training staff can transfer knowledge to our partners visually and virtually."
Sylvia, the Director Foundation for Community Development and Empowerment (FCDE)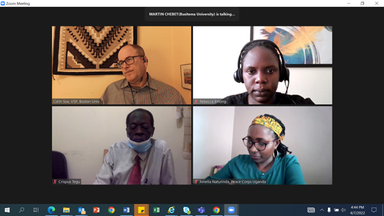 Participant perspectives
"From the very beginning of our time working together, Daniel and RICOT embraced me as one of their staff. I felt included in all their work and enjoyed getting a glimpse into their day-to-day work through their WhatsApp group chat. I feel so fortunate to have had the opportunity to work with and to have created longstanding relationships with an organization that is so passionate about the work they are doing at the community level. I look forward to seeing RICOT continue to grow and contribute to creating a thriving, healthy community in Oyam District."
- Lynda Krisowaty, Virtual Service Participant
"While the assignment turned out to be not exactly what was anticipated, the opportunity to add value and promote cross-cultural understanding was definitely appreciated by all involved. Flexibility and the desire to help others achieve their goals and aspirations seemed to be the key to making this assignment work."
Joel Wallach, Virtual Service Participant
"A shift to virtual platform opened new and innovative opportunities for us to explore both our personal development and shake up a bit of our current approaches to strengthen HIV Programming. …hearing the stories and experiences of those on ground provides insight into what's happening."
Alexandria Smith, Virtual Service Participant
"I thought a simulation video would take too much bandwidth and it worked so fine. I did a little pre lecture, the video, and then the debrief .. and so I am thinking of looking at simulation as kind of capacity building for the faculty as well after knowing what their simulation goals in the department are. The video is a good way to use virtually because it is repeatable."
Dr. Sarah, Virtual Service Participant