Peace Corps Uganda welcomes 26 Peace Corps Volunteers
On July 30, Peace Corps Uganda welcomed 26 new Trainees who, once sworn in, will become Volunteers, marking the arrival of the second cohort since the pandemic. United by the Peace Corps mission of world peace and friendship, they will serve in communities throughout the country in three sectors: Education, Health, and Agribusiness.
After the return of our first post pandemic cohort of Peace Corps Volunteers in 2022, we are so happy to welcome this new group of diverse, enthusiastic, and skilled individuals to the country. They will work alongside their counterparts, community members, and host families to make an impact in health, education, and agribusiness." PEACE CORPS UGANDA COUNTRY DIRECTOR, DR. LILY ASRAT
Training
On Monday 31st July they officially began their 11- week training which is comprised of: six weeks of center-based training, four weeks of community-based training (inclusive of full homestay immersion experience and partners' regional workshop), and one final week to wrap up and orient their supervisors about Peace Corps. They will be guided through a variety of learning experiences to build competencies in: their technical area (health, education, agribusiness), the language they will use in their community, safety and security, medical, intercultural communication, as well as diversity, equity, and inclusion. At the end of their training, they must attain a high level of competence in these areas to be able to be sworn in as Peace Corps Volunteers.
What will they do?
At the request of the government of Uganda, Volunteers will work hand-in-hand with partner organizations and local communities. Volunteers in Agriculture and Economic Development strengthen capacity in farming techniques, food security, entrepreneurial skills, nutrition, income generating activities, and Village Savings and Loans Associations (VSLA). They work with farmers groups and cooperatives to improve post-harvest management, value chain addition, and market access. In Education, Volunteers work at the primary level in literacy education, classroom management, and gender equitable practices. They co-teach to demonstrate teaching skills, strengthen libraries and resource centers with books and computer equipment, and increase access to students and community members. In Health, Volunteers work at the community level to improve access to HIV/AIDS services, provide malaria education, and improve maternal and child health.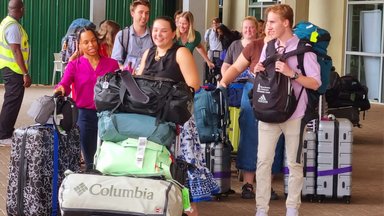 60 years of partnership
Peace Corps Uganda welcomed the first Volunteers to the country in 1964 at the invitation of the Government of Uganda. More than 60 years later, Volunteers are still coming to serve, which underscores the friendship between the people of Uganda and the United States. Volunteers today, just like in 1964, come with hopes, dreams, and most of all commitment to service. They develop transferable skills and hone intercultural competencies that position them to be the next generation of global leaders and in so doing, help build bridges between our two countries. Since President John F. Kennedy established the Peace Corps in 1961, more than 1,863 Americans have served in Uganda.
For more information, visit our Uganda (peacecorps.gov), Facebook and Twitter Accounts