Peace Corps Uganda swears in Volunteers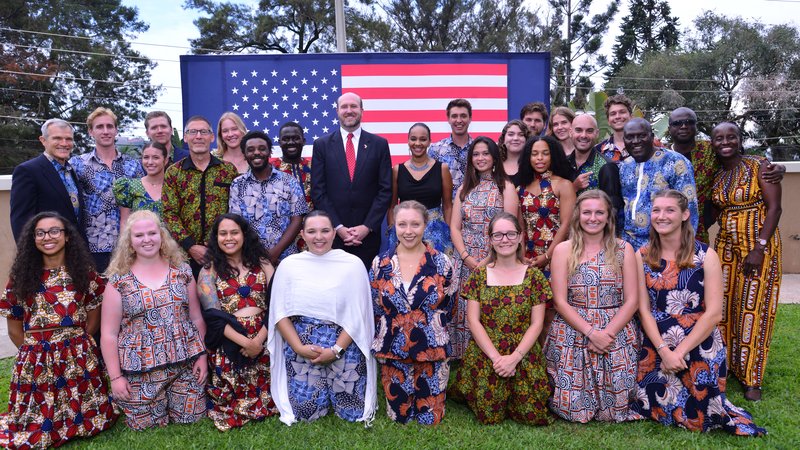 Oct. 30, 2023
On October 12, 2023, the U.S. Ambassador to Uganda, William W. Popp, and Dr. Lily Asrat, Peace Corps Uganda Country Director, presided over the swearing-in ceremony of 24 Peace Corps Volunteers (PCVs).
Peace Corps Uganda swears in Volunteers
Ambassador Popp shared words of encouragement emphasizing the profound and lasting effect of Peace Corps Volunteers.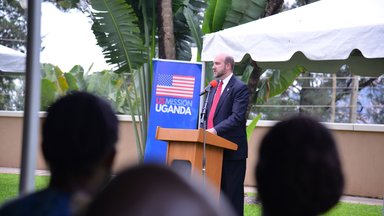 The impact of the Peace Corps Volunteers on their communities, and on each Volunteer themselves, lasts a lifetime and brings our countries closer together.
The Ambassador's remarks highlight his own personal connections to the Peace Corps - his sister served as a Volunteer in Sierra Leone. He also told the Volunteers the important role they play in representing the U.S. to Uganda.
As you are sworn in this afternoon, you are affirming a commitment to represent the United States to Ugandans. While I am the U.S. Ambassador to Uganda, each of you in your own way, is an ambassador too. You are often the first American that many in your community will meet and get to know well. The impression you make will leave a mark.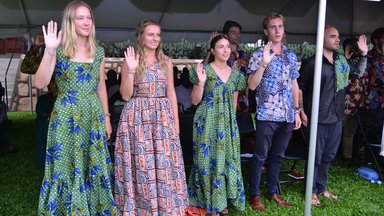 Peace Corps Uganda Country Director, Dr. Lily Asrat, addressed the newly sworn-in Volunteers. She expressed her anticipation of the contributions the new Volunteers will make to their respective organizations and communities around Uganda.
I am so excited to see and hear about the wonderful things you will contribute to your organizations and communities. I can't wait to see how you will be transformed at the end of your service.
During the ceremony, the newly sworn in Volunteers impressed the audience with speeches and poetry in local languages as well as cultural dancing from the various regions where they will serve. The Volunteers thanked the Ambassador, Peace Corps Uganda staff, their homestay families for the training and hospitality.
The 24 Volunteers will serve in three sectors, including Education, Health, and Agribusiness and Economic Development. They will be immersed in local communities, continue to learn Ugandan languages, and share American culture throughout their service.
The history of the Peace Corps in Uganda is replete with inspiring stories of forged connections, shared experiences, and collective efforts to achieve the three goals of Peace Corps. There are also many stories of what Peace Corps Volunteers from Uganda have left behind. Please read their stories here.
Since Peace Corps Volunteers first arrived here in 1964, over 1,859 Americans have served in Uganda. This legacy of service and cooperation continues to serve as a bridge between the two nations, fostering enduring friendships and strengthening the bond between the people of the United States and Uganda. For the latest updates and information, please visit the Peace Corps Uganda website here and follow our Facebook, Instagram and Twitter accounts.