4 Black Peace Corps Volunteers in Uganda speak their truths: A range of experiences everyone should hear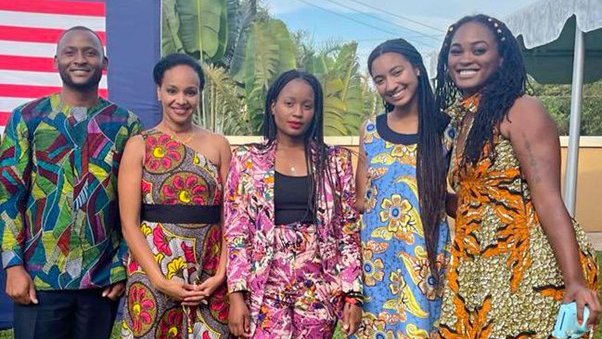 Feb. 26, 2023
In February, we celebrate Black History Month. Here, we highlight the unique experiences of four Black Peace Corps Volunteers (BPCVs) serving in Uganda. Their stories and perspectives are poignant, powerful, and brave.
They speak to their initial motivations for applying to the Peace Corps, their hopes and expectations for their service, their instantaneous sense of belonging and connection with this land of their ancestors and its people, as well as their struggles and disappointments. They challenge us to understand the unique circumstances that Black Peace Corps Volunteers face including the constant questioning of their identity as Americans, the frequent need to educate to explain their identity as both Black and American, their experiences of microaggression and racism, and the expectation of language proficiency in local languages. More importantly, they share with us the keys to resilience - mutual support, affinity, individual coping mechanisms, and returning to the essence of what compelled them to serve. While all their experiences are not rosy, their words, their voices, and their truths must be heard. In this Black History Month 2023, we acknowledge the unique challenges they face and celebrate the contributions of Black Peace Corps Volunteers who have gone before them, who are serving now, and who will serve in the future. We see you! - Peace Corps Uganda Country Director Lily Asrat
To belong without effort
By Marika Straker
My high school teacher in the U.S. posed a question to the class, "Is a black person capable of leading a country?"
I came from Trinidad and Tobago, where I knew nothing but Black leaders, my educators looked like me, my doctors, my police officers, and military resembled everything that was me. There are many children around the world whose heroes and leaders resemble themselves. Those words strung together so carelessly in the form of this egregious question stung. The idea of Black excellence was not a question to me. It was simply inevitable.
The audacity of asking such a question!
It was not until I lived as a Black child in the United States that I realized this constant validation was not every child's experience. Everything changed. My teachers, my doctors, the police officers were not a reflection of me in my environment. I did not know how much I craved that feeling again until coming to Uganda as a Peace Corps Volunteer.
Stepping off the airplane at Entebbe International Airport, everything seemed so familiar. From the sun shining brightly on my face, to the gentle cool breeze that flowed through my braids, it was difficult for me to believe I was in Uganda. Peering out of the bus window on the Entebbe-Kampala Road, I had to remind myself that I was not driving through the streets of Port of Spain, the capital of Trinidad and Tobago. Uganda felt like home.
It felt as though my ancestors were rejoicing, "our daughter, my daughter, has come home!" I feel like I belong to every part of this country. However, with every country touched by colonialism, the question of whether you belong comes into question, especially when compared to a white person.
As with all life-changing and transformative experiences, it was not all a bed of roses.
The first day I felt attacked about my qualifications. "What's your health background?" I found myself explaining my resume like was on a job interview with people who are supposed to be my equals. With every mini-interview with people 10 years my junior, I felt myself getting more and more angry. I have never once questioned the qualifications of my peers; I simply assumed anyone who was here was qualified.
Admittedly, I have spent most of my life dodging racial ignorance and was shocked to find myself confronting it yet again. My first week was torture. I was hit with more microaggressions and racist comments than I could ever imagine. Crying myself to sleep became my new normal. Conversations with my family kept me going. I needed to be constantly reminded of who I am and where I came from. I was reminded of the adversities I faced and everything I did to get me to this point to become a Peace Corps Volunteer.
So, I spoke up and I stopped crying about it. For every ignorant comment addressed towards me, towards my fellow Black Volunteers, or about Ugandan nationals and staff, I came back with an appropriate response. I removed myself from many conversations when speaking up became exhausting. I rocked out to Buju, Capelton, Sizzla, and Beyonce when I needed a little more encouragement. I reread Assata Shakur, Stokely Carmichael, Fred Hampton, and Malcolm X's words when I needed to keep the fight going. I educated myself on issues that needed to be addressed and whenever there was a time to exchange views, I listened without judgment, and I educated whenever I could. I found safety in my affinity group because they share my experiences, empathize with my pain, and understand my struggles as I do theirs'.
I became a Volunteer because I have a lot to learn and a lot to share. I became a Volunteer in Uganda because being a descendant of stolen Africans, I wanted to feel a connection with people whose struggle gives meaning to mine. I am a Volunteer because I want my fellow and future Black Volunteers to feel like they belong in any space without effort.

Marika Straker
---
Long-lost sister from across the water
By Kiana Campbell
It was the summer of 2019, and I was a fresh Howard graduate when I first received my invitation to serve as a business development officer in Uganda. I will never forget looking at my invitation and knowing my life was about to change in a way that I could not even begin to imagine. How was it going to change? I had no clue. What I did know was that come July 2020, I was finally going to be able to experience and serve in East Africa, specifically the Pearl of Africa.
We all know what happened in March 2020, the COVID-19 pandemic took over the world. It was not until two years later, after a worldwide lockdown, dangerous levels of misinformation, and vaccinations that I finally received the question I have been longing to answer:
"Do you still want to serve in Uganda?"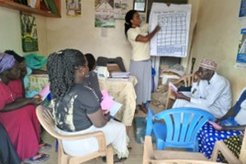 Despite so much time passing, despite my own 2022 life which was completely different from my pre-COVID life; I knew one thing for certain, I still belonged in Uganda. In the blink of an eye, I was suddenly sitting in the most uncomfortable chair with 36 other soon-to-be Volunteers at staging, a pre-departure orientation. Looking around, I was instantly relieved to see three other people who looked like me. Granted, three is not a large number, but it was still comforting to know that I would have peers who can relate to the Black experience, and more specifically the Black Peace Corps Volunteer experience. I would not be alone.
I honestly do not know how I would have survived the three months of pre-service training without my fellow Black volunteers. Having come from a historically black colleges and universities (HBCU) background and living in Washington, D.C., where I was surrounded by the Black diaspora, it is safe to say I forgot what it was like to be the minority among a large group, let alone what it was like being in predominantly white spaces. The Black Volunteers of Uganda built a strong support system, not because it was the cool thing to do, but out of sheer necessity. It was a matter of survival.
Being an African-American in Uganda has been an up-and-down roller coaster that I did not fully anticipate. Often, I am met with pure confusion when I say I do not know which African country my ancestors came from, and usually, a lengthy explanation of the slave trade promptly follows. Some people would respond with nobiha, accusing me of fallacies when I say I am American, born and raised. On many occasions, I have been denied the same privileges and leniency that my fellow white Volunteers are afforded from simply being white. For example, as a Black Volunteer, I felt more outside pressure to learn the local language faster and more precisely since I would not be granted the same muzungu empathy when speaking with natives. In social settings with white volunteers, it is very common to be blatantly ignored since most of Uganda's perception of an American is not me.
Nonetheless, being an African American has brought me an undeniable amount of trust within my community. "You're our long-lost sister from across the water, the same as us," is a greeting from a community member that I shall never forget. My height, locks, and visible arm tattoos at times draw attention in my direction. However, the attention I receive is never met with malice. I have never felt like a target in Uganda, unlike when I visit certain areas in the United States.
African culture transcends oceans and is borderless, and its reflections are visible even on the streets of D.C. Black churches are a staple in every Black community, and this is no different in Uganda. The long hours of worship and lively gospel choirs are here as they are back home. There is something familial about the people of Uganda, it's not only their welcoming spirit, but the resemblance to my blood relatives who reside thousands of miles away.
Remembering the reason why I chose to come to Uganda is an important catalyst in my resilience as a Black Volunteer. I came to Uganda because I felt like this is where I belonged. Not the type of belonging where I came to reconnect with my long-lost roots, but the type of belonging that just feels right. Out of the plethora of options for Peace Corps service, I felt a calling that Uganda is the place for me. I knew by coming to Uganda, I would make a lasting impact not only in this beautiful rich country; but, also for future Black Volunteers.
---
Resilience through service
By Malaika J. Harris
It all started as a daydream in my 10th grade math class. Listening to Mr. Hall tell stories of his Peace Corps service teaching English in China, provoked images of me living somewhere in Africa. My grandparents lived in Kenya during the late 1960s, and I am named after their first daughter who tragically lost her life due to a lack of adequate health care at 6 months. Serving in Uganda is deeply rooted in my desire to get a taste of what my grandparents described as an unimaginable beauty in East African culture, to be an agent of change within a world with appalling health disparities, and to face my debilitating personal struggle with anxiety. I hope that completely submerging myself in the unknown would allow me to discover more about myself and my strength. I can vividly remember touching down in Uganda for the first time in August 2022. I was overcome with emotions. Surrounded by beautiful Black people everywhere I went induced a glowing warmth from within, it was a feeling of connection and home that is still difficult to describe. I also had a realization that there was no turning back from my internal fears of being judged, rather, it was now the start of a new and exciting journey of self-discovery.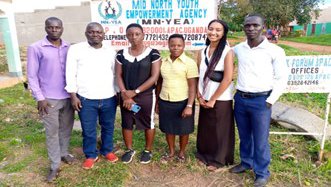 In my experience, serving as a Black Peace Corps Volunteer has several positive aspects. I have felt incredible warmth and acceptance from my community. It feels as though the trust was established early on. My coworkers and neighbors experience me as approachable, thus allowing for close relationships to be forged from the beginning. Overall, this has allowed for more seamless integration into my community and provided a sense of belonging and contentment.
Serving while Black, however, also has its challenges. It was apparent from the start that there was a difference between me and the other non-Black Peace Corps Volunteers. I found that locals expected me to know the language which was an added pressure my peers did not experience. It is also clear that many Ugandans are unfamiliar with the history of Black Americans. The constant need to explain the history of the Transatlantic slave trade and how I came to be Black and American can be exhausting. Finally, I notice that the perks of having others help me with domestic duties (that have taken a significant adjustment) were not afforded to me in the same way as my non-Black peer Volunteers. This, however, may be a function of the intersection of both expected gender roles as well as race.
So how did I get through it?
The support, understanding, and formalized affinity group has been extremely helpful in my Volunteer experience. This group of peers has allowed us to revel in mutually shared experiences, and gain feedback, support, and validation. I appreciate the honesty and vulnerability that I have experienced with members of this group. It is refreshing to feel heard without judgment or need for explanation, while also building connection and meaning in our experience here in Uganda.
I am six months into my service and there are several lessons I have learned. One of my biggest takeaways is just how diverse the lived experiences are among the group of Volunteers I serve alongside. Each of us has arrived with our own life events including our unique perspectives on the world, expertise in various areas, unique struggles internally and externally, as well our vastly different cultural and economic upbringing. What seems to connect us all is our appreciation for exploration and a willingness to operate in the zone of the unknown.
When I reflect on my experience specifically as a Black Peace Corps Volunteer, I have become keenly aware that the challenges that afflict us back home in the U.S. are not erased when we move to Africa, and in this case Uganda. It was disappointing to discover that microaggression, unconscious bias, and lack of understanding of racial privilege are present amongst our non-Black peers. These factors exist despite our shared goals of good intentions and the mission of the Peace Corps we all aspire to fulfill. This reality was difficult to accept at first, but I also gained a new perspective. I don't always want to be tasked with explaining and teaching, but I understand that growth only comes through respectful dialogue, honesty, and education.
I am thankful for the Black Volunteers in my cohort who courageously call out subtle and blatant ignorance. Because I have been brought up in a significant number of white spaces, I have been conditioned to keep the internal cultural tensions private and unspoken. This for me has become a critical work in progress. However, I have also learned that patience and acceptance are needed for a positive process to occur. This again is why it is important to reiterate the value of affinity groups. They provide a safe and courage space for understanding, mutual support, validation, and belonging.
Lastly, I want to stress the importance of focusing on what you can control and change… within ourselves, our volunteer cohort, and the meaningful relationships we are building within our communities. While my Peace Corps Volunteer experience has not been perfect, it has initiated growth, self-discovery, and self-awareness. And this is just the beginning!
While my Peace Corps Volunteer experience has not been perfect, it has initiated growth, self-discovery, and self-awareness. And this is just the beginning!

Malaika Harris
---
The beautiful complexity of immigration
By Romaric Fotsing
I joined the Peace Corps for two reasons: to give back and to grow.
I absolutely wanted to give back to the world after all the beautiful things life has given to me. I am originally from Cameroon, having immigrated to the United States in 2015. As an immigrant, I had to learn a new culture and navigate a new social order that was entirely different than my own. I can only say looking back that I feel fortunate to be part of a society that afforded me many opportunities. I have been able to further my education which then afforded me the opportunity to become a Peace Corps Volunteer.
I always felt the need for America to contribute to the well-being of Africa. I intentionally planned to serve as a Peace Corps Volunteer in Africa, not only because I am African, but also because I always felt the need to work on the continent and contribute in the best way I can. At this stage of my life, serving as a Peace Corps Volunteer in Uganda was the best fit.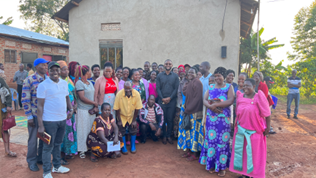 Living in America forced me to confront race in a way that I never had to before . In America, I was a minority. In America, I was Black. Being a Black man in America has made me feel isolated which at times felt crippling. For that reason, I longed for a way to be part of a society where everyone looks like me. I would live as I used to in Cameroon, and at the same time, I would serve my country, America, while serving the land that raised me. Uganda gave me that and blessed me in many ways. I feel a sense of belonging in a nation that encompasses Blackness, from the institutions, the communities, and the police. Living here makes me feel like I am home with my family, because my lifestyle mirrors that of Cameroon which I miss dearly. I feel at home when I go shopping, even though my Luganda (the Bantu language of the Baganda people) is far from perfect. Catching a taxi is no different from taking one in Cameroon. The open markets are not a foreign experience to me either, as it is an environment I recognize and suitably cherish.
However, living in Uganda comes with various challenges. I erroneously believed being from Cameroon would afford me a seamless integration into Ugandan culture, but this was in fact not the case. Although blending in physically, and connecting to the society itself was easy, I was a foreigner not only to the people of Uganda, but also to my American peers. As we landed in Uganda as Peace Corps Trainees, my non-Black peers asked if I was an American. Baffled by the question, I asked myself at that moment if they had carefully read the requirements to be part of the Peace Corps. That incident was just the beginning, and I continued to experience various microaggressions, throughout the pre-service training.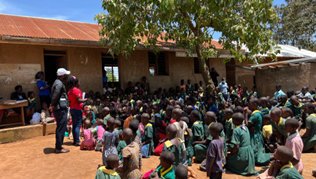 Blending in physically is both a blessing and a curse. I look like the people here, but this does not grant me the easy integration I had anticipated. People can easily identify a foreigner regardless of skin color, through clothing and other attributes. I remember being called Omuzungu as I was exiting a taxi, or in the market. This is a common term used to refer to "a white man or woman." To my surprise, it was used to refer to me as a foreigner. I was offended. I also thought that because I was already trilingual, it would be easy for me to learn Luganda. This was not the case.
Blending in was also not always positive, as it denied me privileges enjoyed by my white peers. At times, people would not recognize my "Americanness." I remember being ignored by a Ugandan national as he warmly greeted my white peers. He assumed I was a local and that I did not deserve the same respect. It was only when he was told that I was also an American that I was also greeted. These situations are not infrequent.
I can say that being a Peace Corps Volunteer in Uganda is a journey and a blessing, as I learn and keep learning every day.

Romaric Fotsing
---