Fight against Environmental Degradation
Climate change and environmental degradation continues to be a major concern in Uganda but it can be addressed through sensitizations and the teaching of conservation skills.
Under the auspices of Peace Corps Uganda's Conservation Think Tank, a total of 90 Secondary school students attended two Youth Conservation camps in Lira (Northern Uganda) and Zirobwe (Central Uganda) representing six different schools. The Camps aimed at helping the communities adapt to and mitigate climate change by providing practical skills in the 4Rs of environment conservation: REFUSE, REDUCE, REUSE, and RECYCLE. The topics covered were wide and included the impact of consumer choices, climate-smart agriculture, tree planting, waste management and composting, amongst others. Each topic was paired with a related Income Generating Activity (IGA) to show the students how they can earn a living and conserve the environment at the same time.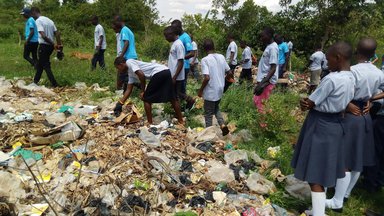 Armed with the skills from the camps, students undertook to form Conservation Clubs at their schools and in their communities. Peace Corps Volunteers Allison Thompson and Tim Ferguson will act as mentors to the clubs as they grow and begin to implement conservation projects and IGAs. This will ensure that the work of the Think Tank continues to have a ripple effect in the communities.
It is expected that with time, more and more people will become aware of the dangers of degradation and use some of these skills to conserve the environment.