Blue House gives girls hope in Uganda
The Blue House orphanage, founded by Beatrice, who was born in Uganda and living with her husband in St. Paul, Minn., is a home to 40 orphaned girls.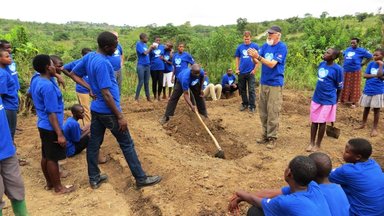 After being away 17 years, Beatrice made a few trips back to her hometown in western Uganda. She was appalled by the scourge of AIDS in her community. Several little girls in town were particularly vulnerable – orphaned with no family support or shelter. Beatrice found an old shop for them, made repairs, and hired a caretaker.
With an estimated 200 orphans in the vicinity, Beatrice decided to build dorms, a kitchen, dining hall, and latrines on eight acres of land she purchased outside of town.
In 2004, just as this was underway, Beatrice suddenly and unexpectedly died. However, a group of committed individuals decided not to let her passing deter these efforts. Since the completion of the building projects, girls are being housed and fed and participating in educational opportunities.

Knowing I could do more to help, I worked with the community and my fellow Volunteers to identify some ways we could support them.
Together with other Volunteers, we held a Blue House Orphanage camp that brought together 40 girls to be trained in nutrition, HIV and malaria prevention and reproductive health. Agribusiness Volunteer David Mcholland led participants in digging a demonstration permagarden on the grounds of the orphanage. Peace Corps Health Volunteer Kelly Drummond took some of the girls through sessions on how to make reusable menstrual pads, HIV prevention techniques and reproductive health. And Volunteer Mackenzie took some of the participants through best practices in nutrition, malaria prevention and handwashing techniques.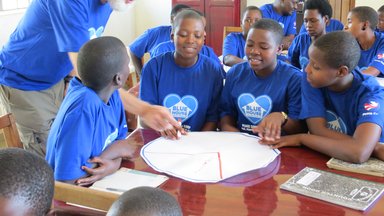 "Unlike the beans we planted in the larger garden, which usually grow in three to four months before harvest, the beans in the permagarden were ready for harvest in two and a half months. We are so thankful for this knowledge which is now bearing fruit," said Aine, the director for Blue House.
We believe that the camp equipped the girls with knowledge on how to grow nutritious foods, how to make a healthy plate and to know how to sew their own reusable pads.
From its humble beginnings at the height of the AIDS crisis, the Blue House has become an enduring legacy to Beatrice's compassion for her hometown.
Curious to learn more? Explore the World Wise Schools resources on this topic.
Explore