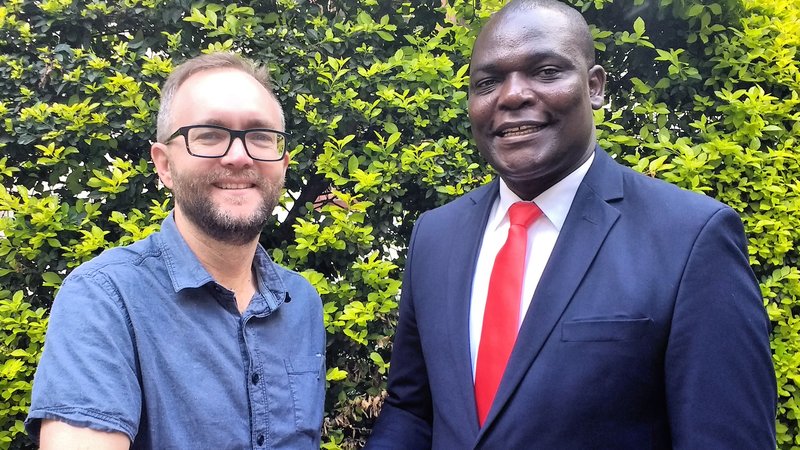 May 10, 2017
From a student of Peace Corps to an employee of Peace Corps, what are the odds?
Joel Onditi entered Ikizu Secondary & High School in 1994.  He was a tall kid with a passion for English.  When he was seven, there was a guest pastor from America at the church his family attended in Musoma District.  She did not speak Swahili, so her words were translated.  What were those words?  Soon after, Joel's father brought him a Swahili-English dictionary.  When he arrived at Ikizu, he was delighted to find an American teaching both physics and math.  Most importantly to Joel, this teacher spoke English.
Joel was not shy and eagerly wanted to impress this new teacher with his English skills.  These skills were limited, but they were more than his classmates'.  That initiative, combined with Joel's leadership skills, soon brought him the responsibilities of being the new teacher's Class Monitor. 
Along with his fellow students, Joel was used to being fearful in classrooms.  They were afraid of being wrong and being admonished by their teachers.  It was a discouraging environment.  The new teacher was different.  The classes he taught were a new experience that took a little getting used to.  Students, other than the outspoken Joel, were timid after first.  What was this?  This new teacher doesn't hit students.  He doesn't chastise students.  He grants the students the opportunity to be wrong without judgment.  He moves around the room encouraging participation from everyone.   He gets students out of their seats with energetic activities that help keep them attentive.  That made an impression on Joel.  His confidence grew. This teacher was unique and Joel was learning.  In fact, he was learning how to love learning.
The next year, in Form II, the American teacher was gone.  The memory lived on.
Joel completed Form VI and moved on to university.  His path led him to work on issues of security.  In 2012, he began his work as the Safety and Security Manager for Peace Corps Tanzania.  He learned that Peace Corps works in several sectors including education.  Since the 1960's Peace Corps has been accepting the invitation to send volunteer teachers to work throughout Tanzania.   Remembering his American teacher back in Ikizu, he told the Country Director that he thought he might have had a Peace Corps teacher himself.  She told him that there are many organizations assisting with volunteers.  His teacher probably came from one of those groups.
In January of 2017, a message came into the general email for Peace Corps Tanzania.  It was from an American-based nonprofit called Project Zawadi.  It was an invitation to a teacher conference that the organization was sponsoring in Arusha.  Joel was one of the people the message was forwarded to since it is his job to analyze the security of such events.  He noticed something--the name.  The message said the founding board member and president of Project Zawadi was Brian Singer.  Joel knew that name.  That was the name of his teacher at Ikizu--Mr. Singer.  Could it be the same?  He had tried to find his teacher previously, but there are so many Brian Singers in the world.  There was a website listed.  He investigated.  There was video.  Brian's face appeared.  The memories returned.  It was true.  This was his teacher.  He began typing an email.
Back in 1994, Joel the student had never heard of Peace Corps and he never knew that his teacher from America was a Peace Corps Volunteer.  In 2017, Joel the Safety and Security Manager of Peace Corps Tanzania was reunited with his long lost Peace Corps Volunteer teacher at the Project Zawadi sponsored teacher's conference in Arusha.  What are the odds?