PermaGarden: Better Gardening, Better Nutrition, Better Students
I started off my service as a math teacher. With the support of the Peace Corps' Small Project Assistance fund, I worked with my community and created the PermaGarden Project, which made it possible to add more nutrition to student meals.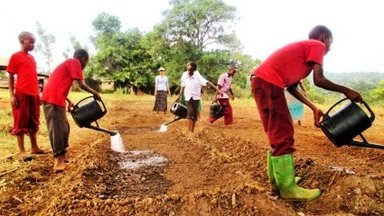 Boloti Secondary School in Kilimanjaro region is a boarding school with over 400 students eating breakfast, lunch and dinner at the school ten months out of the year.  Added up over the course of the school year, students are eating around 900 meals that mostly consist of corn and beans.  While corn and beans provides basic carbohydrates and proteins, it does not provide many vitamins and minerals that come from fruits and vegetables. The PermaGarden Project aimed to improve the nutrition for students by 1) planting vegetables and fruit trees; 2) installing a water catchment system to enable year-round cultivation and 3) teaching participants lifelong gardening skills.  This project was funded by Peace Corps' Small Project Assistance (SP-15-621-018) in the amount of $2539 (Tsh 4,000,000), with the community contribution of cash and in-kind at 41%.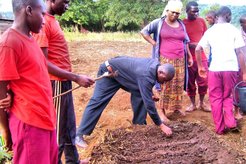 Adding Vegetables to Student Meals
In January 2015, members of the PermaGarden Club, Counterpart Mr. Benedict, and I began planting amaranth (mchicha), followed by collard (sukuma wiki) and Chinese cabbage later in the season. We were able to harvest 430 bunches of vegetables, providing 46 meals with extra vitamins and minerals for our students. Previously, students had gone endless meals without the necessary vitamins and minerals that these vegetables crucially supply for growing bodies and minds.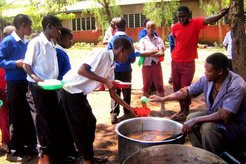 In the second year of the PermaGarden Project, not only did PermaGarden members plant collard, Chinese cabbage and amaranth, but we also added sweet potato leaves (matembele), Swiss chard, zucchini, butternut squash, cilantro and scallions to our garden. By the end of August, members have harvested 606 bunches of vegetables, providing better nutrition to 113 student meals. Irene, a member of PermaGarden, remarked that the vegetables were "sweet," which is what Tanzanians say for delicious.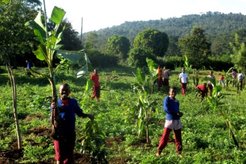 Investing in Fruit Trees
Planting fruit trees is the second component of providing better nutrition for students.  Our project aimed to plant over 250 mango, avocado, papaya and banana trees.  In the first year, we had managed to plant 40 fruit trees.  Despite efforts to water and mulch the fruit trees, only 13 fruit trees survived because we had planted too late in the season.  In the second year, we began digging and preparing the holes for fruit trees early in the season.  By the end of the rainy season, we had managed to meet our objective of planting over 250 fruit trees.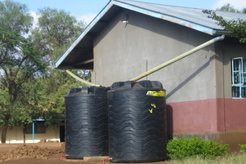 Installing Water Tanks
The only way to make the gardens bigger in order to provide more meals was the make watering more efficient and capable in the dry season.  Gutters were installed to collect rainwater in three 5000 liter tanks.  Underground pipes send the water directly into the field, where the gardens are located.

Fostering Lifelong Gardening Skills
Members in PermaGarden learn how to prepare their own vegetable beds, water their vegetables daily, weed and harvest their produce.  Built into the project was a field trip to the World Vegetable Center in Arusha.  Students saw nurseries for vegetables, experimental plots of crops, seed collection and drying methods.  They also visited a local tree nursery and learned about the propagation of fruit trees.  Denyncia, a leader in PermaGarden Club, commented that participation, "has given me the knowledge that we should use vegetables because it gives us vitamins.  It gives me knowledge of work so that I can earn money.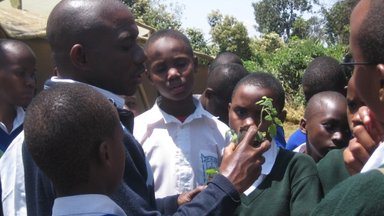 With the support of Peace Corps' Small Project Assistance fund, the PermaGarden Project made it possible to add more nutrition to student meals.  Students benefitted from adding vegetables to their diet of beans, which is especially important during their adolescent years.   Next year and beyond, students can look forward to adding papaya, banana, avocado or mango to their diet.  The success of the PermaGarden Project was made possible through the combined efforts of students, counterparts, and the Peace Corps.