Zabroni, my committed counterpart, and I began facilitating a nutrition Training of Trainers with four women in our village. 
We had attended a Peace Corps Nutrition Training in April 2016, which inspired us to design and implement a project that targeted improved nutrition for women and children under the age of five years in an effort to combat chronic malnutrition. We held a cooking demonstration, began providing home counseling sessions to families with children at risk for chronic malnutrition, and invited men to take an active role in improving the health of women and children in the community. Alafysa, Anna, Belita, and Catherine—four mothers passionately devoted to the health and wellbeing of their families and their community—initially volunteered to help us with our first cooking demonstration which we held at the monthly village clinic. 
This is the story of our work together over the last nine months. It seeks to portray their outstanding success at leading the community towards a healthier future.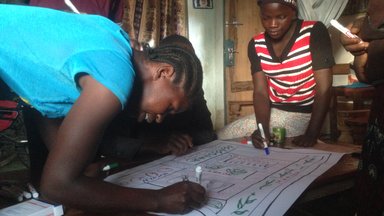 In July 2016, Zabroni and I led these four women in a comprehensive series of nutrition-focused trainings over a ten-week period. We talked about breaking the cycle of chronic malnutrition, which begins with a malnourished mother whose diet lacks the proper nutrients to support her and her growing baby during pregnancy. International development gurus call this 'hidden hunger'. This means that while calorie intake may be sufficient, people consume mainly starchy carbohydrates in order to feel full instead of eating a diverse and balanced diet comprised of nutrient rich foods. Made from dried corn and devoured by the plateful, Ugali is my favorite example of a nutrient depleted meal. 
We instigated a wider discussion about the importance of good nutrition during 'the first 1,000 days'—from conception to a child's second birthday—which laid ground for lessons on breastfeeding, Vitamin A and anemia, supplemental feeding practices (adding foods like mango or mashed banana to porridge after a child reaches 6 months of age), proper handwashing and sanitation techniques, how to prevent common infectious diseases, etc. 
We met twice a week and did a number of interactive home visits where these four women had an opportunity to practice teaching the material they were learning. We cooked many pots of uji (porridge) with attentive mamas and Anna would explain the importance of adding Vitamin A rich foods or Belita would remind mamas that children under the age of 6 months would be healthy and strong if they were exclusively breastfed. This means no water! My nutrition mamas were shocked to discover the number of women who were giving their infants water, mainly because swallowing water is the perfect opportunity for an army of bad bacteria to grab their swim trunks and take a trip down the water slide where they will land in a developing immune system too weak to fight them off. My nutrition mamas were learning that an effective strategy for encouraging exclusive breastfeeding was to target bibis (grandmothers) because Tanzanians often look to their respected elders for advice on good child rearing practices. Bibis, however, are not always educated on the importance of exclusive breastfeeding. This was a small step in understanding how subtle barriers can hinder behavior change.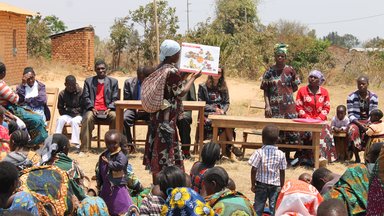 All of my work as a Peace Corps Volunteer has centered on capacity building through empowerment and that underlying goal pulsates through this project. In her book "The Blue Sweater," Jacqueline Novogratz illustrates the idea that "there is reason to believe that people everywhere can lift themselves up, but they have to be given the tools to do so. We can only open doors so that they can walk through them". 
This nutrition project aimed to open those doors. One day we had two home visits scheduled in Alafysa's sub-village. Anna, Catherine, Alafysa and I waited at Alafysa's house for Zabroni to show up but when he still hadn't arrived an hour later we decided to set out on our own. I was surprised because normally Zabroni is exceptionally reliable and often one step ahead of me. Whenever I would call my nutrition mamas to remind them of an upcoming session or to reschedule a training they would say, "Yes, we know. Zabroni already told us". 
I was nervous because I hadn't done too many home visits without Zabroni and this was Catherine's and Alafysa's first. I was counting on Zabroni to lead them through it because I knew he could engage families with more cultural elegance than I could and his native language skills far surpassed mine. 
As I stumbled my way through the initial languid energy—it is always hard for me to gauge any level of enthusiasm from Tanzanians because so many (especially women) are subdued and submissive in their learning and teaching. I often wonder if they're uninterested or if I am uninteresting. I try to liven topics with dynamic dialogues and animation but sometimes I think they're just sitting there marveling as to why this crazy American is getting so jazzed about handwashing—and then it dawned on me that this was an opening for me invite my nutrition mamas into their roles as leaders. 
I began directing questions at them and slowly they relaxed into their own voices. I realized after the fact that this was a significant team building experience for my mamas and another initial step towards empowerment at the grassroots level. They were not only learning how to deliver important information but they were also learning how to work with each other to accomplish a goal. As we left the first mama's house I teased Alafysa about how quiet she had been, asking, "Are we going to hear a sauti (noise) out of you at the next house?" Anna and Catherine laughed, "yeah, isn't this your subvillage?" And to my great amazement Alafysa drove us all through the next visit. 
We all applauded her as we walked home giggling and Alafysa admitted how uncertain she had felt. I assured them all that they had done an exceptional job. I could not have done this work alone. These women have been the most valuable component to this project and its success. I was grateful Zabroni had not shown up.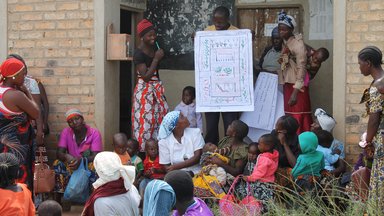 By mid-September, clinic day was suddenly a week away. My mamas spent that week preparing for the final element of their training—teaching a clinic lesson by themselves. They chose a topic (nutrition for breastfeeding mothers and Vitamin A) as Zabroni and I cheered them on but this project was meant to be entirely their own. 
I had asked Peace Corps to make up official certificates to hand out to these four women upon the completion of their training. Certificates are Tanzania's version of gold medals, honor awards, or prized possessions to be kept in a safe place and shown off to visiting friends, family and strangers. I made sure that all of the important people would be present for the ceremony. I asked our Village Chair to hand out the certificates himself. Instead, he asked the retired Village Chair to join us, which made the event even more official. Rank holds significant weight. 
I had originally envisioned this project culminating with me standing in front of murmuring mamas and wailing babies on clinic day trying to hush a hot and tired crowd as I issued the laminated pieces of paper that named these four women official village nutrition leaders. Instead, the village held a long and formal ceremony. After hours of charting babies, tables were set up on the green and a parade of village officials filed into the village office asking where they were meant to sit. I could not believe it. I had asked another Peace Corps Volunteer to come and take photos of the event but I had no idea this was going to be such an event. 
I gathered my mamas and asked them if they were ready. They admitted that they were nervous, especially Alafysa, but I assured them that they would be great! I went back to the office where an official schedule of the event was finalized and we were instructed where to sit and briefed on exactly how the certificates were going to be handed out. I would sit next to the retired Village Chair (who arrived in a glossy olive suit with the Tanzanian flag pinned to his breast pocket), the current Village chair would call a name and I would hand the certificate to the retired Village chair who would then give out the certificate and that mama would proceed down the line of village leaders to shake their hands and finally circle back to shake my hand and then return to their seat. We began.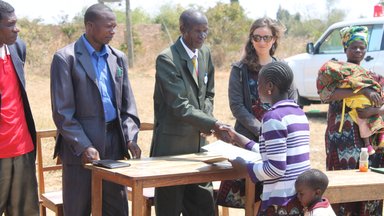 Zabroni had suggested that my mamas do a cheer at the beginning of their lesson (something we had learned during our own training back in April). Alafysa would yell, "MWANZO BORA" and the rest would respond, "SIKU ELFU MOJA!" and then Alafysa would call, "SIKU ELFU MOJA" and they would return, "MWANZO BORA!" which means "THE BEST START", "THE FIRST 1,000 DAYS!" and then spun, "THE FIRST 1,000 DAYS", "THE BEST START!" My nutrition mamas did a fantastic job! They used visuals and confidently talked through the material without hesitation. When they finished, observant mothers probed deeper and I watched, grinning, as Alafysa answered every question. Then each chair from each sub-village stood up and thanked my mamas for all of their hard work. Finally it was time for my mamas to proceed down the receiving line to retrieve their certificates.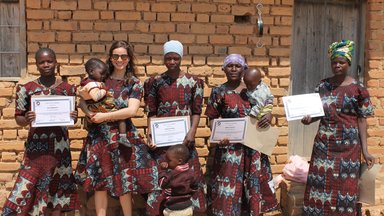 A few weeks later, I watched my nutrition mamas choose leaders for their group in a pivotal moment where I handed the project entirely over to them. They wanted me to participate in the voting process but I wanted them to take full ownership of their work and so I agreed to count the votes. I sat with a piece of paper as they nominated one another to act as chairperson, secretary and treasurer. They cast their votes on folded squares and I announced the winners. Then they chose a name for their group so that they could officially add it to the list of registered groups in the village. They agreed on 'Walimu Wa Lishe', 'Teachers of Nutrition'. As I began to write, Alafysa yelled out, 'Walimu Wa Lishe Bora', Teachers of Good Nutrition'. They all nodded.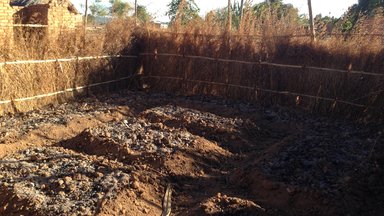 By November, I was becoming increasingly aware that my time in the village was dwindling. I was determined to push this project as far as I could. These women had a firm foundation on which to stand and as stewards of the land it felt natural to start sowing real seeds of change in the ground. We designed a permagarden near Zabroni's house which would act as our darasani (classroom or teaching plot) Together, we mixed manure, charcoal dust, and wood ash into dry and depleted soil to replenish the Earth with vital nutrients. My mamas raised jembes (hoes) above their heads, some with babies tied to their backs, working tirelessly to create raised beds for healthier lives. We planted crops rich in vitamin A and iron. As the rains rolled in over the next month, our seeds germinated and began to burst into a colorful panoply of nutrients. 
By the end of January, people all around the village were murmuring about our vibrant plot. My mamas decided to organize a lesson about their garden for the clinic in February. They shared a visual that they had drawn and described the process of planting a permagarden. I could see the pride they held in their work.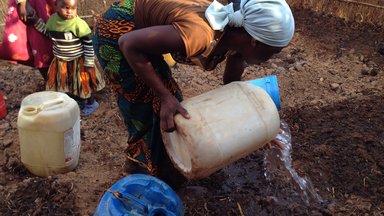 This project has taken on its own shape over many months. At times, the most meaning has unfolded in subtle yet significant ways. A few days after our February clinic, I visited Anna and I noticed that she had hung the drawing of the garden on her wall. Heartened, I admired the culmination of our work hanging brilliantly like a painting in a gallery. We spent the afternoon together cooking pumpkins and roasting pumpkin seeds. A friend of Anna's stopped by and noticed the drawing. She looked at me and asked for an explanation. I looked at Anna and she excitedly stood up and started pointing to the different crops we had planted and why they were so critical for maternal and child health. I savored this moment as I saw our work slowly permeate into the community. Anna's friend left and I made Anna promise me that she would continue to teach about this work even after I had left the village. We shook on it.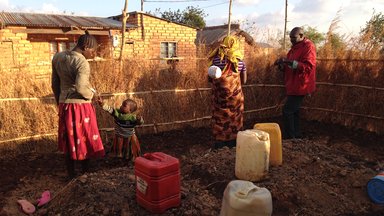 Last week we all gathered at the garden for one of our last meetings together before I depart. Our carrots were ready for harvest. We weeded the garden and staked tomatoes. Curious passersby stopped and lingered. They hung their arms over the fence and gaped at our cabbages and onions exploding out of the dark rich Earth. I heard Catherine and Alafysa explaining how they had prepared the beds. I gave them a thumbs up and they smiled and shot one back. I knew then that they could carry on without me. That was always my intention. The success now is all their own.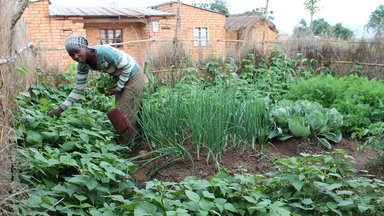 My mamas have spent their lives determined to not be defeated by their circumstances. These devoted women act as keepers to an unrelenting hope that seeks to better the lives of future generations in a part of the world where the odds are stacked against them. They believe in the work that they have set out to accomplish and I have watched them show up over and over again to see it through. This is their success story.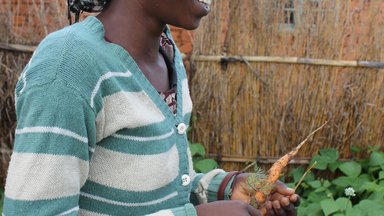 ---