The Women's Bakery empowers women through sustainable solutions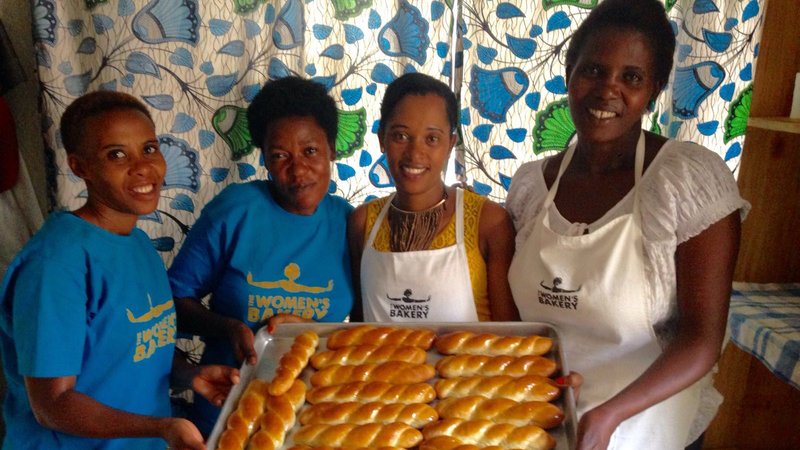 Nov. 17, 2016
Bread is good and it's found everywhere. Well, almost everywhere.
As Volunteers in remote, rural communities during their Peace Corps service in Rwanda (2010-12), Markey Culver and Julie Greene realized that bread was not a hot commodity in either of their sites. In fact, there wasn't any available. 
The best substitute was an oil-heavy, fried ball of dough called amandazi, which was unhealthy and lacked the chewy, moist texture of a typical slice of bread. Markey and Julie decided to start baking in their respective homes. With a makeshift "Peace Corps oven" and energized appetites, they combined flour, bananas and a few other key ingredients, and voila! Bread!

It could have ended there. But it didn't, and it couldn't – not with the heightened curiosity of neighbors and friends. Women came to both Markey and Julie in awe and interest, sdk "Will you teach us?" they asked.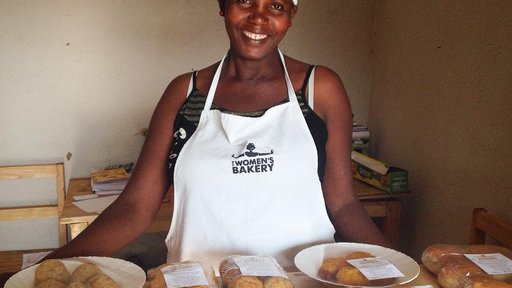 So, Markey and Julie did. And again, it could have ended there. But it didn't. 
When the same women decided they wanted to not only bake the bread but also to sell it, Markey founded The Rwanda Women's Bakery in her Peace Corps community. This became the foundation of what would eventually become The Women's Bakery.
With the education component established, dreams quickly became bigger. Post-Peace Corps, Markey began connecting with interested stakeholders and developing the idea of a social enterprise with a friend, Natalie Hornsby. Markey and Julie then strategized how to educate women in business, baking and nutrition, and empower women to reap other benefits like income generation, economic inclusion and availability of nutritious breads. 
The first official training took place in early 2015 in Tanzania in partnership with Microfinancing Partners in Africa. Today, less than two years later, TWB has spurred the launch of seven home bakeries and two medium-sized bakeries in Tanzania, and two medium-sized bakeries in Rwanda.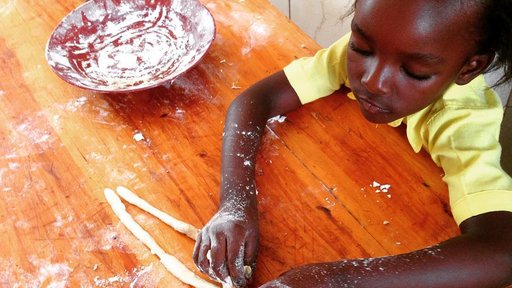 Most recently, our team worked with Peace Corps Rwanda to conduct a training and bakery launch at a Volunteer's site. Following more than 120 hours of training in business, baking and nutrition, the community bakery was launched in October of 2016, and is projected to sell at least 300 nutritious breads per day by January. Women working in a TWB bakery can double their income – from $400 or less annually to at least $890 annually!
I too was a Peace Corps Volunteer in Rwanda, and finished my service at the end of 2013. Like many Volunteers, my service had been defined by learning about my community for the duration of two years. I learned how to cook the right kinds of foods, how to speak with parents of my students while on home visits and how to bridge friendships across cultural boundaries. What I hadn't wrapped my head around, though, was how to truly, deeply address long-standing issues of poverty, inequity and lack of opportunity. I finished my time in Rwanda grateful for the life experience, but unsure where life would take me next. 
It's overwhelming to close that chapter of life and to press forward into a new season. When I returned home to the United States, I dabbled in finance, international lending and freelance writing. Yet I knew I wanted to be a part of something that not only provided opportunity – especially for women – but used education tangibly, powerfully and in innovative way. And frankly, I missed Rwanda. 
I reconnected with both Markey and Julie and my own journey with The Women's Bakery began. 
Joining the team in 2015, I have been able to help build, propel and advocate for a movement that is changing the way people think about charity. I have the opportunity to empower women through sustainable, education-centric solutions. I work on a team of gritty, fun, determined and brilliant women and men. I am a better person, woman and professional because of my time in the Peace Corps, and most recently, because of my time with The Women's Bakery. 
We are growing fast – and with gusto. We've trained three groups in 2016 – with more to come in 2017. We've seen average pre- and post-test score increases of 11 to 27 percent per group, and more powerfully, have seen our graduates find gainful employment in our bakeries. We celebrate this, and we celebrate bread, because together we will be successful. Our business started with the Peace Corps, and the reality is that it has only just begun.
As new Volunteers enter Peace Corps service and ask, "How can I help?" or "What can I teach?" they may realize that a little bit of flour can go a really long way.