Why I love serving in the Peace Corps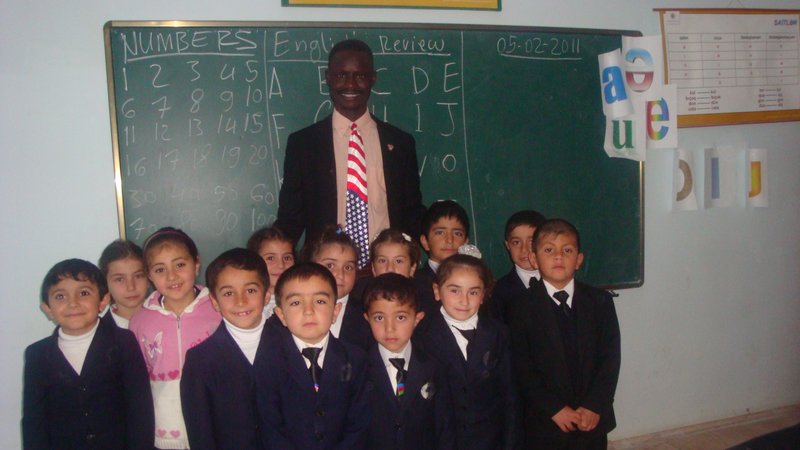 Oct. 22, 2015
I was born into civil war. The civil war in Sudan lasted 21 years until South Sudan achieved independence on July 9, 2011. I came to the United States as one of the so-called "Lost Boys of Sudan."
Although I was born in the Sudan, I did not have and still do not have any documents, such as a birth certificate. In other words, I do not know when I was born. My parents are farmers (cattle keepers) who cannot read and write; I was not delivered in a hospital or clinic but born in a hut and delivered by a midwife. Regardless of my humble beginnings, I always had hope. 
I learned the English alphabet with my fingers in the sand because I did not have a pen, pencil or notebook. I was elated when I received my first stationary from the United Nations International Children's Fund (UNICEF). I will forever be grateful to UNICEF for opening my eyes to the world by providing me with rudimentary resources so I could pursue my education in the poverty-stricken refugee camp. 
I was determined to become a literate person. One day, an elderly man saw me trying hard to learn my alphabet; he stopped and said to me, "Son, keep working hard like that, because one day, this world will be like a soccer ball in your hand." That man was right. 
 I did not immigrate to the United States for economic reasons or to achieve "the American dream," but came to the U.S. to have the freedom and dignity that the majority of people in this country have. After receiving my education from the University of Florida, I joined the Peace Corps to say thank you to the United States of America for adopting me and for restoring my dignity, and for giving me an invaluable education that no one can take away from me. 
As an immigrant to this country, I feel that I owe a lot to America. America has given me freedom that no one can take away from me. I joined the Peace Corps because I had the opportunity to work and live with host communities in foreign countries, without barriers. As Peace Corps Volunteers, we do not live above those we serve; we work with our community members to establish good rapport and a mutual sense of respect. 
Furthermore, I serve in the Peace Corps because I believe in giving, not taking. President John F. Kennedy was right when he reasoned, "And so, my fellow Americans, ask not what your country can do for you, ask what you can do for your country." Giving back to America by serving in the Peace Corps has become my way of teaching and telling people in developing countries that America is a kind and a generous society. My Peace Corps host communities in Azerbaijan and China told me that the more I describe America to them, the more they like America. 
It hasn't always been easy. Some members of my host community in Azerbaijan did not welcome me when I first arrived because I am black… but some of those who at first did not welcome me became my best friends after they got to know me. 
During my Peace Corps service in China, my Chinese community was gracious until the end of my service; they treated me better than I deserved. My students and colleagues were very supportive and respectful, and the majority of people I met are thankful to Peace Corps Volunteers because of the work they have been doing in communities around the country.
My next assignment will be working as an Azerbaijani-Speaking American English Teacher with Peace Corps Response in the Republic of Georgia. It will be challenging, but I am more than ready. I love speaking the Azerbaijani and Turkish languages, and will enjoy teaching English to students. With deep humility, I look forward to motivating and to teaching English to the Georgian-Azeri minority. I will continue to serve America domestically and internationally because I am not afraid of people regardless of what they look like. My humanity is my weapon.