Singing from Mozambique to Mongolia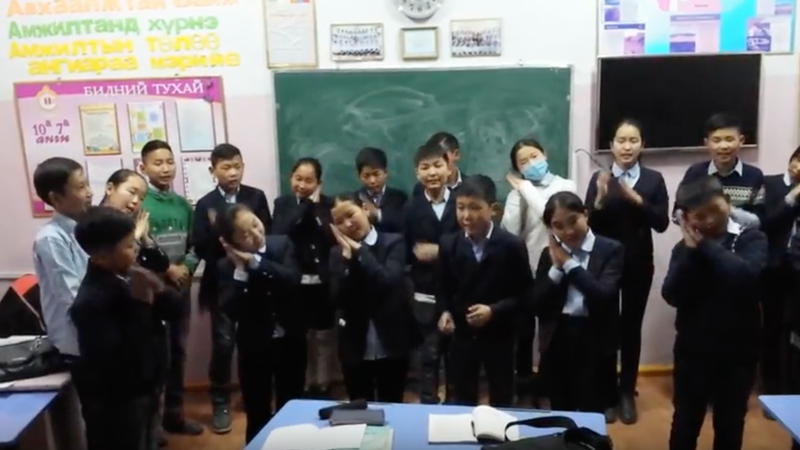 Dec. 27, 2016
I'm so proud!! I'm totally having a teacher moment right now.
Back in September, I connected with a returned Peace Corps Volunteer from Mozambique who had just moved to Ulaanbaatar. We met for dinner and drinks to talk about international school teaching, but also spent good chunk of the time comparing and contrasting our experiences. She came out to visit me a few months later and I showed her my little town, my school, my classes. Over dinner one night with my site mates, she taught us this very simple but catchy song that one of her fellow Volunteers had written.

These last two weeks, my counterparts and I have been teaching the song in all the 8th grade classes. Both my teachers and my students have loved learning it and we've also used it as a tool to review present tense, past tense, WH questions ("who?" "where?" etc.) and irregular verbs. My 8a class has been by the far the best at learning the song so, with happy teacher tears in my eyes, I present to you "The Daily Routine" song:
My favorite part about the song is how it's traveled across the world from Mozambique to Mongolia through Peace Corps Volunteers. It attests to how global our work is and also how strong the Peace Corps network is around the world. So thank you to Sarah Hanson (RPCV Mozambique 2013-15) for inventing this little gem of a song, and thank you Sam Kruger (RPCV Mozambique 2013-15) for bringing it all the way to Mongolia!
"The Routine Song"

by Sarah Hanson
Verse 1: 
Wake up, take a bath
Get dressed, eat breakfast
Wash dishes, go to the school
Study and play
Go to the market
Cook and eat dinner
Watch television
Sleep and repeat
Verse 2: 

Woke up, took a bath
Got dressed, ate breakfast
Washed dishes, went to school
Studied and played
Went to the market
Cooked and ate dinner
Watched television
Slept and repeat