Love for animals inspires veterinarian to serve in Jamaica
I've loved animals my entire life. As I grew older, I discovered that I also enjoy nonprofit work. It was these two passions—and many other things along the way—that influenced my decision to join the Peace Corps.
My childhood was filled with animals, from my sister's pet tarantula to a horse I was given when I was 13. The horse was my best friend throughout high school and college.
In elementary school I volunteered at a shelter run by the Society for the Prevention of Cruelty to Animals (SPCA) in Los Angeles. I discovered that I loved making stray animals happy and comforting them on their journey to their forever homes. As a sophomore in high school, I participated in an amazing program for veterinary assistants at the Southern California Regional Occupation Center. This experience helped me land my first job in veterinary medicine— as an assistant at a local vet clinic when I was 16. This job gave me a passion for medicine and the desire to help sick and injured animals. Around this same time, I was given the opportunity to visit Botswana, which opened my eyes to cultures and lifestyles different from mine. When I returned, I knew I wanted to live abroad again at some point.
I was drawn to Cal Poly San Luis Obispo for my undergraduate education because of its excellent program in animal science and its hands-on approach to learning. While there I took classes in technology for the developing world and worked with a variety of agricultural species that further whetted my appetite for international aid work in agriculture.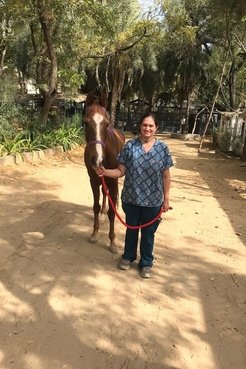 After graduating from college, I attended Ross University School of Veterinary Medicine in the Caribbean for two years, earning my doctorate in veterinary medicine. While at Ross, a veterinarian who had volunteered in the Peace Corps spoke with us about his experience. His stories helped solidify my dream. I knew about the Peace Corps already, since my father served in India before I was born. I grew up with the wonderful stories from his time there. By the time I was a graduate student, I knew I wanted to support global communities and help them improve their relationships with animals and the environment.
After graduating from Ross, I worked at several animal shelters, including Help in Suffering in Jaipur, India, and Goodwill Animal Shelter in Darjeeling and Kalimpong, India. My time in India broadened my experience with animals outside of North America and set me firmly on my path to Peace Corps. [BA1]
After I returned from India, I applied to the Peace Corps and was offered a spot in Senegal. Then COVID 19 hit, so I returned to shelter work. Several months later, I was again invited to serve in Senegal but was forced to decline since I had 3 months left in my contract at the shelter. The very next day I started to reapply and ultimately, after completing my work contract, I was invited to serve in Jamaica. I enthusiastically said yes!
With my extensive experience caring for animals at home and abroad, I am looking forward to improving the health and welfare of animals in rural Jamaican communities, working alongside my community to create more sustainable agriculture practices and a healthier community. I hope to achieve this goal by collaborating with farmers to develop a more wholistic approach to managing their crops and livestock.