Improved irrigation techniques increase farmer yields in Ghana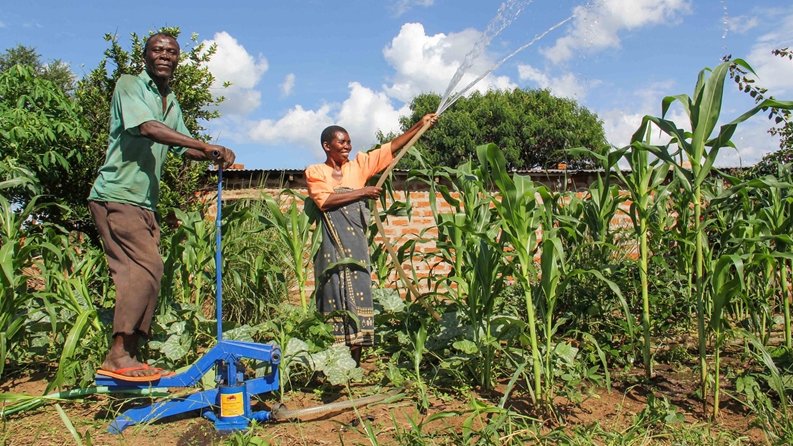 March 22, 2018
In a small community in the Northern Region of Ghana, groups of farmers toil for hours a day, filling 50-liter cans from hand-dug mini-wells to water their garden plots by hand.
Each bed requires three trips to and from the wells, and there are roughly 20 beds on each farmer's plot. To finish watering, a farmer would need two full days, so they sleep overnight at the garden plots. Another reason they slept overnight at the plots was to chase away livestock that would come eat and trample the vegetables.
The community is in need of proper nutrition, as not being able to farm during the dry season takes away critical sources of food and income for four months out of the year. The community expressed access to water as a great need from day one when Peace Corps Volunteer Jacob arrived and that proper irrigation would be a critical step toward improving food security, as they will grow more vegetables with the increased amount of water available. This increase in available nutrients from a wider variety of vegetables would also be incredibly beneficial to the health of the entire community. Plus, time previously dedicated to fetching and hauling bucket after bucket of water from a nearby water body could be used to increase efficiency of current agricultural practices, as well as venture into new practices aimed at putting food on the table and money in their pockets.
Working with the community to develop and implement the project, Jacob applied for a USAID-supported Feed the Future grant through the Peace Corps Small Grants program to support the community in using improved irrigation techniques to more effectively garden in the dry season. This grant would allow the community to increase their yield through improved irrigation techniques and decrease the number of crops lost through animal interference. Through this project, the community learned to install the new irrigation pumps, drip tape, water reservoirs and fencing, both adding to their skill sets and setting them apart as leaders for nearby villages and community members.
With the support of this Feed the Future grant, the community has improved their own food security by adopting dry-season irrigation, which is an efficient agricultural practice that results in higher yields from each farmer. One unexpected result was that surrounding communities caught wind of the project and came to see what was happening. Having seen the success of the irrigation project, neighbors from the surrounding communities are planning to invest in the land next year to participate in the project themselves. Not only was the capacity of the local farmers improved as they learned to operate a new machine, but they also were introduced to possible varieties of irrigation.
It was incredibly promising seeing the reaction of the surrounding communities. Farmers from as far as one hour away are now interested in gaining land there in subsequent years. The joy of community members was another huge perk of this Feed the Future project, and seeing them increasing efficiency while simultaneously having fun with each other and even others they typically do not interact with was inspiring. Due to the fencing out of livestock, there was not the worry of livestock damaging crops, so farmers are now able to sleep in their own homes rather than in the garden. And now, instead of farmers spending two days watering their plots, it only takes three hours.
---
Curious to learn more? Explore the World Wise Schools resources on this topic.
Explore