How much are Peace Corps Volunteers paid?
As a placement officer, I frequently encounter a common misunderstanding that Peace Corps Volunteers are not paid during their service. While the motivation to serve people is the essential factor needed for a successful service, that doesn't mean foregoing compensation.
During service
Volunteers receive a monthly living allowance. The amount of the living allowance is not standard throughout the world, but is instead tied to local costs within each country. Each year, our in-country staff work with Volunteers to survey local costs on key items to make sure that the living allowance is an adequate amount. This ensures that our Volunteers have enough money to live a modest life within their country of service. The living allowance is intended for our Volunteers to purchase the following items:
Food - Volunteers can use this money to buy food directly, and/or reimburse a host family for the food they provide the Volunteer.
Household supplies – Includes items like cleaning supplies, paper goods, etc.
Communication - Includes phone calls, internet connectivity, etc.
Clothing - For securing and maintaining clothing appropriate for the country of service.
Local transportation - Travel costs to and from work.
Personal sundries - Personal items such as toiletries.
Discretionary items - Recreation, entertainment, etc.
The basic living allowance can be supplemented by Peace Corps with additional funds to help cover a myriad of additional costs Volunteers might incur. These things could include housing costs, utilities, or compensating for locality differences. In addition, Volunteers are given a one-time settling-in allowance, which helps them acquire necessary housing supplies, furniture, and equipment that they may need in order to be self-sufficient within the community.
The Peace Corps Manual states, "Volunteers live modestly by the standards of the people they serve, yet not in a manner that would endanger their health or safety." While Volunteers do get paid, the stipend will be very modest – one might say small – by American standards. This is an important part of the Peace Corps experience, and helps to facilitate cultural integration.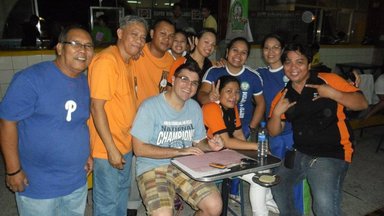 During my service in the Philippines, I was stationed in a city with access to many luxuries, including a Western-style super
market. However, the supermarket prices were too high for my budget. Rather than shopping in the supermarket for imported food, I went to the local market and haggled for locally grown produce in my local language. At first, navigating the bustling market in a brand new language was daunting, but by my second year, it was a daily task and a point of linguistic pride.
Whether it was purchasing food, entertainment, or travel, my modest Peace Corps allowance meant that I always needed to choose the local option to stay within my means. This gave me an important insight into the lives of the people I served and lived alongside.
After service
At their completion of service, Volunteers can receive a number of financial benefits. Probably the most significant of these benefits is the readjustment allowance, which is currently set at slightly above $10,000. The money is intended to help Volunteers transition into their next undertaking. Additionally, certain types of student loans may be eligible for forgiveness at the completion of service, so check with your lender about the benefits they offer. These are just two of the many benefits returned Peace Corps Volunteers can tap into after their 27 months of service.
If you are interested in learning more about the Peace Corps we invite you to reach out to a recruiter. You can also start your Peace Corps journey by submitting your application.