Growing trees and relationships in Nepal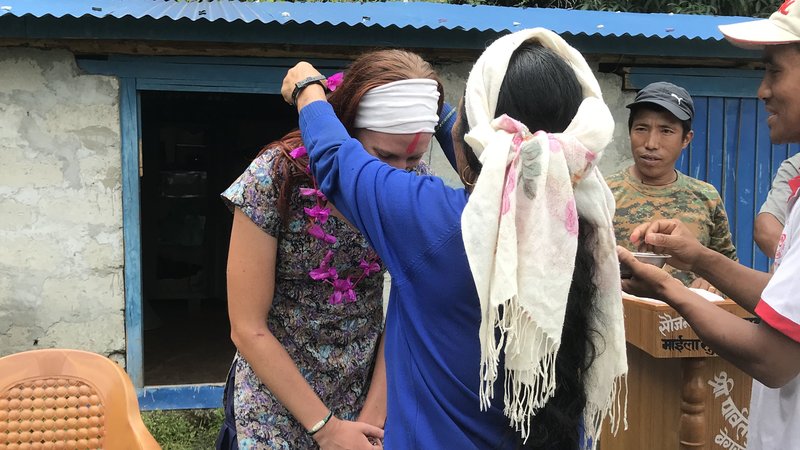 May 17, 2019
It's 6:00 in the morning and the sun has barely risen, but the roosters have been up for hours, trying to outdo each other.
I slouch out of bed and grump through my morning, but I know that after I throw open the eastward facing doors and let in the morning sun I won't stay grumpy for long.
My village, 1,500 or so people, sits perched on a steep hillside on the edge of the Himalayas. The houses, every single one, are hand-hewn from stone, sporting cheerful blue shutters and vast courtyards on which to dry wild mushrooms and seasonal crops. Everything is made of stone here: streets, buildings and fences. Even the people here resemble stone, sun-warmed and enduring. I am the tallest and possibly skinniest person in my village, and my slender fingertips have taken on a rough beveled edge, like granite. My face is starting to incorporate the sandy limestone wrinkles that I once thought unique to the people here. I like it.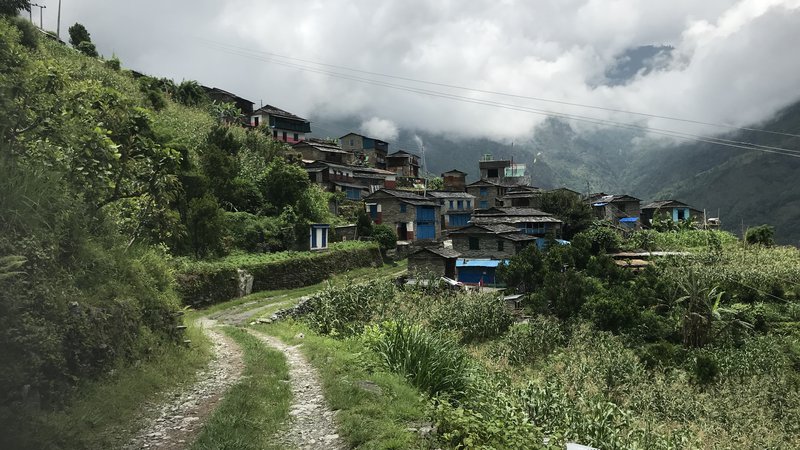 I tumble down the steps to the kitchen, where Aamaa (mother) is cooking up rice in the pressure cooker. Babbaa (father) has returned from milking the water buffalo, and is hand churning the rich milk into butter, highly valued in the markets here in Nepal. When my American father visited recently, my host parents gifted him a huge jar of butter, to his surprise. "So you don't get hungry on the road," were Aamaa's words.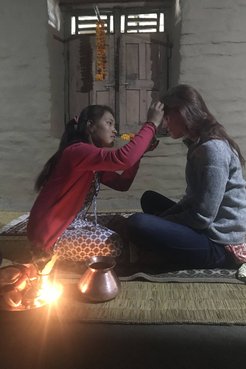 I spend some time sitting with my 18-year-old bajini (little sister), shelling peas collected from their garden, and peeling beets pulled up from mine. We talk about mundane things; when will it be time to harvest the mustard? When is the next holiday? Why isn't our neighbor's water buffalo giving milk? (Did someone curse them?) My bajini is cheerful, hardworking, and always curious. I can't overstate how much she means to me here, and I'm proud to be able to help her grow into herself. Sometimes when she asks, I teach her English, or she helps me with my Nepali. We go out and work the fields together, or spend chilly winter afternoons knitting in the sun of the courtyard, making fun of the teenage boys that walk past trying to look too cool for this tiny village. But it's the morning moments I love the most.
We eat two big meals a day here; morning dal bhat (rice and lentils) and evening dal bhat. I do all my work as a food security Volunteer between those two meals. I have choices: help my host family in the fields, visit my village offices, or wander around between houses, checking my neighbors' progress on projects. On any given day I could facilitate trainings on fruit tree cultivation, mushroom farming, maternal and child nutrition, kitchen gardening, menstrual health, or basic hygiene. I could be teaching in the school, working in the health post, or meeting with farmers. Every day is different, every day is unique.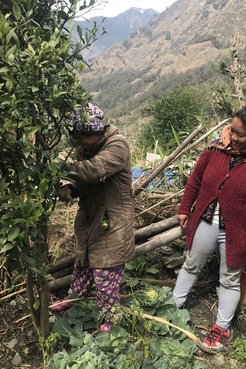 On this particular day I walk 30 minutes to an orange tree orchard, where I spend the day teaching a farmer how to prune his trees above, and apply compost properly below. I make sure he knows about common diseases and how to prevent them, and ask him about future plans to diversify his orchard. I do group trainings often, but I prefer to give trainings face-to-face; it's a good excuse to sit down for a cup of muey, my favorite milk-based fermented drink, after an afternoon spent in the treetops.
When I arrive back at the house it's already late afternoon, and Aamaa is lighting the fires and getting dinner started. I play my part and put the rice on to cook, while she chops vegetables. I have a few minutes to myself before we eat, to wander through my garden, play with the village dogs, or sit on my porch reading. We eat together in the kitchen, sitting on rice mats and talking about the day, and by the time the dishes are washed and teeth are brushed I'm exhausted, even though it's early. I bid my family good night and drift off to sleep, tired but happy in my newfound corner of the world.