Graduate school benefits after Peace Corps service
Considering graduate school after Peace Corps service? The Peace Corps has you covered!
The Paul D. Coverdell Fellows Program offers financial assistance for returned Volunteers at over 200 graduate programs across the United States. Read on to learn about the Coverdell journeys of five Fellows.
Ryan Stannard – University of Pittsburgh (2018)
I was living abroad and wanted to get some experience in international development before pursuing graduate school, so I applied to the Peace Corps. I served as an education Volunteer in Thailand from 2014 to 2016. My main task was co-teaching English as a Second Language (ESL) to primary and middle school students. I also worked on secondary projects such as English literacy and phonics, and implemented helmet and road safety training for my students.
While serving in Thailand I applied to five Coverdell programs in large metro areas on the East Coast. I ultimately chose the Master of Public & International Affairs program at University of Pittsburgh, which offered me a 65 percent tuition discount.
I appreciated the many international students and returned Volunteers in the program and the fact that many staff and faculty were either from abroad or had extensive experience working abroad. The coursework helped give meaning to data, statistics, and the economics of development—subjects I'd always struggled with as an undergraduate! For my required internship, I was able to travel abroad to work with a road safety organization in Vietnam (with the program defraying $2,000 of travel costs). I hope my degree in international development will help me eventually work abroad for the Peace Corps or another international development organization.
Adam Housh – SIT (2018)
As an Education Volunteer in Armenia, I taught English, jobs skills, intercultural competencies, and more to youth across the country. I also wrote grants for infrastructure development and performed logistical arrangements for nationwide youth camps.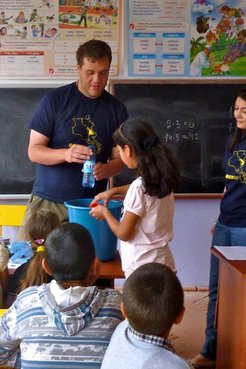 After completing my service in 2015, I wanted to understand how the trauma of events like the Armenian genocide can affect poverty and social mobility. I applied to become a Coverdell Fellow at the School for International Training (SIT) Graduate Institute's Peacebuilding and Conflict Transformation program (now Peace and Justice Leadership program) because it emphasized community integration, collaboration, and sustainable grassroots programming, just as Peace Corps does.
As a Coverdell Fellow, I received an attractive financial package, including free on-campus room and board, a sizeable tuition waiver, and eligibility for scholarships.
At SIT I was able to use the skills I learned in service, such as grant writing, program design and management, and training design, to analyze the affects my Peace Corps projects had on systems of violence and inequality that exist in Armenia and beyond. Additionally, as part of my master's degree program in peacebuilding and conflict transformation, I gained skills in conflict mapping and strategic planning that will enable me to create more effective peacebuilding interventions in the future. My SIT cohort included peacebuilders from across the world who were a wonderful resource for best practices and lessons learned. My experiences as a Peace Corps Volunteer and Coverdell Fellow at SIT have been the cornerstone of my professional and personal success.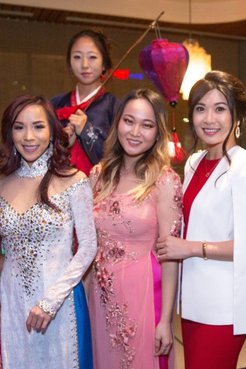 Ashley Baek – American University (2019)
During my Peace Corps service as an English teacher in Mongolia from 2014 to 2017, I developed strong intercultural communication skills and wanted to build on this experience after my service. I applied to become a Coverdell Fellow in the master's degree program in Intercultural and International Communication at American University (AU), which I felt would also prepare me to pursue a career in foreign service or international affairs and give me exposure to professional environments in Washington, D.C.
In addition to the considerable tuition assistance I received as a Coverdell Fellow, the program had many benefits. I held an internship with a local health organization that works in developing countries, through which I was able to contribute and expand upon skills I learned as a Volunteer. The program also kept me closely connected to the Peace Corps community, allowing me to share my stories of service with students at recruitment events and network with other returned Volunteers on campus.
The program at American University, the first of its kind, gave me an opportunity to explore the multifaceted aspects of intercultural relations and many other innovative ideas. Through my study at AU, I came to understand more deeply many of my service experiences. The Coverdell program also inspired me to continue pursuing intercultural communications and public diplomacy as a career.
Carlos Jean-Baptiste – University of Cincinnati (2013)
I served as a Peace Corps Volunteer in Kenya and Zambia. I started off as a Health and Education Volunteer in Kenya in 2006, serving at a primary school for the deaf. My service was suspended due to civil unrest in 2008, so I transferred to Zambia as a Community and Economic Development Volunteer, working with the National Association of the Deaf until 2009. I went on to work in Ethiopia and Haiti, and then pursued a master's degree as a Coverdell Fellow in community planning at the University of Cincinnati in 2013.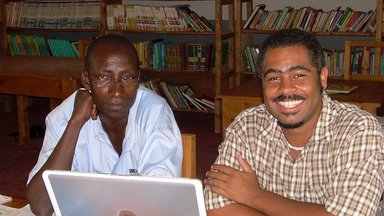 University of Cincinnati's nationally ranked planning program offered Coverdell Fellows a full ride and paid graduate assistantships; the package was simply too good to pass up. My focus was international planning with an eye to potential employment with the federal government. This focus lined up with a faculty that included many returned Peace Corps Volunteers and experience in venues I wanted to access most.
While pursing the master's program, I was a research assistant on two publications centered on participatory action research and community planning, I taught intercultural communication for sign language interpreters, interned with Maryland-National Capital Park and Planning Commission, and worked with the Cincinnati Health Department.
Everything I've done since my Peace Corps service, both volunteer and work experience, culminated in my master's degree; every skill I gained during this period correlated to a planning principle, from community needs assessment to engagement practices. It all got me hooked on planning!
Amy Jenkins – Columbia University Teachers College (2004)
I was serving in the Peace Corps as a TEFL (Teaching English as a Foreign Language) Volunteer in the Kyrgyz Republic (Kyrgyzstan) when 9/11 happened. I was subsequently evacuated from the country and returned to the United States, where I planned to enroll in a TESOL (Teaching English to Speakers of Other Languages) program. I didn't have much time to apply, and didn't even have time to take the GRE. I applied to the Master of TESOL program at Columbia University Teachers College because it didn't require the GRE, and I also knew I could get financial assistance through their Coverdell program.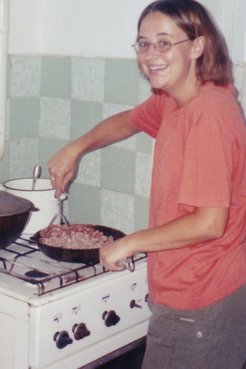 At the time I participated, the benefits offered through Coverdell were one-third off tuition and fees; assistance obtaining a teaching position with New York public schools; cohort parties and other activities including an annual networking BBQ; and a teaching mentor who met with me monthly and visited my classroom.
The teaching methods and second language acquisition courses I took were directly related to the work I did as a Peace Corps Volunteer. My teaching experience in the Peace Corps gave me an advantage over the non-Fellows in the program because many did not have experience working with non-native English speakers. I was also able to share how English is taught outside the United States, specifically in Central Asia where there are national curriculums.
The Coverdell program directly related to my career goal of becoming an international educator. It gave me a degree and provided me with two years of relevant work experience. In my first international recruitment event I was offered nine interviews and received nine job offers, which allowed me my pick of jobs. My fellowship degree and work experience, coupled with my Peace Corps service, have allowed me to stand out and get selected for positions throughout my career.