From the Peace Corps to foreign service: A 30-year career serving children
Erin Mone-Marquez has spent much of her 30-year career working in difficult conditions, from disadvantaged urban areas in Costa Rica, to wartime refugee camps in Liberia, to supporting communities impacted by the current war in Ukraine. How does she retain a sense of resilience, purpose, and optimism when she's immersed in suffering?
The answer: children. Mone-Marquez has dedicated her career to protecting vulnerable children around the globe. While helping hundreds of children over the years, she has found hope and inspiration in their curiosity, joy, and perseverance.
Mone-Marquez is a foreign service officer for the United States Agency for International Development (USAID) in Stuttgart, Germany. She is the deputy development advisor to the Department of Defense's European Command, but she began working with children overseas as a Youth in Development Volunteer in Costa Rica in the mid-1990s.
As an undergraduate at the University of Lynchburg in Virginia, Mone-Marquez studied international relations and Spanish, intending to go to law school. Before graduating, she visited her sister, who was serving as a Peace Corps Volunteer in Burundi.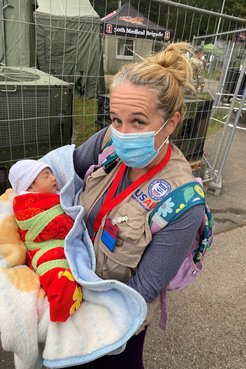 "It totally changed my career trajectory. I thought, I can always go to law school," Mone-Marquez said. "I came back, finished up my senior year, and applied to the Peace Corps. I never went to law school."
Mone-Marquez needed more experience to qualify for service, so she earned a teaching certificate over the summer and began teaching in a high school. She loved working with young people, and departed for service thinking she might later return to education.
Mone-Marquez continued her work with youth in one of the first Youth in Development programs in the Peace Corps, serving in a port city on the Pacific coast of Costa Rica. She was assigned to work with the city's child protection agency, which had targeted programs for street children.
"It was a really cool, wholistic project. I worked with social workers, psychologists, and program coordinators," Mone-Marquez said. "We offered kids who were working or living on the streets the chance to play soccer at a professional football stadium and taught them life skills at the same time. We also got a restaurant to serve them lunch and brought them to a health clinic. Many of the youth endured trauma, faced health challenges, and experienced food insecurity. At the end of the day was night school."
Despite her own modest background as the child of immigrants, the Costa Rican community where Mone-Marquez lived and worked was quite different from the small New Hampshire town where she grew up. Youth in Development Volunteers were required to live with families. "Living with a family meant I was part of that family, and everyone in the neighborhood knew me. They looked out for me and told me who I should or shouldn't talk to," she said. "Gaining that sense of belonging was really the most influential part of service for me." She found working with children immensely rewarding.
"We all had hard days in the Peace Corps," Mone-Marquez said. "But I would step back and realize, sure, I can go home to the States, and continue with my easy life. … But sometimes you have to go through hard times to recognize how much you have, and how much you can give."
After completing service in Costa Rica, Mone-Marquez pursued a degree in social work at Boston College. She focused her degree studies on adolescents and at-risk youth. In her first-year practicum, she used her Spanish skills to help non-English speaking students.
"After the first year of grad school, I flew down to work as a technical trainer for Peace Corps Paraguay. En route, while waiting for the bathroom, I met someone who ended up hiring me at Management Sciences for Health, an international public and social health organization, for my second-year practicum," she said. "On the basis of this experience, I helped Boston College set up its first global social work program."
While getting her degree, Mone-Marquez decided she wanted to work with child soldiers and children affected by armed conflict. Through her sister, she connected with a recruiter at the International Rescue Committee and was hired. In her new role, she worked in a refugee camp located in Liberia as civil war raged in neighboring Sierra Leone.
"I lived in the camp for over a year. There were more than 100,000 people in the camp, living in thousands of tents. We had a clinic, a school, and various nongovernmental organizations came to conduct their programs," she said. "We taught young people technical skills. We had tailors in the camp and young kids making furniture. One group of kids submitted a proposal to start a bakery. They built a huge oven out of a termite mound using cement we procured for them and proceeded to bake and sell bread in the refugee camp."
Life in the refugee camp wasn't easy, but Mone-Marquez found ways to keep her spirits up.
"I journaled a lot. I used my generator one hour a day so I could run on a treadmill. I went out and played soccer with the kids."
One young woman in the camp, a 15-year-old girl named Sarah, had a child. Mone-Marquez spent a lot of time with Sarah's 2-year-old boy, Fumi.
"I took a picture of Fumi and me together, and gave a copy to his mother," Mone-Marquez said. "About seven years ago I got a note on Facebook saying, 'Hey, are you Erin, who lived in the refugee camp in Liberia?' I was like, 'Oh, gosh! Who is this person?' I didn't recognize Fumi until he sent that picture! He stayed in Liberia and went to law school and is a lawyer now. We've been in touch ever since."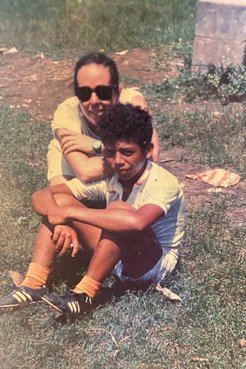 Peace Corps service was the most influential time in Mone-Marquez's life. She believes it was the greatest steppingstone in her career because of the skills and the professional network she gained. But the ever-replenishing wellspring of her career is her connection with children. In Costa Rica, Mone-Marquez forged a bond with one child that endured well beyond her time as a Volunteer.
"Marcos was about 12 when I met him," she said. "He had endured trauma and had no parents at home. He had to care for his younger siblings in the absence of his parents. He was so well-behaved. He worked, went to school, and hung out with me."
When Mone-Marquez returned to Costa Rica many years later in Peace Corps leadership role, Marcos found her and got in touch. He'd left his neighborhood, received an education, landed a job, and had a girlfriend. Tragically, six months after his reunion with Mone-Marquez, Marcos was diagnosed with leukemia.
"For the last three months of his life, I spent every day with him in the hospital in San Jose. I brought toiletries and sat with him before and after work, until he fell asleep. It was hard for his girlfriend to travel to see him, so he didn't have anybody else," she said.
Marcos, one of hundreds of children touched by the life and work of Mone-Marquez, said that Peace Corps Volunteers and staff had helped him believe in himself.
"He said, 'You never talked down to me, you always encouraged me to go to school, and you always told me I could do something.'"