Corps to Career: Deepening impact through moringa
When I joined the Peace Corps, I had just finished my undergrad and didn't know what was next. The Peace Corps was something different, interesting and challenging. 
My first two years of service were spent in a tiny village in the Eastern Region of Ghana. With a population of 500 people, my community was to some degree the quintessential Peace Corps site. It had no electricity, no cell phone service and everyone was super friendly and welcoming. 
My assignment was to work with farmers to increase their income through alternative livelihood projects. I tried everything: beekeeping, rabbit rearing, mushroom growing... Most projects kind of fizzled out, but I had a few that were relatively successful. One was an oil palm distribution project and the other was a moringa project.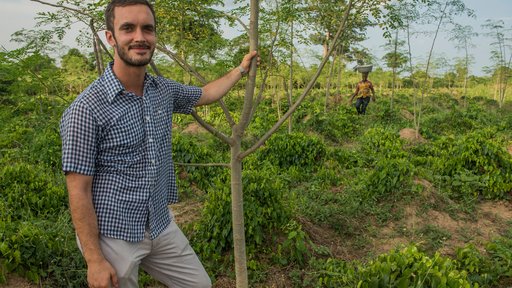 When I first learned about moringa in pre-service training, I was blown away. The leaves are overflowing with nutrients, particularly vitamin A and iron, two nutrients that are seriously deficient in many parts of Ghana. You can turn those leaves into a shelf-stable leaf powder that fits a growing niche in the U.S. natural and green food markets. It seemed almost too good to be true. I was eager to make moringa a part of my service. 

About a year into my service, I heard about a company called MoringaConnect. They were looking for Volunteers who were working with farmers who had moringa and wanted to help them grow more for moringa seed production so they could buy the seeds and process them into a high quality cosmetic oil. I was surprised and a little skeptical at first as I hadn't known there was much value in the oil, and had never thought I would be working within supply chains for the cosmetic industry. But after I met MoringaConnect's co-founders, Kwami and Emily, I was sold. They were both generalists coming into this with passion for helping smallholder farmers and a vision of creating widespread impact in Ghana through the moringa tree. 
With six months left before my close of service date, I wasn't ready to leave the Peace Corps. I was having a conversation with some other Volunteers about various opportunities to stay during a car ride back from a conference when Kwami, upon learning that third-year positions were a thing, said, "Joe, come work for us!" 
Immediately, all the anxieties I had been feeling about what was going to be next for me were gone. It just made sense. 
From there, I grew with the company. It was an incredible opportunity. One motivation for staying was to remain engaged with my original site. A key part of my role as a third-year Volunteer was to support the supply chain manager on improving our farmer engagement. It was thrilling being able to do that and return to watch the harvest of the trees I had help plant while still living there. 
It was also a challenging shift in my work. I had learned how to live in a village and be a member of a community, but the shift to working with a social enterprise startup was a drastic one. My Peace Corps service allowed me to have flexible hours; while still in the village, my morning routine was centered on a long, drawn-out coffee and reading session before I started work. 
MoringaConnect was a real business, with (often extended) working hours, and at the same time was still growing rapidly so often faced the growing pains of any young organization such as record-keeping, hiring, organizational structure, strategy, etc. We were a fully vertically integrated business, meaning we managed the engagement of thousands of small farmers, the logistics of sourcing raw materials from all over the country, processing of moringa seeds into finished products, exports of these finished products and the sale of them in the U.S. and elsewhere around the globe. 
Being thrown into that definitely forced me to get my bearings quickly and even still, as I was only third-year Volunteer with a contract for a short 12 months, they couldn't invest in my long-term professional growth or rely on me as a permanent fixture in the company, since I wasn't. 
This was something that weighed on me a lot and as my third year winded down, Kwami came to me. We discussed my future and he ended up offering me a three-year contract to continue working with MoringaConnect. It was not easy to stay away from home for another three years but the opportunity to work with a company that met my needs to remain socially engaged and ambitiously driven was too much to refuse and I accepted. 
Now I manage most of MoringaConnect's operations in Ghana and do a bit of everything else for good measure, and am having opportunities I never dreamed of. Kwami and Emily were recently named Forbes 30 under 30, we just raised a seven-figure seed round of investment that enabled us to provide over $400,000 to farmers in direct income by purchasing their moringa seeds and we are launching the largest organically certified moringa farm on the continent as we simultaneously grow our smallholder farmer supply base to create two award-winning brands: one creates natural beauty products from moringa oil, while the other brings the awesome nutrition of moringa leaf powder to consumers around the world. 
I had a thousand ideas and no idea what I'd do after the Peace Corps, but this is beyond anything I ever imagined.
Joe was profiled on the Feed the Future website last year. Read more here.
---