Connecting with my heritage as an Afro Latina Peace Corps Volunteer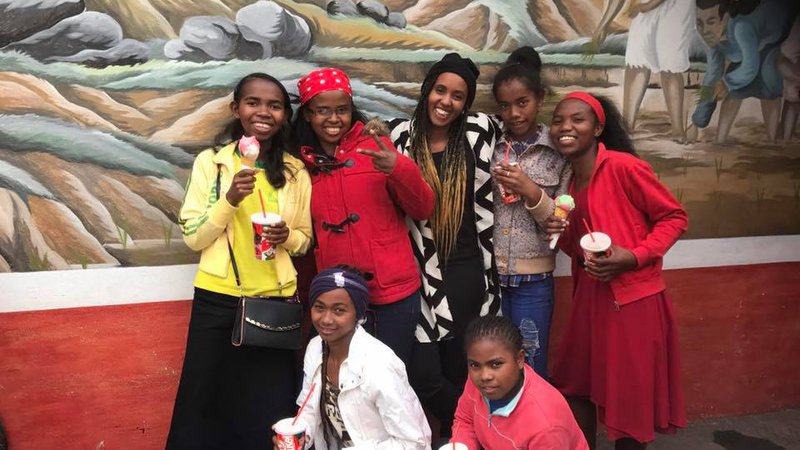 Sept. 10, 2021
Throughout my life, I have always had a deep yearning to dive into the unknown and discover unique ways to serve humanity. As a Latina of African descent, I also wanted to make connections with the African diaspora around the globe. Serving as a Peace Corps Volunteer in Africa gave me a unique opportunity to discover more about my heritage while supporting a community abroad.
After graduating from Berklee College of Music in 2013, I was working at a job that I loved in Boston and saw an ad about the Peace Corps in the newspaper. I was drawn to the idea of living abroad, but the prospect of living in what I thought would be harsh conditions for over two years was daunting.
I decided to attend a recruiting event at the Boston Public Library. After listening to the recruiter's stories as a Volunteer in Nicaragua, I decided to apply. When I was invited to interview for a position in Africa, I was thrilled. In my application I'd agreed to serve where I was needed most, but hoped to be placed in an African country so I could connect with my Dominican heritage and African roots.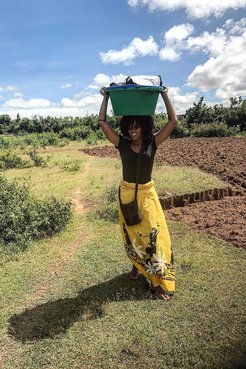 Three months before my departure, I told family and friends that I was embarking on a 27-month journey as a Peace Corps Volunteer in Madagascar. They were happy for me, but some feared for my safety. I assured them that as a government agency, the Peace Corps would make sure I was placed in a safe location. My mother took it the hardest, unable to understand why I wanted to leave the country when I was already supporting underserved communities in the U.S. I explained that it was an opportunity to live overseas, represent our Dominican American community abroad, and make connections between the Dominican Republic and Madagascar.
At my site in rural Madagascar, I supported English teachers and taught English at the secondary school level. I also worked on numerous secondary projects, including a youth cooking class, a garden at the local middle school, and towards the end of my service, a camp that provided youth with leadership and gender-equity training.
As a Black Volunteer, I blended in well in Madagascar. Most people in my community didn't know I was American until they heard me speak broken Malagasy. And most people had never encountered a Black American; they didn't realize that America was a huge melting pot of immigrants from all over the world. The revelation that I was an Afro Dominican American Volunteer surprised many and served as a great conversation starter. Many people would refer to me as a "Malagasy vazaha" (Malagasy foreigner) because they connected my blackness with being Malagasy even though I was not.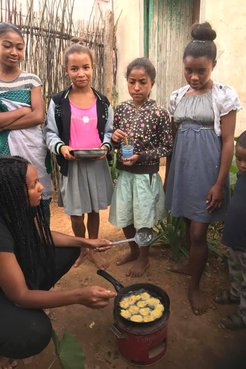 Questions about my identity didn't come as a surprise to me. Growing up as an Afro Latina in Boston, where many people had a very limited perception of the diversity within the Latino population, I explained my ethnic background frequently. The fact that Malagasy people also had questions never frustrated me; instead I used their curiosity as an opportunity to discuss the African diaspora throughout the world.
The Malagasy people initially assumed that as a Black person who looked like them, I would speak their language fluently. During the first few months of my service, I had to develop a tough skin and learn to be OK with laughter as a response to my language mistakes in Malagasy. With a limited vocabulary, I also had to trust my counterparts to help me complete tasks. Struggling with language prompted me to find other ways to connect with community members, like drawing pictures with children, playing games, or connecting through the culinary arts and music.
Despite these challenges, I was able to use my Dominican heritage as a way to connect with my host community.
On International Women's Day, I shared the story of the four Mirabal sisters, who helped overthrow the dictatorship that controlled the Dominican Republic in the 1960s. I also cooked many traditional Dominican dishes for my host families and friends. Many people enjoyed trying Dominican food, especially mangú (mashed plantains). One restaurant owner even started selling the dish on market day, when people from the countryside visited the village to sell their products.
These culinary exchanges became so popular that I started a cooking class for children in my community. During these classes, we learned about dishes from all over the world and we talked about ethnic diversity in the U.S.
I also found many similarities between Malagasy culture and my Dominican heritage. For example, many of the root vegetables (cassava, yams, plantain) that grow in Madagascar are also common in the Dominican Republic. The warmth and the friendliness of the Malagasy people reminded me of rural Dominicans whom I had the privilege of interacting with during frequent visits to my grandparents' house in the countryside (both of my parents are from the Dominican Republic). The values of family, community, and unity in Madagascar are also central to Dominican culture.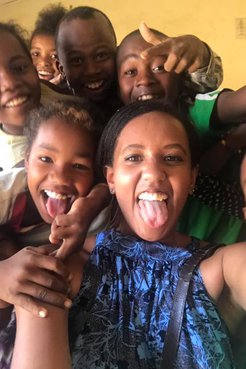 Serving as a Peace Corps Volunteer in Madagascar was a transformational experience.
During service I learned about the value of community and family, and began to connect with my African roots. This immersive experience also helped me grow in many other ways. Throughout my entire service I learned about the power of "leaning in" when facing fear of the unfamiliar. I learned to work in challenging environments with limited resources and learned to adapt to changing situations.
Regardless of your motivations for joining the Peace Corps, if your heart is in it and you are ready to face the unknown, the experience could be right for you. The rest of the world could certainly benefit from interacting with Americans from diverse backgrounds. If you decide to embark on this once in a lifetime opportunity, my advice is to stay open to the possibilities that may come from this incredible journey of service and cultural exchange.