Choosing a life of service: From Peace Corps to City Year
My commitment to service started with the Peace Corps in September 2012.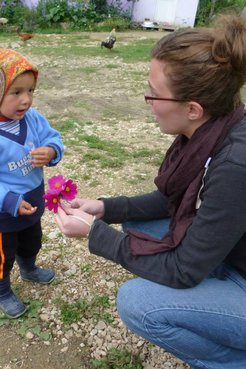 I served 24 months as a youth development specialist in Azerbaijan where I taught classes and ran camps focused on women's health, empowerment and leadership.
When I entered the Peace Corps, I did so with a detailed list of expectations around what my experience would be like, the impact I would have, the challenges I would face, the new opportunities I'd encounter and the relationships I would form. Many of these expectations quickly proved to be very far from my actual experience as a Volunteer.
In reality, my service was an assortment of moments, both challenging and beautiful, that I could not have expected but that fundamentally changed the course of my life.
As a Peace Corps Volunteer, I would have moments where I felt defeated and discouraged, followed by moments of uplifting accomplishment and satisfaction in the work my students and I were doing together. There were times when I felt isolated and alone and times where I felt connected to the community I was serving in a way I'd never experienced before.
I had to learn to be self-reliant and self-motivated while simultaneously learning the importance of asking for help when I needed it and depending on the people I was working alongside. I was learning more about who I was as a person while also learning to truly connect with, and appreciate, people with very different experiences and backgrounds than my own.
My service years were the hardest thing I'd ever done and the most transformative. I returned from the Peace Corps with a confidence and resilience I hadn't left home with.
I'm a better world citizen as a result of my Peace Corps service, with a clearer understanding of my responsibility when it comes to acting as an advocate and support for communities that have not been extended equitable access to the resources they're entitled to. Most importantly, I returned from the Peace Corps with a deep respect for volunteers who give their time, energy and talents to supporting struggling communities.
When you've been a part of something greater than yourself it's impossible to return to business as usual. I knew when I arrived home that I needed to find work that challenged me, fulfilled me and reminded me every day how much of a privilege it is to serve your community. City Year has done all of that for me and more.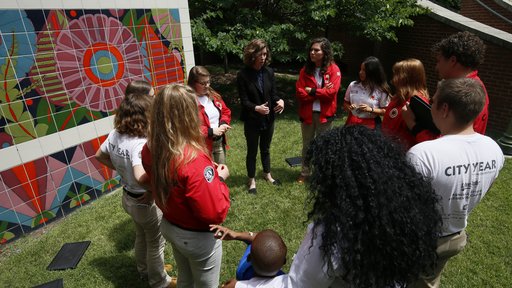 I began my career with City Year in Tulsa as first an impact manager providing direct supports to a school-based team of AmeriCorps members over the course of two service years. Next, I transitioned to an impact director position and then the director of learning, development & evaluations for our site.
Throughout my tenure with City Year, I've had the privilege of working alongside four classes of City Year AmeriCorps members who have made a commitment to serving the Tulsa community and its students. That's a total of 278 AmeriCorps Volunteers who have offered support, mentoring and school-wide programming to more than 18,184 students across Tulsa's highest need schools.
Today, I proudly serve as the managing director of impact for City Year Tulsa. In each of the roles I've held at City Year, I've endeavored to better support and empower our City Year AmeriCorps members in the work they're doing on behalf of our students.
While their surroundings and overall service experience is different from my own, I've had the honor of witnessing, and in small ways helping them navigate, the challenge and transformative experience they've taken on.
Over the course of each service year I watch our AmeriCorps members become strong and confident advocates for their students and communities. Every year I see our volunteers develop personally and professionally and I've seen them overcome hardship and struggle to accomplish huge feats on behalf of their students, schools and teammates.
Our AmeriCorps members understand what it means to be a change agent and better world citizen. Our work is hard work but it's good work, and I'm honored to have the opportunity to support our City Year AmeriCorps members in ensuring that Tulsa is a strong city that meets its obligation to all of our students.
As each group of AmeriCorps members complete their year of service, I'm confident in the group of passionate young people we're sending back into the world. City Year AmeriCorps members, like current Peace Corps Volunteers and alumni like myself, understand the importance of lending their voice, a hand or their own experience to making a difference in the lives of others and building stronger communities everywhere.