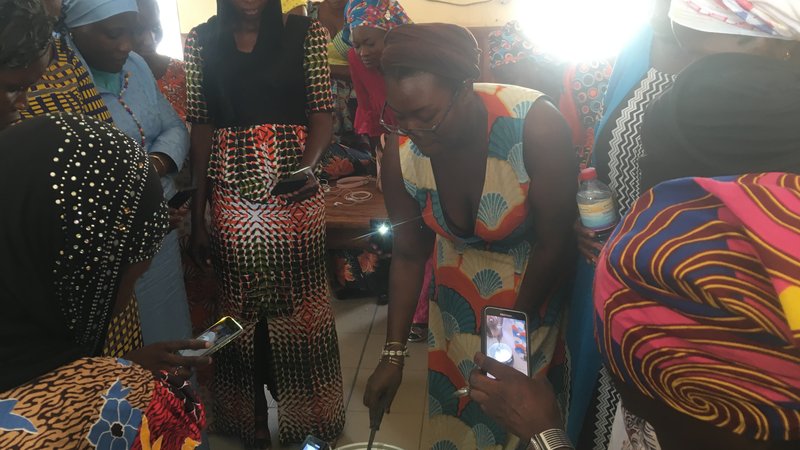 Sept. 18, 2018
Welcome to the Louga Region of Northern Senegal! Your complimentary camel and jug of warm milk await.
Community Economic Development Volunteer Desja has just completed an eventful and rewarding week-long training with six women's groups from six different communities on marketing, product design, and CHEESE MAKING. Northern Senegal is the milk and meat capital of the country, producing more dairy than any other region. So, grab your crackers and grapes, and let's go for a ride!
What's ETP?
The Entrepreneurship Training Program (ETP) is designed to educate people on business development and management. Over the course of five days, Desja taught 12 lessons including market research, creativity and accounting.
The lovely women who participated in the ETP program are all members of organized community groups, looking to enhance their current business strategies. Local community officials hope to see more developed business strategies and improved work skills, as well as an increase in income-generating activities throughout the community.
The Main Event
In the spirit of full disclosure, before the big day, Desja had never made cheese before in her life (although she is a pro at eating it). She didn't even have enough ingredients to do a test batch before she attempted to train the 30 women who waited eagerly to see the process. But, Desja is a fearless 'wing-it' type of volunteer who loves to take reasonable risks and develop skills alongside her students.
The night before the training, Desja stayed up until after midnight, watching YouTube videos of cheese-making methods and recipes, hoping to find the best one for her community.
The next morning, Desja popped out of bed early, grabbed her training bag and some cash, and headed to her local gas station convenience store. As instructed by the easiest recipe on YouTube, Desja picked up white vinegar, olive oil, salt, Italian seasoning and some unsalted crackers. Next, she stopped by a local vender to pick up a liter of fresh milk and headed to the mayor's office to meet her students. 
In the words of a famous rapper, Desja "was nervous but on the surface [she] looked calm and ready." She radiated confidence and joy. She couldn't wait to see if her "lightly" prepared attempt to make cheese would bop or flop. 
Desja began the session with a detailed explanation in Pulaar, the local language in her region, of pasteurization and the importance of hygiene and quality control.  Afterwards, three representatives from local female-owned dairy operations led discussions on the state of the dairy industry, future projections and women's empowerment. In a male-dominated workforce, these women created enterprises that now support their families and drive their community's dairy industry.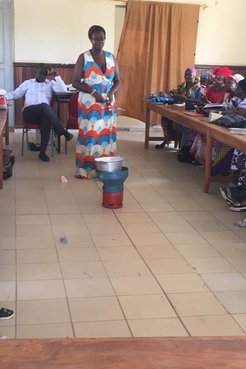 Now, it was time for Desja to show everyone her high quality, specialty cheese recipe from America… They were in for a huge surprise, and so was Desja. 
She started by bringing the liter of milk to a simmer and added three spoonfuls of white vinegar. And surprise! Things started to happen – it was working! The milk started to separate just as it had in the YouTube video. Desja looked like a pro. She began to spoon the curds into a filter made from a clean T-shirt and squeezed.
The room smelled terrible, like hot cheese and vinegar in an oven with no ventilation… which is exactly what it was. But, the cheese ball that Desja had just created was a beautiful masterpiece for any cheese lover. She left it in the mayor's refrigerator to cool overnight and wished her students a good evening.
The following day, Desja arrived at the mayor's office early to prep and plate her cheese creation. The perfect morning snack! Desja rolled the cheese ball in olive oil, salt and spices. She topped her unsalted crackers with fresh cheese and served her skeptical students, who were wondering why she would use crackers and not bread. As soon as the cheese reached Desja's mouth, she was reminded of home, girls' nights, snacks and music. In that moment she realized that cheese isn't just a food, it's culture, experience, work, history, art. 
It's not a coincidence that Desja ended up making cheese in the north of Senegal. Like many volunteers, she incorporated aspects of her personal knowledge and experiences into her sector work. 
Currently known as The Dairy Fairy amongst her peers, Desja has found home, culture, and passion through her community's growing dairy industry. Home is where the heart is.