A lifelong connection with my host family
"However, when I turned around to say goodbye to my mother and before I could utter a sound, she turned and ran away, crying. I started to chase her, but my brother, Demba, told me to let her go."
I remember I was a little over a year into my Peace Corps service and I felt like I was kickin' butt. I was able to communicate in two foreign languages (French and Mandinka) pretty well and, through this, form strong bonds with those in the village where I lived. The village, Kopara, had approximately 1000 people and was located only 15 kilometers from a local 'Lumo' ("market") in Dioabe. Often, when I would go shopping at the 'Lumo', sellers would be astonished by my command of Mandinka. Some would even be offended because I didn't speak their language, like Pulaar or Wolof. With my level of fluency, I was able to bargain, express my ideas and feelings and even insult people when necessary.
With my strong Mandinka fluency, I was able to communicate with other villagers and grew fairly close to those in my compound and beyond. I acclimated to the local customs, food, and culture. I enjoyed going through cultural greetings and would often joke with the villagers calling them lazy or kalabantes ("con artists").

But there was one person in my compound who didn't open up to me at all, and it got under my skin – my village mother, Jonkunda. She rarely spoke to me or made eye contact and I didn't understand why. Others in the village would talk about her behind her back saying that she would often go into the fields and cry for long periods of time.

One late night, I sat next to her on a cold concrete slab in front of my village father's hut. Not many people were around; most had already retired to their huts. I didn't go through any greetings. I didn't ask any questions. I didn't speak. We just sat side by side, both of us facing forward, staring into the darkness with stars sprinkled across the sky with sounds of crickets and toads in the distance.

After some time passed, she said, "I have 11 children under the ground." My Mandinka was strong so I heard the words very clearly, but it took me a few seconds to process what she meant. Then it hit me: she had lost 11 children. Then I started to cry. I said I was sorry. But I knew that my words were like trying to stop a heart from bleeding with a dried leaf. It wasn't enough.

We didn't say much after that and we soon went to our huts to sleep. But soon after, I noticed that our relationship had changed tremendously. I started to accompany her in the rice fields and she would tell me stories. She would create songs with my name in them.

"Lettero be mbulu,
Tida ko a be nsambala,
Bari mfama mang song,
Tombi ntata."

"I have a letter,
Tida said she will take me with her,
But my father doesn't agree,
Perhaps I would have gone."
And when we would have drum circles in the village, she, along with my entire village, would dance with me and sing the songs she created in my name.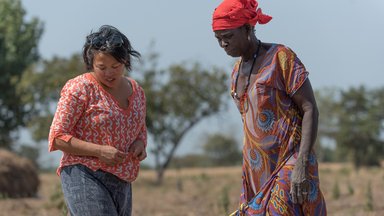 Then came the time for me to return to the US. I was told that the tradition is to leave at dusk when everyone is still sleeping so that the goodbyes are not as hard, especially when you don't expect to see the person again. All the previous volunteers did not return to Kopara, so it was likely that I would do the same.

I was defiant and insisted on leaving in the day, telling them that I planned on visiting again - that I would not forget them. Some said that I was being callous, but there was no changing my mind. I left in the middle of the day and was determined to walk the half-kilometer to the road, where I would catch my ride, and wave, saying my goodbyes from the dirt path. However, when I turned around to say goodbye to my mother and before I could utter a sound, she turned and ran away, crying. I started to chase her, but my brother, Demba, told me to let her go.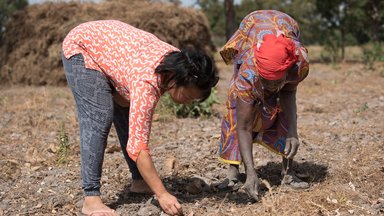 I was upset and shocked. I didn't know I wouldn't get to say farewell to my mother after becoming so close to her. I eventually continued on the path, wondering if I did the right thing, questioning if I should have listened to others and followed tradition.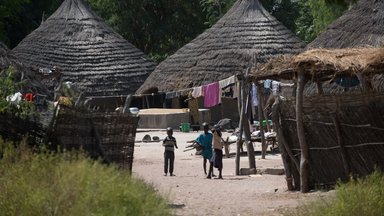 I left my village and proceeded to have my close of service training. It was bitter-sweet.

I continued to stay in contact with my family and would call my village to get updates on how everyone was doing. Some people had passed away while I was gone.

Then in 2018, I brought my 2 children and my husband with me to Senegal. We drove 14 hours from Dakar to my village. When I arrived, it was like I had never left. I remembered the names of all the people in my compound and the neighbors'.

We went through all the greetings and joked about how the other person was lazy or a kalabante.

When it came time for us to leave, my mother didn't run away. She stayed and waved us off with tears in her eyes but with a smile. I promised to come back.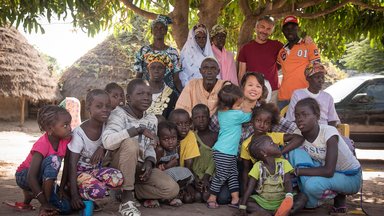 Anh Volmer (Tida Toubabo in Senegal), RPCV Senegal 2003-2005