The days are long, but the weeks… Short
I beat the sun most days, either waking up early to catch a bus to the main office or to get an early start on my morning routine. 
Meditation followed by a steamy mug of Mosh sounds gross, but really, Mosh is the sweet-watery-cinnamon oatmeal that gets me going. My Grandpa reminded me before coming, "no one jumps into both pant legs, everyone pulls them up one at a time" (note to self, figure out how to say this in Spanish). Little routines where you can fit them in make putting on Peace Corps Trainee pants easier. As a Trainee, I am part of Bak'tun 10, working with the Youth in Development Program, and for my first ten weeks in country, I will study under the shadow of Volcán de Agua. Swear in day is approaching fast and ten weeks fall quickly in El Pas de la Eterna Primavera. Since leaving home, my faithful internal-monologue is beginning to speak Spanglish, I am up-to-date on the telenovela Mi Marido Tiene Familia and Disney Princess Elena of Alvalor, and I now spend twelve hours a day training for the job I've dreamed about since I was ten.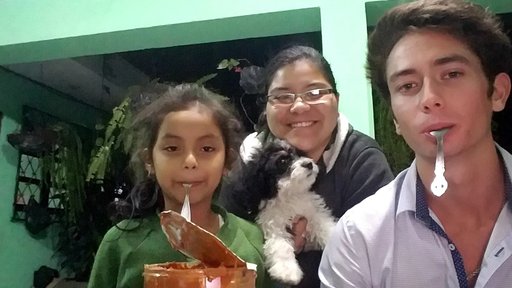 I embrace routine Mosh, honestly, the consistency prepares me for a day of Pre-Service Training (PST). We receive the coveted COTE (calendar of training events) at the start of training which breaks down all seventy days into thirty-minute sips…or…really, thirty-minute gulps. The mental acrobatics of PST are exhausting. We leap from learning how to make rehydration solution out of salt, sugar, and lime juice (in English), to flipping through statistics on the state of education in Guatemala (in Spanish), to tucking and discussing traditional styles of dress (in the Mayan language of K'iche'). It's ok, going to sleep before nine isn't unreasonable, it's recommended—Poco a Poco. Between the sessions every volunteer around the globe takes, Youth and Development specific training, language & culture classes, and time allotted to decompress, every day of PST feels/is planned. But, I'm still speechless. Even though my days are more structured right now than they ever will be in the next two years, I struggle to even begin to tell my host family what I did that day.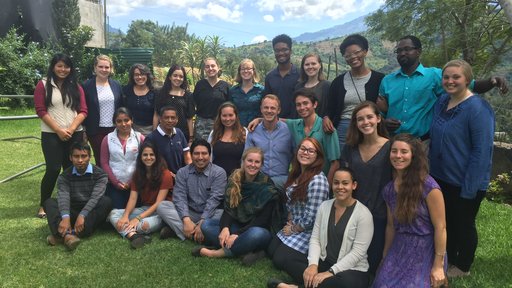 It can be really humbling trying to explain the Youth in Development (YID) Program, why I fear getting a parasite, and what my Mayan Nawal symbol is, all over the same mug in the morning. But, it's easy to talk about YID, that's what I came here for. When I finish training, I will move to my two-year site to work with teenagers, the municipal government, and other NGO's in the area to support positive youth development. Encouraging youth leadership, teaching life skills & healthy decisions, and focusing on building local capacity to support youth, the YID program is designed bottom up with sustainability vital to its process. I am most passionate about developing leadership capacity in youth and believe many of our most pressing modern dilemmas like climate change, education, and social discrimination will be taken seriously when youth are given a role at the decision table. Alongside equally motivated colleagues, we come with different experiences, from various backgrounds, but persist all the same through training, eagerly awaiting site placement.
Last week, Bak'tun 10 and I dipped our toes into what will be our lives for the next two years—Field Based Training. Whether it's prior work with AmeriCorps, Girl Scouts of America, or something else entirely, every trainee brings something unique to YID and Peace Corps. If you are applying to join us in Guatemala or even thinking about Peace Corps, I'm sure you've heard every volunteer's experience is unique. It's true. Some of us departed the office that day with backpacks full of sweaters, others carried tents to sleep in, and others were cautioned to pack light because the site would be eight-plus hours by cramped micro-van. I traveled to Quiche to find a climate verily similar to the pacific northwest, helped give a lesson to students on environmental stewardship, and spent the evenings watching Bob's Burgers swaddled in blankets. My host volunteer, Francisco, and I are part of the last Master's International (MI) candidates serving abroad.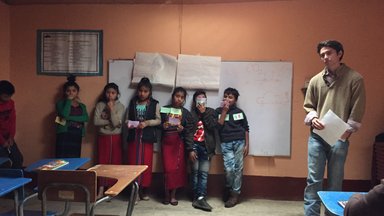 When the program was running, MI "equipped Peace Corps Volunteers with the education and skills to serve successfully and, in turn, helped students earn an advanced degree." With my cohort from the University of Miami, we spent the year prior to departure studying in the Communities and Social Change M.S.Ed degree program.  Studying topics in community psychology, youth development, and the management of community organizations, program director Dr. Ashmeet Oberoi, in conjunction with other passionate and inspiring faculty, prepared six MI candidates to serve in Peru, Dominican Republic, Morocco, Rwanda, and Guatemala. With the difficult decision to close the MI program in 2016, I am extremely grateful for this opportunity and eager to see how Peace Corps will support the continued education of its volunteers through the Paul D. Coverdell Fellows and future programs.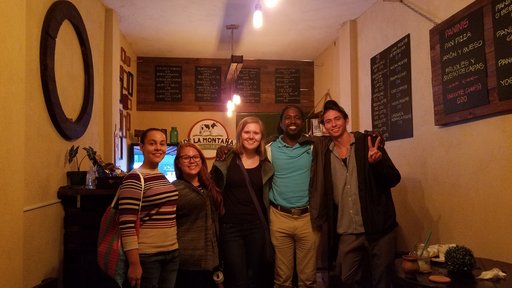 Before closing, I want to backpedal a bit and reemphasize something important, some days my Mosh is gritty and some days it's smooth. At night I stay awake if I can, hypergraphically scribing my walls with Spanish notecards and reading a stack of manuals taller than the stack of tortillas I ate for dinner. I look forward to the mornings when I dawn my denim jacket and pull up my Profé pants. Every volunteer takes a leap of faith, every volunteer will feel both humbled and empowered at times, every volunteer says, "your service will be your own." I know I can only prepare so much. When I wake up, I know I'm proud to answer John F. Kennedy's call to action and encourage you to read about the founding moments of the Peace Corps if you haven't. It reads well with a mug of Mosh in hand. 
You can learn more about my life here.