Eswatini
About
The Government of the Kingdom of Eswatini's Vision 2022 is committed to improving the standard of living for all members of the society through access to quality services, wealth creation and employment opportunities. Inclusive of this commitment is addressing poverty, gender equity and quality access to health, especially ending new HIV infections.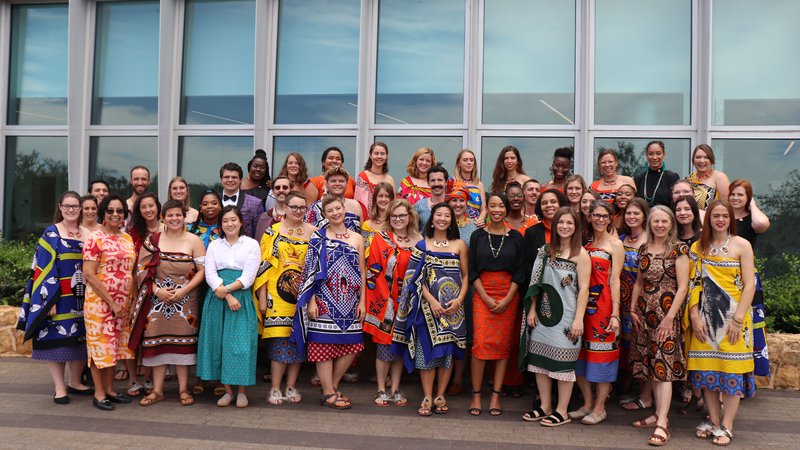 To achieve this vision, the Ministry of Health and the National Emergency Response Council for HIV and AIDS (NERCHA) are tasked with the responsibility of developing a responsive health system that meets the needs of all people including people living with and affected by HIV in Eswatini. They focus on these 3 areas:
Increasing the number of health related services and interventions provided across the country
Increasing coverage of population for these services
Reducing the household financial burden incurred at the point of access and utilization
Additionally, in the PEPFAR Strategy for Accelerating HIV/AIDS Epidemic Control (2017-2020), a bold course has been set for epidemic control in which Eswatini has been identified as one of 13 countries that will be supported to reach 95-95-95 by the year 2020.
Through funding via PEPFAR COP 2020, Peace Corps Eswatini will leverage volunteer efforts to support the DREAMS program, which targets 9-24 year old Adolescent Young Girls & Women (AGYW) to help them become determined, resilient, empowered, AIDS-Free, mentored, and safe. This is done though a multi-layered approach that includes: Community Family, and Partners. DREAMS recipients will receive primary and secondary services through volunteer support to help them achieve the DREAMs objectives. Services might include: providing life-skills curriculum; HIV-AIDS prevention; economic empowerment; providing linkages and referrals to HIV/AIDs and ART services.
History
In 1961, President John F. Kennedy established the United States Peace Corps in an effort to promote world peace and offer an opportunity for cultural exchange. Peace Corps arrived in Eswatini in 1969 to focus on building capacity in the education sector. Due to the immense progress in Eswatini's school system, Peace Corps ended their program in 1997. 
In 2003, Peace Corps received an invitation to reopen its program to focus on the increasing HIV epidemic. The Community Health Project aims to promote local leadership and response to the HIV epidemic in collaboration with the Government of Eswatini and international partners.
In 2011, Peace Corps launched a Youth Development program to build the capacity of young people to live healthy and productive lives. With the introduction of the Youth Development framework, volunteers facilitate projects that empower girls, promote literacy, and assist schools in providing additional support for orphans and vulnerable children.
Peace Corps Response
Peace Corps Response program in Eswatini recruits experienced professionals to undertake short-term, high-impact service assignments with partner organizations in Eswatini. Response Volunteers bring valuable skills and experiences to projects in places where they are needed most. Response aims to strengthens Peace Corps Eswatini's Community Health and Youth Development projects.
The Response Program works to strengthen existing and foster new relationships with government ministries, mainly the Ministry of Health to expand Human Resources for Health (HRH) initiatives within the academic setting and on healthcare leadership. Strategic placement with the Ministry of Education and Training is responding to the critical need on curriculum development in tertiary institutions as expressed by the ministry's leadership.  Highly skilled volunteers work alongside local professions sharing knowledge and skills to achieve individual and institutional capacitation on the skills that are not found and or are very scarce to find locally.
Response volunteers are strategically placed with training institutions, government departments, NGOs, private entities and local communities. Some of the partners that have worked with Response volunteers include: University of Eswatini, Southern Africa Nazarene University, FEI, Baylor, Peace Corps Office, PELUM, and Good Shepherd College of Nursing.
The Response program has two distinct portfolios:
A. General Response Portfolio :
Serve needs of partners in diverse fields such as agriculture, community economic development, education, environment and focus on:
Organizations that are linked to our Health and Youth Health Frameworks
Organizations that support our Peace Corps programming (GLOW/BRO/ other Peace Corps Office positions).
Working with organizations that fill in our programming gaps to help meet the needs of our community.
B. Advancing Health Professionals (AHP)
The AHP program is responding specifically to the critical needs expressed by the Ministry of Health and echoed by Eswatini Nursing Council in the Kingdom of Eswatini for nursing leadership and management mentorship. Current Program focus is on:
Academic instruction: to strengthen the capacity of future health care providers.
Focus on building capacity of academic and training institutions, and utilize various pedagogical methods, NOT TO INCLUDE DIRECT CONTACT WITH PATIENTS. These professionals provide instruction in the classroom or skills lab (demonstration lab) settings only. Include cadres such as: nurses, mental health professionals, pharmacists, lab technicians, etc.
Health systems strengthening: to strengthen the systems by which the health services are delivered through capacity building activities.
2.Health systems strengthening: support systems which strengthen the way health services are delivered through capacity building activities.
Specialists in quality improvement, health care delivery systems, management and operations in health care settings, and other areas will serve in capacity building positions where a focus is placed on improving the processes and delivery of health care systems in resource-limited environments.
Examples include Software developers, Communication Specialists and M&E Specialists supporting Ministry of Health initiatives.