Rhoda Brooks Ecuador, Manta 1962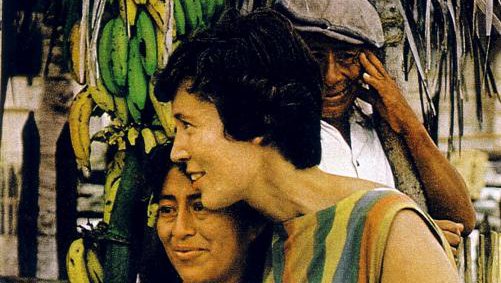 Jan. 18, 2022
Rhoda and Earle Brooks were members of the first group of Peace Corps Volunteers to arrive in Ecuador on August 7th, 1962. Their experience marked the rest of their lives.
This couple from Minnesota lived and worked as Volunteers doing community development among the disadvantaged fishermen in the coast of Manta for 20 months. The Brooks organized a variety of activities such as garbage collection, school kitchens building, carpentry and basic health teaching.
While integrating into the community, the couple fell in love with their little neighbor named Ricardo "Koki" Franco who called them "Mom and Dad Gringo".
When Earle and Rhoda went on vacation for a month, the child who was only two years old, was waiting every day outside the door of the Brook's house with a box of clothes and he said, "Mama Gringa, next time you go, I will go with you ".
Earle and Rhoda did as Koki said.
When it was time to return to the United States, the Brooks received permission from Koki's parents to take him with them. The Franco's family thought their son would have a better life in the United States. Koki later became a Peace Corps Volunteer himself in Ecuador.
While they were discussing the adoption of Koki, the Brooks thought it would be a good idea for Koki to have a playmate to help him adjust into a new culture.
It was then when Earle found Carmen, a girl a year younger than Koki. The Brooks spoke with her mother who agreed with the adoption, as long as she receive frequently pictures of her daughter.
The sad farewell of the Brooks from Manta is documented in the September 1964 edition of the National Geographic magazine. On the cover page Rhoda is surrounded by members of the community. She has her arm around a friend's shoulders and everyone is crying happy tears.
Inside of this special edition of National Geographic dedicated to Peace Corps, the personal story of the Brooks in Manta is mentioned. The article introduced the Peace Corps to the National Geographic readership and was one of only six stories chosen for publication out of 50 countries where the Peace Corps operated at that time.
The article demonstrated the couple's literary talents, which would lead them to their first job upon their return to the United States. While they were in Washington D.C., a National Geographic representative suggested to them that they write a book. The Brooks found a publishing house interested in their history and got down to business.
For a year, the couple lived with Rhoda's parents trying to fulfill the obligations of raising Koki, Carmen, and their newborn Ned while they worked on the book. In 1965 "Manta Neighborhoods" was published, the first book written by Peace Corps Volunteers. The Brooks traveled around the United States presenting and signing their book.
While raising their children, the Brooks made sure that Ricardo (Koki) and Carmen were aware of their culture. They kept in contact with the children's biological parents through letters and photos. During high School, Carmen and Ricardo studied Spanish to re-learn the language they had forgotten after leaving Ecuador. In the family, there were many opportunities to experience and discuss Latino culture.
"Since I can remember, my parents always told us about our adoption and how everything turned out," said Carmen. "They always told us that we would return to Ecuador one day to meet our biological parents. It seemed like our lives were directed precisely at that."
In 1977 the entire Brooks Family traveled to Ecuador. Ricardo and Carmen had the opportunity to meet their biological parents. The experience was very emotional as well as formative.
"Returning to Ecuador, seeing, feeling and experiencing everything that I am, helped me to define myself as a person," said Carmen. "It gave me the preparation and strength I needed for the future." The month-long visit allowed Rhoda and Earle to see the impact of their volunteering service. Many of Earle's woodworking students had their own workshops and had made a living out of making furniture. The environmental sanitation campaign initiated by the Brooks had been a sufficient example for the inhabitants of other neighborhoods to ask the local authorities for the provision of garbage bins in their communities.
After their visit to Ecuador, Rhoda and Earle stayed in contact with Peace Corps and Latin America. In 1980 they were selected as Co-directors of Peace Corps Chile. In 1981, they had the opportunity to return to Ecuador and visit Manta, when they attended a Conference for Directors of Peace Corps in Latin America organized by the Peace Corps Director at that time, Loret Miller Ruppe.
The same year Ricardo returned to Ecuador, now following the Brooks' footsteps as a Volunteer in the Agriculture program. Ricardo worked in a school garden program in Cuenca, thus becoming one of the first of the second generation of Peace Corps Volunteers.
That experience gave Ricardo the opportunity to return to his roots. He spent every weekend and holidays with his biological family in Manta.
"It was like being at home" said Ricardo. "I called my parents like Mom and Dad and I fell in love with them."
When he experienced the poverty in which their parents lived, he finally understood why his parents allowed the Brooks to take him to the United States.
"I knew they loved me enough to give me the opportunity to live a better life," said Ricardo.