Armenia
Projects in Armenia
Education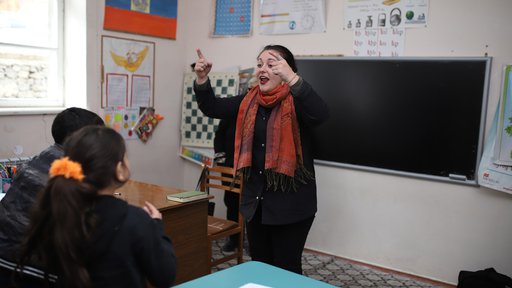 Teaching English as a Foreign Language
Increasing the quality of English language education has been a priority of the Government of Armenia since its independence from the Soviet Union. In 1992, the Government of Armenia requested the assistance of Peace Corps Volunteers to teach English, and the United States and Armenian governments signed an agreement to send TEFL Volunteers to Armenia. Since then nearly 600 TEFL Volunteers have served in base, secondary and high schools, colleges and universities, supporting teachers and students in gaining access to personal, professional, academic and leadership opportunities through enhanced English.
TEFL Volunteers partner with local English teachers, primarily in rural communities which have limited access to educational resources and opportunities. Through this partnership counterpart teachers improve their own English language skills and acquire the confidence to employ new interactive, communicative methods in the classroom. The work of TEFL Volunteers promotes democratization of the teaching process through student-centered methodologies that emphasize critical thinking skills, cooperative learning, and greater understanding across borders.
As a TEFL Volunteer, you will be engaged in activities that will support the following TEFL project goal and objectives:
Project Goal
Students attain communication skills in English necessary to access academic and/or professional opportunities
Project Objectives
Teachers
Increase the capacity of English teachers to use general and English teaching skills
Increase the English proficiency of English teachers
Students
Increase achievement of students in English
Learning Environment and Community
Increase community members' ability to support students' access to learning
Also, Volunteers selected for Armenia's TEFL project are enrolled in the TEFL Certificate program, an externally-validated credential based on 120 hours of training and two years of supervised teaching experience. The program starts before arriving in Armenia with a 3-month online pre-departure course and continues in Pre-Service Training and throughout the service. After successful completion of 27 months of service and satisfaction of the technical requirements, Volunteers will receive a TEFL Certificate.
---
Youth in Development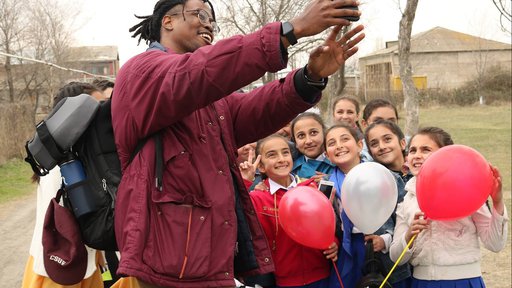 Over the coming decades, countries will be defined by how youth are engaged and supported by communities. In Armenia, nearly 43% of the population is under the age of 25 which offers a compelling opportunity to engage youth for positive long-lasting change. However, many communities are unable to provide for the needs of youth in today's rapidly modernizing world. There are fewer service opportunities for young people to engage in civic activity and demonstrate their leadership, creativity, and ingenuity.
The Government of Armenia and civil society believe that competent, compassionate, employed, civically engaged youth has the potential to tackle some of the country's pressing issues and can help drive social change, economic growth, democracy, and prosperity.
The program is best suited to offer services to youth ages 14-18, based on several reasons:
Developing career aspirations and exploring prospects which drives youth to search for non-academic, after-school, non-formal alternatives with practical styles of learning.
Changing the learning environment (other than the school) which opens up a greater range of options in life, such as meeting new people, networking, traveling, learning by doing and putting things in perspective.
Volunteering and non-formal educational opportunities which provide a pathway to developing personal/ professional goals, building life skills, and preparing for employment.
YD Volunteers support youth to effectively transition from adolescence to adulthood and become empowered, productive, and civically engaged adults, through the following two goals:
Youth will increase their knowledge and skills to improve their life skills and well-being; expand their opportunities for community engagement, and increase employability skills.
Service providers will demonstrate increased professional skills in positive youth development programming and effective project implementation.
YD Volunteers collaborate with local partners on the following activities:
Conduct assessments of communities to develop work plans, addressing priority issues and leveraging local resources for positive youth development.
Co-plan community participation activities to broaden personal/ professional development opportunities for youth to help them become productive, active citizens and take social responsibilities.
Co-organize and co-facilitate clubs, camps, and mentorship programs to increase competitive employability, and vocational skills to secure employment opportunities.
Work with local youth service providers to increase youth development programming and implementation skills.
Co-design and co-facilitate clubs, camps and recreational activities as alternative outlets where youth can learn and exercise positive behaviors, life skills, leadership and healthy decisions resulting in positive social, emotional, and physical well-being.
Volunteers are assigned to work with community-based youth non-profits and high schools which provide a safe, positive, non-formal learning environment. On a daily basis, you will work with a local counterpart who will provide direction and support to you.
You will be assigned to a specific site throughout the country, in a wide geographical and climatic settings. Most placements will be in peri-urban areas (populations ranging from 4000 to 10000 people), although there may be sites in small villages and larger cities. Each assignment and community is different and offers its own challenges and opportunities. When assigning Volunteers to sites, Peace Corps takes into consideration the needs of the community as well as your skills and interests. But keep in mind that your primary responsibility is to serve where Peace Corps sends you to serve.
---