Angela K is currently serving in South East Ambrym. Do not be deceived by Angela's quiet demeanor – she has been a very productive and busy volunteer. 
The Literacy Program team would like to proudly spotlight Angela this month and share some of the noteworthy activities that she has done. Angela conducted teacher training workshops on phonics and literacy tools/resources and Setting High Expectations in the classroom from the Teach like a Champion book. She worked with her counterpart and host mother.
Phonics and Literacy Tools and Resources Workshop 
Together they prepared and presented a variety of literacy teaching tools and resources to the teachers at her school. For example, they introduced using a word wall inside the classroom and prepared a set of reusable Dolch Sight Word Flashcards for each class to improve literacy. After the workshop, Angela and her counterpart spent individual time with all the teachers inside the classroom to help facilitate the use of the sight word cards inside the classroom by leading activities with the students. A great example of monitoring and evaluating the impact of her workshop and making sure that the resources are being used. 
Other resources introduced in this workshop included a binder of activities ranging in skill level but focusing on grammar, reading, and spelling that could be photocopied and used to facilitate and supplement existing lessons; reusable laminated handwriting practice cards, reusable laminated vocabulary cards (copy the word, write the definition, and use in a sentence) to ensure learning and memorization of words; a small card of Bislama to English phrases to promote the use of English during English time i.e. "Hao nao yu talem ____ lo Inglis?" – "How do you say ____ in English?"
Setting High Expectations in the Classroom Workshop
Angela prepared this workshop based off the first Chapter of the book "Teach Like a Champion," a highly recommended resource for teacher workshops. She prepared a handout summarizing the techniques in Bislama and providing examples in the classroom. In addition to the techniques summarized, she also included an explanation of Bloom's taxonomy and the importance of fostering a deeper level of longtime understanding and learning. 
She also provided a classroom resource to promote participation in the classroom (writing all the students' names on popsicle sticks or wooden clothespins and filling them in a can or jar; the teacher draws a name randomly and the student must answer the question; this promotes an understanding/expectation that everyone should participate at least once and that everyone should be attentive as they do not know when they will be called).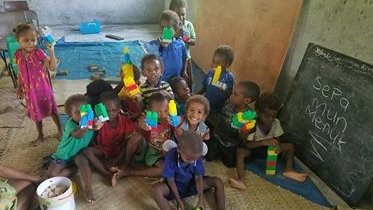 In addition to the teacher workshops, Angela was part of a school awareness campaign in two villages, giving presentations on the importance of education; she facilitated a donation from the Vanuatu library project of shelves, books and educational toys and resources for the kindergarten. She was involved in impromptu cooking and baking sessions with mamas in the community and, to top it off, participated in Independence Day activities by doing a skit to all communities with all of South East Ambrym Peace Corps Volunteers.
One thing that we would like to say is, to everyone who comes by our office and asks for tips on teacher training workshops, you will be happily given these answers "Ask Angela', 'Angela is your girl', 'Angela hemi save'.