What a beautiful journey!: Celebrating the 50th anniversary of Peace Corps Korea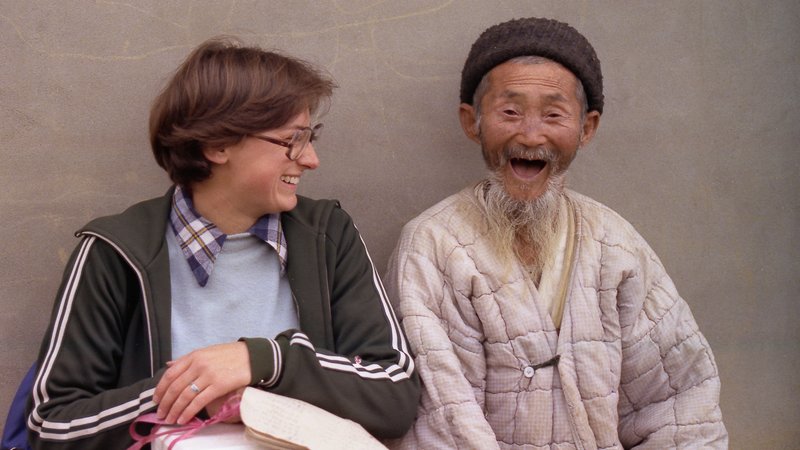 Nov. 22, 2016
Most returned Peace Corps Volunteers return home with the same reaction, that they received far more than they gave. 
That is certainly true among returned Volunteers from South Korea, for the Korean people continue to share their generosity with volunteers long after the program closed. Peace Corps Volunteers served in the Republic of Korea for 15 years (1966-81) but the bonds that were forged in those years have been extremely strong, and the ties and legacy live on.
More than 2,000 Volunteers served in South Korea in education and health care, often in very rural settings. Winters were bitterly cold – when the laundry froze in odd shapes on the line, a trip to the outhouse was done in desperation, and warmth was found only at the public bathhouse. In spite of these difficulties, many Volunteers extended their service or stayed on in Korea for a large period of their lives. The bonds forged with our Korean colleagues and friends were intense and life-changing. The Korean government has acknowledged these strong ties by hosting several reunions over the years.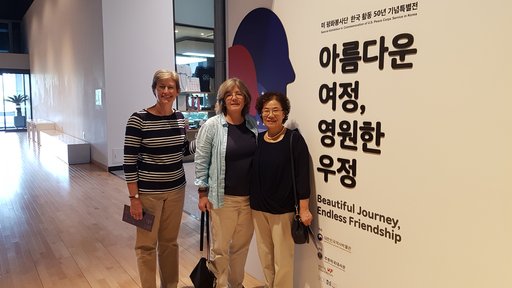 Last month, about 80 returned Volunteers and family members traveled to Seoul, South Korea, to mark the 50th anniversary of Peace Corps' arrival in the country. We were there to attend the opening of an exhibit on the Peace Corps at the National Museum of Korean Contemporary History. On display were items collected from returned Volunteers that gave a glimpse into our daily lives at work and at home – a lifestyle that no longer exists in modern Korea! (I had to wonder—at what point do our cherished items filled with memories become "historical artifacts"?!)
One of the dignitaries who helped cut the ceremonial ribbon to open the exhibit was returned Volunteer and former U.S. Ambassador to the Republic of Korea Kathleen Stephens. She was extremely well-respected and loved for her excellent language skills and her deep understanding and respect for the Korean culture, and has continued her strong ties with the country by teaching Korean studies at Stanford University. The enduring ties returned Volunteers have with Korea were reflected in the title of the exhibit, "Beautiful Journey, Endless Friendship."  
The beautiful exhibit was truly a walk down memory lane as it included so many things that we, as Volunteers, took for granted – our notebooks used in language training, our Peace Corps ID cards, the ink stamps we used for our signature, our bank books (with a very low balance, as my co-worker remarked!). There were photos and mock-ups of Korean classrooms, the outdoor water pumps, and health education presentations done by Volunteers.  
It was fun to watch young Korean children play among the exhibits as they imagined the lives their parents and grandparents had as children. I was fortunate to tour the exhibit with a fellow Volunteer and our health center co-worker. Both she and I had our grown sons with us and it was funny to see how we both were explaining what life was like in our early 20s to our sons, both of whom are older now than we were at the time. As they snapped photos on their smartphones, it seemed her Korean son and my American son had more in common than either of them had with our lives in rural Korea. To see how much South Korea has changed over the last 30 years is nothing short of incredible!
As we Volunteers experienced, Koreans are remarkably diligent, hard-working, generous, and caring. This was particularly evident during the reunion week when we were invited to the Korea International Cooperation Agency, their government's international development organization. Over the last 25 years, they have been sending Korean volunteers to serve in southeast Asia, Africa and Latin America. Their World Friends program is modeled on the Peace Corps and represents the first Peace Corps recipient country to develop its own global volunteer program. It was thrilling to meet with some of their returned volunteers and share how we all had similar joys and challenges in our service.
Although Ambassador Stephens is a prominent example, there are so many returned Volunteers who have woven their volunteer experience into the fabric of their lives. The exhibit in Seoul showcased many of the Volunteers' contributions – one who remained in Korea and became a national treasure as a Buddhist artist; one who spearheaded architectural efforts to save traditional homes in Seoul, which are now a major tourism promotion; many who studied and performed Korean culture and art, and many who wrote about Korea.
It was a pleasure and an honor to serve as a Peace Corps Volunteer in the Republic of Korea, and it has been truly amazing and humbling to see how grateful the Koreans are for the service that Volunteers gave over 15 years. As the Seoul exhibit stated, this is truly a "beautiful journey and an endless friendship" that we share and one which has been such an important part of my life. As returned Volunteers know, our two years of service may officially close, but our service to "bring the world back home" never ends.