Tribulations and triumphs for an Indigenous American serving in Ukraine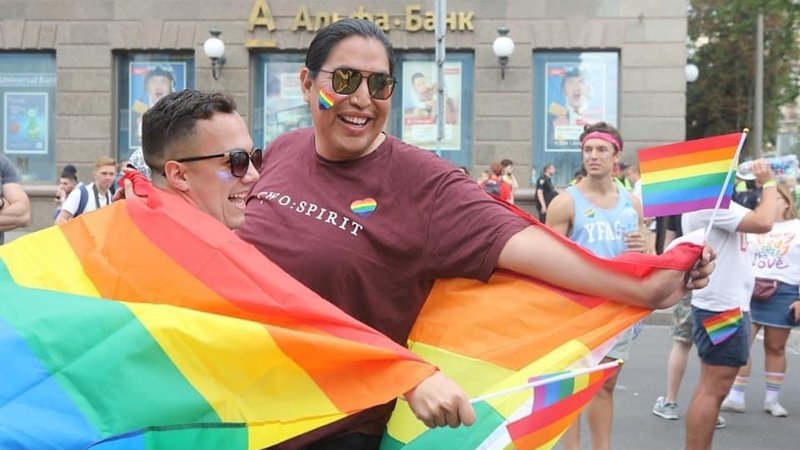 Nov. 12, 2020
"My greatest challenge while in Peace Corps was being a gay person of color serving in a predominantly white and religious community."
Jonathan Clark spent 10 years working in the information systems management and IT sector before applying to the Peace Corps. He is a member of the San Carlos Apache Tribe, and there, he identifies as Two Spirit—an umbrella term some Indigenous North Americans use to describe LGBTQ+ people who fulfill a ceremonial or social role. When his Peace Corps Community Development assignment took him to Ukraine, Jonathan faced challenges on two fronts—one as an openly gay man and the other as a person of color.
Despite those challenges, Jonathan also experienced break-through moments and exciting successes during his service, and he continues to share his Peace Corps experience with his community on the San Carlos Apache Reservation.
1 .How exposed were you to Peace Corps before you left for service?
I heard of the Peace Corps while I was in school but I had no firsthand knowledge of it. It wasn't until I was talking to a mentor that I learned she had served in the Peace Corps in the late '70s. After hearing about her experiences, I knew I wanted to join, and I started doing research. Once I had the full support of my friends and family, I applied to serve.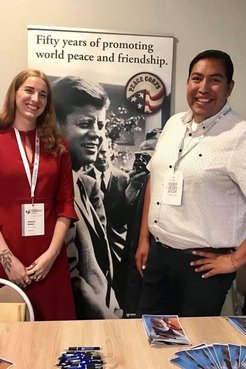 2. Did you face any challenges or obstacles in your decision to join the Peace Corps?
After working for over ten years for a great company, I thought daily about my decision to leave and move to a country I have never been to before. Although this was a real struggle, eventually I became confident in my decision to serve.
3. What did your family or community think of your decision to serve in the Peace Corps?
It took some convincing and long conversations, but my mom finally came around to support my decision. Luckily, she was the only hold out; when I told my brother and sister they were very excited. My friends were equally excited and proud of me.
There are very limited opportunities for people who grow up on an Indian reservation. I didn't originally see myself as a role model, but my younger nieces and nephews were very excited when I left for service, and now they talk about joining the Peace Corps when they are older.
4. What kinds of things did you work on as a Volunteer in Ukraine?
Working in the Community Development Sector, my official title was "NGO advisor." The NGO I worked at was very small, so I helped them create organizational charts and other long-term planning documents. Since my background is in technology, I also worked closely with local schools to develop cybersecurity training sessions for students and senior citizens aimed at helping them protect themselves and their data online.
As a secondary project, I worked with my local PEPFAR (President's Emergency Plan for AIDS Relief) program. Ukraine has the highest rate of HIV/AIDS in Europe. My focus was working with the LGBTQ+ community to create safe spaces and promoting HIV testing and treatment.
5. What was your greatest challenge during service?
My greatest challenge while in Peace Corps was being a gay person of color serving in a predominantly white and religious community. I faced some extreme racism early on while in pre-service training (PST). On my second day in Ukraine people in a nearby park yelled racist tropes in English and other things in Ukrainian while they threw trash at me.
My Ukrainian host mom was amazing and sprung into action. She threw items back at them and was quick to get a taxi so we could go back home. During PST, my host mom, language instructor, and language group supported me and made things easier.
Being gay in Ukraine was not easy because there were no safe places to simply be myself. When it came to being assigned to a permanent location after PST, I was very open with the Peace Corps about being gay and said I did not want to compromise my safety. They were very supportive and worked with my organization to provide a safe and productive environment.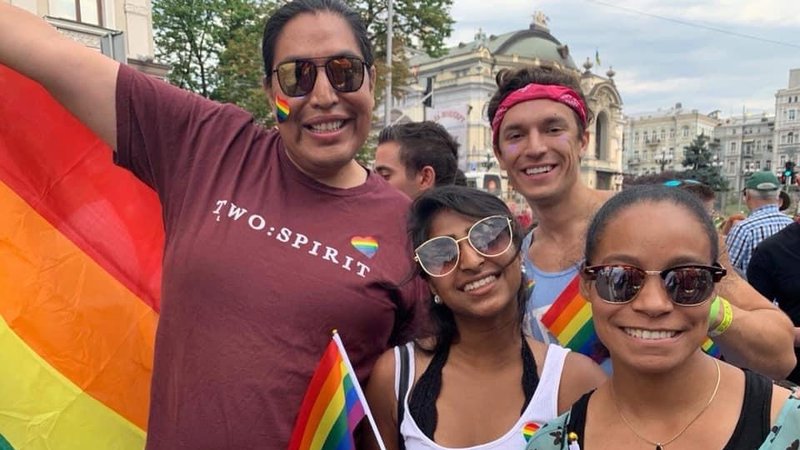 6. What was your proudest moment during service?
My proudest moment was recruiting Peace Corps staff and volunteers to participate in the Kyiv Pride March to demonstrate support to the LGBTQ+ community in Ukraine.
In previous years, there had been only three or four participants. Originally, we were only allowed to have 25 Volunteers participate because of safety reasons, but I recruited 36 Volunteers and staff. After a few meetings with our safety and security officer, we managed to develop a plan where everyone could participate. This was the largest Peace Corps delegation that had ever been able to go.
Unfortunately, the Pride March had so much opposition that we didn't get to finish and had to leave near the end. Despite that, I am still so very happy we participated. In the parade, I was waving a 6ft by 8ft rainbow flag and asking people to sign it. In a show of support, I was able to give it to a Ukrainian friend that identifies as LGBTQ+ but hadn't come out to his family.
7. Were you able to share your heritage with your community or other Volunteers in Ukraine? If so, how?
When meeting with students, I would introduce myself in my Apache language with my Apache name, Thlee' Zhaazhe' (Little Horse), before proceeding to Ukrainian, which they seemed to enjoy.
I also happened to be serving in a town that had another Native American Peace Corps Volunteer. We celebrated Indigenous People's Day in Ukraine by wearing the traditional clothing we had brought with us and cooking Native American food.
8. What did you do after you completed your service?
After my service, I moved back to my reservation because I wanted to be home with my family during the COVID 19 pandemic. I started working in the IT department at the healthcare facility on my reservation. I'm currently an IT project manager helping my community navigate healthcare during this pandemic.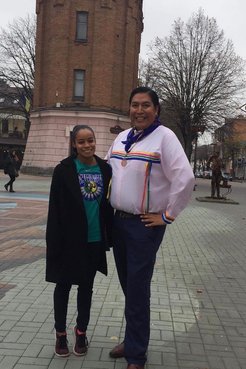 9. You have worked with a few Peace Corps recruiters on various panels and events. Can you explain what you did with them and why?
I had Third Goal days at local elementary and high schools to talk to students about the Peace Corps. I even gave a presentation at the local Tribal College on my reservation so I could show the younger generation that service comes in many forms. I want them to know that they can also travel beyond the reservation if they wish. I wanted to share my story and experiences to demonstrate that I grew up just like them and still served in the Peace Corps.
10. What do you think the Peace Corps could do to better recruit, support, and champion Native American Peace Corps Volunteers?
I think that having more of a presence on reservations would be a great start. Most of the students there hear about the Peace Corps, but don't really know what it is. Having more Native American Peace Corps Volunteers participate in recruiting events would be very helpful.