This Volunteer's disability identity is an asset in service and building community
Kevin Messner, who grew up and attended college in Arizona, is excited to serve in Colombia. It's been 15 years since his first global journey, which started at age 4 at an orphanage in China. Messner and another girl were adopted by a single mom from Arizona.
"People tend to want babies, but I guess my mom didn't want to change diapers. Even crazier is the fact that I'm an amputee. It's rare for a child with a birth defect in China to get adopted, especially an older child," Messner said.
"When we arrived in the U.S., my right leg was amputated right above the knee at Shriners Children's Hospital in Salt Lake City, Utah, and I've had a prosthetic ever since. When people ask, 'do you miss your leg?' I can't say, because I've never known any different," he said.
Since the age of 7, Messner benefited from programs serving people with disabilities, primarily Arizona Disabled Sports (AzDS), an adaptive sports program helping individuals with a variety of physical disabilities participate in sports, both recreationally and competitively.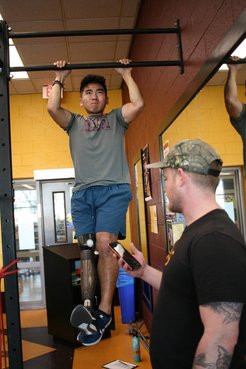 "AzDS programs built my confidence. They provided resources, coaches, and a great community to share challenges and achievements. I also received help from The Challenged Athletes Foundation, which provides disabled athletes with grants for travel and helps them participate in sports competitions," Messner said.
With the support of these organizations, Messner became an accomplished athlete who runs, snowboards, skis, and plays basketball and football.
Along with sports, Messner grew up actively engaged in service related to social, political, and environmental issues. His mother, who was very involved in her community, was a role model.
"I was part of the Key Cub throughout high school, a student-led group dedicated to service. As an undergraduate at Arizona State University, I was involved in political, social, and environmental activism and many service activities, including tree planting, food banks, and outreach to seniors living in facilities," Messner said.
During his time at ASU, Messner also studied abroad in Spain.
"My time in Spain sparked a fascination with other cultures, especially Hispanic and Latin culture. I got to live on my own and engage with people in Spanish," Messner said.
"The quiet time during COVID gave me time to figure out that I wanted to apply to the Peace Corps and serve in a Spanish-speaking country in Central America or South America. The decision-making process was difficult. Twenty-seven months is a big commitment, and I had to consider the location, type of work, and more," he said.
While in Colombia, Messner intends to work with the local people to identify community needs and create programs to increase economic opportunity. Additionally, he'd like to support people with disabilities.
"I want to understand the perception of people with disabilities in Colombia and see whether I can play a role in raising awareness about, and advocating for, their needs. I could possibly get a grant to start a group or secure resources, such as wheelchairs or prosthetics," Messner said.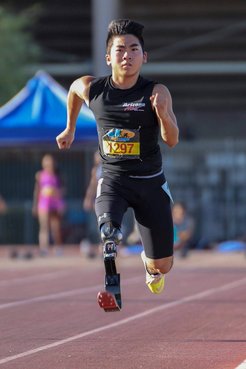 Messner doesn't know yet what challenges he will face as an amputee in Colombia, but believes that the mental, emotional, and social aspects of his experience will be as important as the physical. He doesn't know how people will react to his prosthetic or his uneven gait, noticeable even when he wears long pants.
"Education is important in reducing stigma around many disabilities. Nobody thinks twice about the fact that people need glasses or better shoes. Having a prosthetic or using a wheelchair is just a different type of support to help people be active and isn't something to look down on," Messner said. "I want to engage in good conversations with people, whether it's around my disability or the fact that I am an American with Chinese ancestry."
Messner can manage most issues that might arise with the prosthetic leg.
"I carry a hex wrench and can make minor repairs to the bolt, socket, and cushioning myself. My prosthetic is battery-powered and needs to be charged daily, so I have to serve in a place with reliable electricity. In the unlikely event that my leg breaks or malfunctions, I would contact a Peace Corps medical officer," he said.
Messner believes that it is important for individuals in the amputee community to serve as Peace Corps Volunteers.
"Somebody needs to carve out new paths, whatever the arena. There aren't a lot of amputees in the Peace Corps. I want to be the person who can be a model and provide information and advice to other amputees who want to serve," Messner said. "Serving as a Volunteer with a disability speaks volumes. It's great to have diverse representation in every arena. I chose sports and service."