Telling it like it is (and was) at the RPCV Story Slam
Seven years ago, I took a bus to go visit a fellow Peace Corps Volunteer.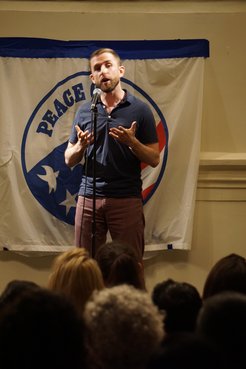 At this point we had both finished our service and been back in the United States for several years, but taking a bus still felt natural. It was a five-hour trip to Rhode Island and I was listening to a podcast to pass the time in rush hour traffic. 
It was a show dedicated to people telling true stories, on stage, about something that had affected their lives. As we slowed down on the highway, the thought immediately popped into my head: "Why are we not doing this?" 
I am part of the Peace Corps network here in New York City and our group's monthly happy hours were sometimes nothing more than story-sharing sessions – Americans who have lived abroad tend to have adventures to tell. 
We put out an open call for stories and invited returned Volunteers to be part of the lineup. Our group's first show was in 2012 at a small bar/cafe/art gallery in Brooklyn, owned by a returned Volunteer who was generous enough to host us. So many people showed up to listen that there physically wasn't room for them all. This is when we knew we had a good idea.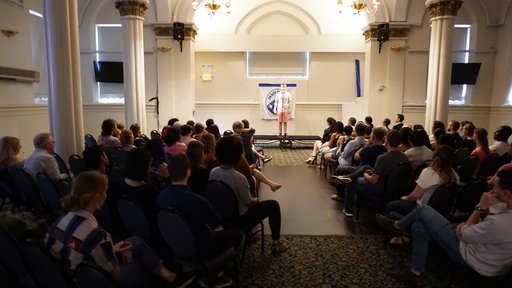 For the first six shows, we worked with eight to 10 storytellers to help them craft their story and find their voice. We collaborated with The Moth, an organization whose mission is to promote the art of storytelling. It seemed like a natural partnership and their instructors hosted workshops for our group a few months before each show. 

This past June, we wanted to switch it up a bit for our 7th Annual RPCV Story Slam. We went true open-mic style and literally pulled names from a hat. I was nervous we wouldn't get enough people who would want to take a chance to be vulnerable in front of a group of strangers. We've always had a set group of storytellers slotted for the show, some of whom had been preparing for months.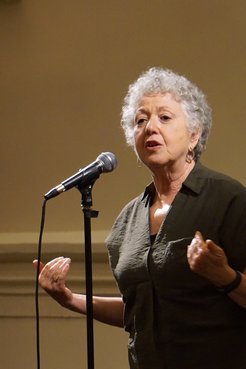 I was wrong. At least 30 people threw their name in the hat and some even confessed to me that they had never been on stage or spoken to an audience. Fifteen people were chosen to tell a five-minute story about their service. Volunteers who took the mic served in countries like the Kyrgyz Republic, China, Ethiopia, the Philippines, Micronesia, El Salvador and Madagascar. And again, the stories were engaging, heartfelt and real. 

There's a reason why this works. We tell it like it is and how it was. All the things that come with love, death, disappointment, body functions, being an outsider and, once, rescuing a puppy from a frozen latrine in the Kyrgyz Republic. Even though the audience wasn't there with us, we bring them alongside us. 
When returned Volunteers tell stories, they humanize and illuminate places and people with that grassroots Peace Corps perspective. As Volunteers, we are a trove of heart-rending, poignant and comical moments that expose us to our own limits and help us push past them. And, of course, some of our stories are simply nothing other than hilarious.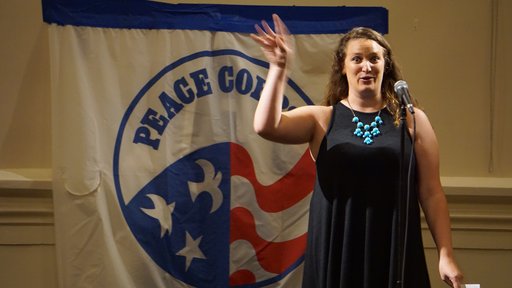 But there's another reason why this works: As much as an audience member wants to hear stories, we want a space to tell them. We all need a witness. So many of our transformative experiences as Volunteers happen far from the view – and knowledge – of family and friends. There aren't many moments in our lives where we get a chance to just be heard. 

This annual show gives us not only an opportunity to connect to people, places, and cultures with which we aren't familiar, but also a chance to solidify experiences that are so unique, special and individual. We're already looking forward to next year's show!