Peace Corps and Rotary in North Macedonia: Part of a beautiful global friendship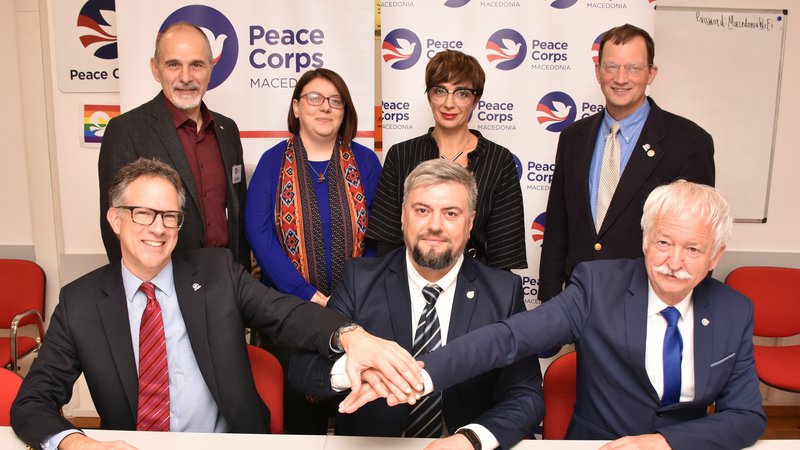 Aug. 25, 2021
My interest in international service began when a friend joined Peace Corps Tonga in 2002, but it wasn't until 15 years later that I was able to serve as a Peace Corps Volunteer myself.
During those 15 years I worked, raised a family, and became heavily involved in community service activities through Rotary Clubs in the San Diego area.
Rotary introduced me to a whole new group of friends and mentors and gave me many new skills and experiences. It enabled me to transition my business skills to the nonprofit and community service realm, and to develop my skills teaching and mentoring young people. I was involved in the Rotary Youth Leadership Awards (RYLA), a youth leadership program for high school juniors, and I served as club advisor to three different Rotary Interact high school community service clubs. All these skills and experiences fed directly into my Peace Corps service.
By 2017, my sons were in college and I'd wound down my consulting practice, so I was ready for the Peace Corps. My goal in joining was to serve my country and to share my business and community service skills abroad.
I was assigned to serve as a Community Development Volunteer in Stip, a large city in eastern North Macedonia, where I collaborated with a small nonprofit law firm that provided free legal services to the disadvantaged ethnic Roma community. I also helped advise a local community service club for high school students and I co-taught English classes.
When I arrived in Stip, I began networking locally to learn about my community, something all Peace Corps Volunteers are trained to do. On my second day there, I had a stroke of luck and met the president of the brand new Rotary Club of Stip. We quickly became friends and we saw mutual opportunities to work together and leverage their deep connections to the community and my 14 years of Rotary Club experience.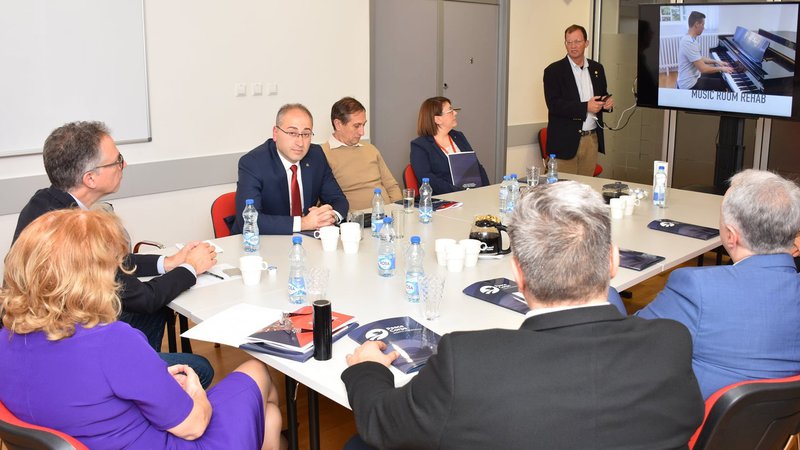 When a fellow Volunteer in my community told me about the need for English-language books at her school, I mentioned the need to the Stip Rotary Club. They were able to locate a book distributor. I also reached out to my Rotary Club in La Jolla, California, for some seed funding, which was supplemented with contributions from local community members and businesses. Enough books were purchased to supply two elementary schools and the local public library. It was a highlight for me to see the smiling faces of Macedonian children as teen volunteers read the new books to them.
Through this project, the Rotary Club received public recognition while learning how to help local schools and collaborate on projects with American Rotary Clubs. Peace Corps Volunteers, including myself, gained credibility in the community and learned how to organize a project locally.
Another Rotary collaboration benefited my work with the Roma community. I worked with my assigned legal nonprofit to create and hold the first-ever live event showcasing eight Roma professionals. The audience of Roma and non-Roma community members saw highly accomplished members of this underrepresented minority group in ways that broke stereotypes and fostered new cross-cultural relationships. Funding came from my Rotary Club in La Jolla while coordination and in-kind donations came from the Rotary Club of Stip. Peace Corps Volunteers helped plan and execute the event. It was wonderful to see the proud, beaming face of my Roma counterpart, Josif, when he stepped into his role of panel moderator and master of ceremonies for the event.
Out of this collaboration came a formal partnership between Peace Corps North Macedonia and Rotary Clubs of North Macedonia. I extended for a third year so I could expand the Rotary partnership across the country and improve the effectiveness of its portfolio.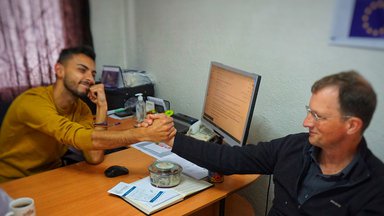 COVID-19 temporarily suspended the initiatives I was involved in, but with the knowledge and experience of successful projects under their belts, Macedonians will be prepared to resume activities when conditions permit. When Peace Corps returns to North Macedonia, Volunteers will likely again be placed at Rotary Clubs. Both organizations have seen the effectiveness, reproducibility, and sustainability of their projects and are motivated to continue collaborating.
My stories of on-the-ground collaboration between Rotary and the Peace Corps are among many around the world. Since 2015, the two organizations have enjoyed a global strategic partnership which serves to help connect the dots between Rotarians, Peace Corps Volunteers, and post staff overseas, as well as Rotarians and returned Peace Corps Volunteers in the United States. The agreement has and continues to inspire, guide, and capture successful community-led projects and provide tools, resources and best practices to ensure its ongoing success. Partnering for Peace, a nonprofit organization made up of returned Peace Corps Volunteers who are also Rotarians, works to facilitate collaboration between these two global networks.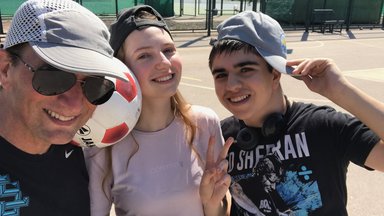 Rotary Clubs in the U.S. are interested in collaborating with Peace Corps Volunteers because they see how Volunteers can help them increase the effectiveness and sustainability of their projects in Peace Corps host countries. At the same time, Volunteers are looking for successful past projects in their countries or other host countries, and previous Rotary-Peace Corps collaborations can be great models for them. Peace Corps recruiters also value the partnership, as they recognize that the strong relationship Rotary Clubs have with high schools and colleges might encourage young Rotary members to join the Peace Corps.
While both Rotary and Peace Corps are large organizations, they both provide a lot of autonomy for members and Volunteers to be socially entrepreneurial at the grassroots level. It is this flexibility, agency, and hyperlocal engagement that, I believe, give the partnership its strength and its enormous future potential.
To learn more about the global strategic partnership between Rotary International and the Peace Corps please contact [email protected].