My parents and I are serving as Peace Corps Volunteers at the same time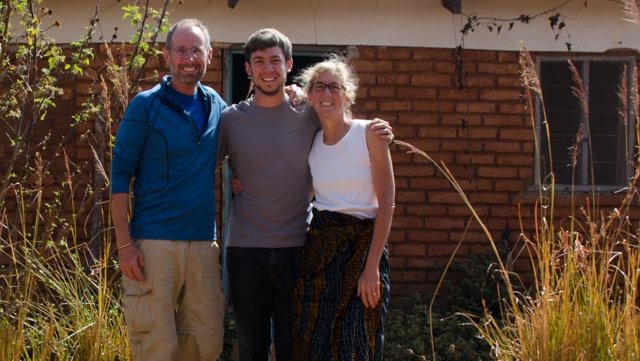 March 16, 2016
When I was just seven years old, my parents took me on my first international trip.
Our destination: the west African nations of Ghana and Niger. The trip was a mix of business and pleasure for my parents, but was pure pleasure for my sister and me. Though much of that trip remains vague in my memory, one part has always been crystal clear: I will never forget arriving in Chikal, my father's village during his Peace Corps service (Niger, 1982-84). From that instant, I knew I would one day serve as a Peace Corps Volunteer.  
Flash forward to today. I am currently an Environment Volunteer serving in a small community in northwestern Malawi. I work with community members (primarily subsistence farmers) in various areas including food preservation and security, soil conservation, conservation agriculture, and income generating activities. 
This past July, after serving in the Peace Corps for just over a year, my parents came to visit. There were the requisite "insider" tourist destinations (namely Nyika National Park), but the vast part of their visit was the week we spent at my site. 
I had no idea how much my community (and my host country as a whole) meant to me until I began showing it off to my parents. We cooked over a fire, carried water from the borehole, ate nsima and relish (the national dish) with various friends, chatted endlessly, and smiled and laughed as I struggled to translate for both parties. 
Perhaps even more important than giving my parents an insight into my life was giving them an insight into their future. They, both teachers for roughly 30 years, were ready for a dramatic change in their professional lives. And their social life. And their domestic life. 
So what did they do? Joined the Peace Corps, of course! They began pre-service training in late September in Senegal, working as conservation agriculture and agro-forestry Volunteers. This meant that our time together was not simply a visit but the perfect warm-up for their own service.
With 75 percent of my family currently serving as Peace Corps Volunteers, and one already a returned Volunteer, I feel safe saying that the return trip to Chikal nearly 20 years ago had a profound impact on all of us. My parents are now a few weeks into training and are loving it. It's a challenge, to be sure, but nothing they can't tackle. 
Even though the challenges every Volunteer faces are unique, I am excited to be able to relate with their challenges, successes and failures in a way only another Volunteer can. I look forward to swapping stories and hearing about their work over the coming two years, and I am counting the days until I can visit their site after I close service here in Malawi. 
Ndagha, Ndagha (thank you, thank you).