My journey from the U.S. Army to the Peace Corps
I joined the U.S. Army at age 19, eager for independence and adulthood. Throughout my time in the military, from 2007 to 2013, I worked as a food service specialist and administrative assistant. I was initially stationed at Fort Wainwright in Alaska and enlisted for a second term at Schofield Barracks in Hawaii.
Anyone who's served in the armed forces knows that it's typical to play a variety of roles. One minute I was cooking and serving food to soldiers, the next I was supporting the administrative needs of families waiting for their loved ones to return home from deployments. Service members wear many different hats in the military, much like Peace Corps Volunteers do during their two years of service.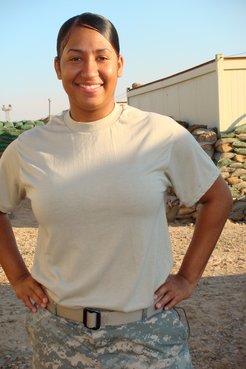 Using my educational benefits earned from military service, I attended the University of Hawaii at Manoa (UHM) to study international business and management. In my sophomore year of college, I spent a semester studying abroad in Spain. I also went on voluntourism trips (a combination of volunteering and tourism) in Costa Rica and Southeast Asia during winter and spring breaks. Projects included teaching English, producing bio-sand water filters, assisting with sea turtle conservation, and reforestation.
After returning from Spain and reflecting on my various experiences abroad, I yearned to spend more than just a few weeks at a time in a country. I wanted the full experience of integrating into a different culture and a professional work environment that challenged me in new ways. The coordinator of the UHM study-abroad program, a returned Peace Corps Volunteer, mentioned the Peace Corps before I left, and it stayed with me. On my return, I went to speak with a Peace Corps recruiter at a UHM career fair. The rest is history.
My college major was business, so I felt that working in the Community Economic Development sector would be a good fit for me. A Peace Corps recruiter helped me fine-tune my resume and motivation statement for the application and I applied in fall 2016. Shortly after, I interviewed and received an invitation to serve. In 2017, I departed for service in Timor Leste, for a job working with entrepreneurs and small businesses, which I specifically chose based on the job description and my travel experience in the region.
Throughout my two years of service, I worked on several projects aimed at increasing economic opportunities for women and young girls, connected small coconut oil producers in my community to larger organizational stakeholders in Timor Leste to help grow their business, and worked with an international health NGO to facilitate community education about reproductive health, sexually transmitted diseases, family planning, and menstrual hygiene.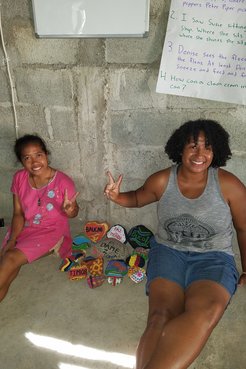 A fond memory from service was a conference I attended with a few secondary school students from my English club. To my surprise, one of my female students stood on stage in front of hundreds of her peers and gave a motivational speech about the importance of educating yourself, being brave, and doing good things for the future of Timor Leste. Her younger sister, who was also part of the club (and initially a shy and timid girl) persuaded me to start a second English club, where she became a class leader and mentor. Watching the personal growth of my students was my most fulfilling experience as a Volunteer.
The military instilled values of perseverance and resilience in me. When I worked in kitchens as a food service specialist, men rather than women were often assigned tasks that had more professional development opportunities. To continue to build my skills, I intentionally volunteered for these duties instead of waiting for my leaders to assign them.
In my Timor Leste community, navigating gender role challenges was similarly challenging. As a woman, I was not given the same opportunities to lead as male Volunteers by my Timorese collaborators. To overcome this bias, I had to be more assertive in certain spaces, and at other times, put myself forward to collaborate with male Volunteers on projects. Whatever the obstacle, I tried to adapt and create alternative solutions.
Despite these challenges, the love and authentic relationships I shared with people in my community became my North Star of service. Over tea and coffee, I shared stories with work partners who became my friends and family. I especially valued the day-to-day experience of coming home to eat dinner with my host family, chat with my host father, and watch the news together. In these interactions, I learned that Timorese people want the same things most Americans want in life: good health, education opportunities, healthy food, and the ability to make a good living. Discovering our shared values early on as a Volunteer allowed me to learn more about the Timorese way of life and culturally integrate into my community.
The Army values of loyalty, duty, respect, service, honor, integrity, and personal courage have stayed with me. Any veteran contemplating serving their country again as a Peace Corps Volunteer should know they will be well prepared for the challenges of service abroad. With military values as a foundation, you will continue to build your flexibility, perseverance, and cultural competence as a Peace Corps Volunteer.