Mother, daughter share Peace Corps connection to the Dominican Republic
There are many families with a tradition of Peace Corps service. It's not hard to find generations of mothers, daughters, fathers, sons, and siblings who have all volunteered.
It's rare, though, to connect with a mother and daughter who served on the same island nearly 30 years apart. One held onto the idea of Peace Corps service for decades, and the other wasn't sure it was part of her plan. In the end, both served and both have unique experiences to share.
Ella Cheri Bennett, a 2020 Franklin H. Williams Award recipient, was born and raised in tiny Lilesville, North Carolina, a town of 537 about halfway between Charlotte and Fayetteville. Despite the small-town surroundings, Cheri, as she's known by her Peace Corps family, had big dreams of seeing the world. When she saw a Peace Corps ad on TV as a teenager, she knew it was her route to doing just that. She ended up volunteering in the Dominican Republic from 1991 to 1993. Years later, her daughter, Angelena, followed a different path to Peace Corps service.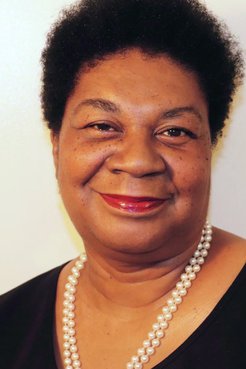 Angelena Castro, also born and raised in Lilesville, grew up hearing about the Peace Corps, but wasn't sure international development was in her future. Angelena, whose father is Dominican, traveled to the country a few times as a child to visit her family, but did not have plans to follow in her mother's footsteps and serve in the Peace Corps. But after her study abroad experiences in Germany, the United Kingdom, and Jamaica, and serving as a Peace Corps Campus Ambassador during her college years, the idea of Peace Corps grew on her.
Angelena also served in the Dominican Republic from August 2019 until her service was cut short by the COVID-19 pandemic in March 2020. She is now a Peace Corps recruiter.
We chatted with Cheri and Angelena over Zoom earlier this year to discuss their service in the Dominican Republic and the pride they have in knowing they are among a handful of Peace Corps families who have served in the same country.
Q: What made you decide to serve in the Peace Corps?
Cheri: I always loved to read, and when my brother went to college, he convinced my mom to buy a set of encyclopedias. The set included a book dedicated to each continent. Those encyclopedias opened up a whole new world for me because, through them, I could travel beyond my small town.
In high school, I began to write down all my future plans and goals in a special spiral-bound notebook. I'm going do this, I wrote, I'm going to go here, there, and everywhere! Around the same time, in the late 1970s, I began to see Peace Corps commercials on TV. One featured a man walking in the rain and through the mud, working hard. The voice on the screen proudly proclaimed, "Peace Corps, the toughest job you'll ever love."
I knew then that the Peace Corps was an organization I wanted to be a part of. I wanted to see the world, learn about new cultures, and build stronger communities. I knew it would be a tough job, but I would love it.
I held onto that that goal for several years. I graduated from Johnson C. Smith University with a degree in urban studies and community affairs. Then I earned a master's of public administration degree from the University of North Carolina at Charlotte. Finally, in 1990, I applied for the Peace Corps. The application process for the Peace Corps took about a year and I was prepared to go wherever I was needed. Unlike now, we did not have the option to choose where we wanted to go. The Peace Corps decided where Volunteers would fit best.
Finally, my letter came in the mail. I would be going to the Dominican Republic. My flight to the Dominican Republic was the first time I took a plane or traveled out of the country.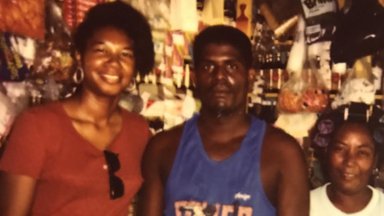 Q: What was your first impression landing in the Dominican Republic? And what was the reaction on the ground to you and your Peace Corps cohorts?
Cheri: We landed on a little airstrip in the early afternoon. Upon exiting the plane, I could feel the sweltering heat of the Caribbean sun. We touched down and went to one of the Santo Domingo hotels with conference rooms for further briefing and the introduction to what would be 12 weeks of training. The briefing lasted a couple of days and allowed us to get acquainted with the country and each other.
Upon arrival to Pantoja, our host families were waiting for us. They picked us up and took us to their homes. It took some time to adjust to cold showers, the food, and not being able to understand much of the language. Socializing with my new family helped me to adjust. I discovered the best way to learn Spanish was with the kids.
Playing dominoes and learning how to dance the merengue were two ways that I connected with the culture, along with learning about the food. As I did as a teen, I carried my spiral notebook. This time, I used a tiny pocket notebook to write "new" Spanish words in for reference. I would go everywhere with it, writing down every new word I heard. Whatever it took to learn, I would do it. After being immersed in the language during the 12 weeks of training, I became quite fluent.
Q: Over to Angelena for a minute. Did you grow up in Lilesville, the rural, small town like your mom described?
Angelena: I grew up in Lilesville, and I graduated from elementary school there. To describe our town, we have one caution light and a Dollar General store that opened three years ago. I graduated from college at North Carolina A&T State University and I did study abroad in Berlin, Germany, the summer before I started college. That exposed me to international opportunities and meeting people from all over the world. During undergraduate school, I studied abroad in London, England, and Kingston, Jamaica.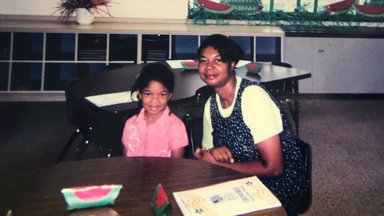 I did not plan to join to Peace Corps at an early age. It wasn't something that I had thought about doing for years, like my mom did. It was the opportunity that I had in Jamaica during my sophomore year in college that sparked my interest in service abroad.
I knew if I was going to serve in the Peace Corps, I wanted to go to a country where the students that I'd be working with could see an American volunteer like me, who also happens to be Dominican, as someone they could identify and connect with.
My mom, of course, was excited for me. She thought it would be a great opportunity. My dad took some convincing. However, he came around and supported me going to the Dominican Republic to help youth. I worked with fifth grade students on reading and writing and I really loved it.
Q: Cheri, can you tell us about the work you did in the Dominican Republic as a Peace Corps Volunteer?
Cheri: My assignment was as a community education promoter. I was assigned to a town called San José de los Llanos, which is in the province of San Pedro de Marcoris.
From the outside, the school looked so nice. But after we did a walkthrough, I discovered that there was no water and no electricity. So much work had to be done to refurbish the school. It was just a shell. The entire infrastructure had to be completely overhauled. This job required money from the Secretary of Education, community school fundraisers, and any grants that were available.
My role was to restore the school building and to form a parent-teacher association, similar to what we have in the United States. The goal was to create sustainability for future school projects and repairs so the community would be self-sufficient. We had to reach a mutual understanding of the community's vision. Parents and teachers worked together to form a partnership. We painted the school, painted a world map and other murals, and restored electricity throughout the building.
Q: What did you learn about yourself, but also about the people who you served while you were there?
Cheri: I learned that I can survive almost anything. When I look back now, and I think about it, I can't believe I did it. It was the toughest job I've ever loved. I discovered that necessity is the mother of invention and I learned that wherever I go, there's always going to be someone who is willing to help me.
Q: How did all those experiences shape your life after Peace Corps?
Cheri: Serving in the Peace Corps made me a stronger person mentally and emotionally. The problem-solving skills I gained are innumerable. Service provided an opportunity to develop creative programs and approaches to fostering community involvement. Of course, my Spanish skills have opened many doors for me. Volunteering in the Peace Corps also helped me develop team-building skills. The experience was the gateway for my service work here in the U.S.
By learning firsthand the benefits of experiencing life in another culture, I wanted Angelena to have the experiences that I didn't have growing up. I wanted her to go beyond the pages of a book or video. As a mom, I have encouraged all of my children to see themselves as citizens of the world.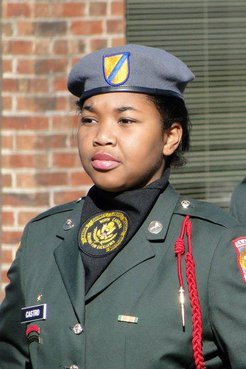 Q: How does it make you feel to know that your Peace Corps service has helped shape Angelena into a Peace Corps Volunteer?
Cheri: You know, I've known Angelena since day one. When she told me that she wanted to join the Peace Corps, I was actually kind of surprised. She's done a couple things that surprised me, for example when she was in high school, she joined the ROTC (Reserve Officers' Training Corps) and excelled to high levels. She served as a Peace Corps Campus Ambassador in college for two years and did a great job planning and organizing events for the students. As a journalism and mass communications major, I knew this was also an awesome opportunity to develop her public-speaking skills.
However, when she told me she wanted to serve in the Peace Corps and go to the Dominican Republic, it was quite a pleasant surprise. I supported and encouraged her 100 percent.
Q: Angelena, did you choose to serve in the Dominican Republic, and if so, why?
Angelena: I narrowed my choices down to Costa Rica and the Dominican Republic at first. Many factors affected my decision. I didn't travel to the Dominican Republic a lot growing up. I did not speak Spanish. I did not have a close relationship with my family there. So, it was also an opportunity to learn more about my Dominican culture.
When I did travel to the Dominican Republic as a young adult, I worked with the youth in the same town that my mom served in. This was before my Peace Corps service. Even then, I saw the potential for projects that would help the community.
One summer, I did a doll project with the girls. Through social media, I asked friends, family, and organizations to donate Black dolls of various skin tones. The Dominican Republic has a large colorism issue and I wanted girls to know that, regardless of skin tone, they are all beautiful and should feel good about themselves and their potential. It's important for the youth to see that represented. During this time, I saw how enthusiastic they were about learning. The motivation for my Peace Corps service was the opportunity to work with youth.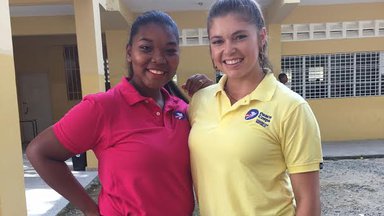 Q: What was your first impression upon landing in the Dominican Republic as a Peace Corps Volunteer?
Angelena: It felt like home. I had never been happier. I think my entire Peace Corps experience is the happiest I've ever been. Evacuating was one of the worst things. It was heartbreaking to leave. I enjoyed everything about it and what I was doing.
Q: You mentioned colorism in the Dominican Republic. Can you explain the situation in the country for people who have not been there or don't understand the issue?
Angelena: It's the lack of representation for Afro-Latinos to see themselves reflected in media, politics, even in the children's TV shows that are in Spanish. Kids don't see successful images of themselves displayed and many of the Haitian students receive poor treatment, just because of the country that they come from or for speaking a different language.
One of the projects I worked on in my community was self-empowerment. I did that in addition to the sexual health class I taught. I was a Youth in Development Volunteer, and sexual health education was an aspect we covered. We did groups with the young women and men, just so when they step out into the world they have a sense of confidence about themselves. I still stay in contact with those students today.
Q: Do you feel as an American-born, Afro-Latina that you were one of the ideal people to help instill confidence in these young people in the Dominican Republic?
Angelena: I am very passionate about the issue. My cohort and I had many conversations about that. We had conversations about several topics, for example, for white women to not allow some of the young girls to play with their hair, because that affected how the youth felt about their own hair. They would say, "pelo malo" (bad hair) or "pelo bueno" (good hair).
We would just have general conversations like that, as a cohort so that, as Americans, we would all be aware and conscientious of our interactions when out in the community. How will Dominican children of color feel about themselves if white volunteers perpetuate the images these children have always seen in media as beautiful and more intelligent?
The Peace Corps is trying to recruit more candidates that reflect the United States and the diversity here. I think that will be wonderful going forward and going into these diverse countries, where we have people that are interacting with Americans who don't always look like what they see in the media.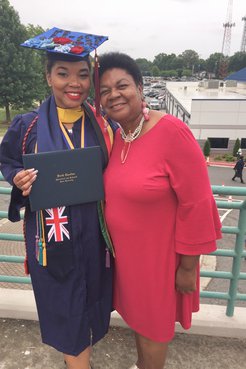 Q: Do you and your mother compare stories from service?
Angelena: When I first got in the country, she was doing that a lot. She would say, 'When I was there, we did this or that.' I celebrated my birthday for the first time with my grandparents and my dad's family and I showed my mom photos. She said most of the people in the photos from my birthday were some of the first people she met when she went to the Dominican Republic in the Peace Corps.
Q: And how does it make you feel knowing that you and your mom both served?
Angelena: It makes me feel very proud. I'm proud of her for being recognized with the Franklin H. Williams Award and all the work that she does to help others. She returned to Lilesville when she could have gone anywhere, and I believe that the work that she's done there and in the surrounding counties is just as important as it would be anywhere else.