Moldova clinic focuses on supporting LGBTQIA+ youth
Adrian Blader and Amir Feinberg first met during their pre-service training in Moldova. The two became instant friends and found community with each other through their shared LGBTQIA+ identities. Eventually, the two Health Volunteers went to their separate sites – Adrian to a scenic village close to Romania and Amir to a charming village near Odessa, Ukraine – but the two remained close.
"It wasn't unusual for the two of us to call each other every single day and just talk for hours," Amir said.
The two Volunteers bonded over their love of podcasts, traveling, and "RuPaul's Drag Race." But they were also supportive allies for each other as they kept their gender and sexuality private from most other people.
In their respective villages, Amir and Adrian designed and facilitated health and sex education classes with their counterparts. They also wrote grants for projects that would meet the unique needs of their local communities. For Adrian, that included renovating the school's cafeteria and conducting health and sanitation trainings. Amir created a computer lab to enhance STEM knowledge among young girls.
Since returning from service in 2019, the two have been busy pursuing careers in public health. Amir is in medical school and conducting research for the University of North Carolina School of Medicine's urology department. Adrian is studying for a Master of Public Health degree while working as the assistant director of community affairs at a hospital in Brooklyn, New York. Despite their equally demanding schedules, when they learned of the LGBTQIA+ focused engagement supporting a youth clinic in their former country of service, both returned Peace Corps Volunteers (RPCVs) knew they wanted to donate their time through Peace Corps' Virtual Service.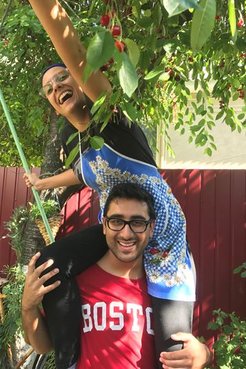 "The fact that we wanted to make time for this speaks to how perfect this opportunity was for both of us. And the thing about Virtual Service is that it gives you the opportunity to do something that is very tailored and specific to what your skills are," Amir said.
Adrian added, "We couldn't really be ourselves when we were in country for safety reasons, so getting this experience was really special."
If Adrian and Amir had concerns regarding the in-country partner's openness to LGBTQIA+ issues, those quickly dissipated after meeting their passionate and highly motivated counterparts at Youth for Youth, Moldova's national youth-friendly health services network.
"They just were so honest and had a good understanding of what they needed, what they knew, and what they needed to know," Adrian said.
"[Our counterparts] also helped us understand more of the nuances and reasons behind the stigma in Moldova, and that was a beautiful thing," Amir said.
"Supporting LGBTQ youth issues [has been] a challenge for us, because of the stereotypes and negative attitudes in our community regarding sexual orientation," said said Cristina Buțanu, one of the youth clinic's psychologists.
"This topic is still taboo in our country and [it can be difficult] for some people to differentiate between inclusive communication around LGBTQ and promoting these sexual orientations. One of the clinic's principles is tolerance and nonjudgement. For this reason, medical and non-medical professionals must possess inclusive communication skills with any person regardless of status, gender, cultural background, or sexual orientation."
Adrian and Amir were careful to remain respectful; they didn't want the counterparts to feel like two Americans were barging in to do what they thought was right, not necessarily what was best for the local community.
"Amir and Adrian considered all our requests and responded to the needs of the team in creating materials for the training course. Together, we were able to successfully achieve the goals and objectives set out," said Victoria Rotari, a psychologist and teacher at the youth clinic.
For 12 weeks, Amir and Adrian collaborated with the clinic team to develop two training courses. The first served as an introduction to LGBTQIA+, covering the various gender and sexual orientations. The second discussed how these identities can impact health outcomes, the challenges that LGBTQIA+ individuals face, and the ways in which stigmas lead to health disparities within Moldova. These trainings would ensure that the health specialists felt comfortable and confident in supporting young LGBTQIA+ individuals.
Hopefully we created even just a little bit more space for someone [in Moldova] to find and fully be themselves.

Amir Feinberg
Amir and Adrian incorporated resources in local languages from GenderDoc-M, Moldova's only LGBTQIA+ advocacy organization. It was important to the RPCVs-turned-VSPPs (Virtual Service Pilot Participants) to foster a healthy relationship between the two in-country organizations, so their collaboration could continue long after the virtual engagement ended.
"This was a learning opportunity. We learned about the new partners, a different way to collaborate with their network, and the LGBTQ community," said Elvira Nistreanu, Peace Corps Moldova's Health education program manager and staff coordinator.
Amir and Adrian's biggest tip to new Participants? Know your skills and how you can contribute to the partners' goals. They also stressed that it's important to be flexible.
"Remember, it's still Peace Corps. You have to have flexibility, and then you have to work that flexibility into your more regimented American life," Adrian said.
Despite the engagement ending, the project work is far from over. Amir and Adrian's Youth for Youth counterparts have already trained other staff members using the LGBTQIA+ course materials. Based on the staff's positive remarks, the youth clinic plans to facilitate the training again at the clinic's staff retreat this summer.
"The virtual collaboration was successful, because the engagement was developed with the partners based on their organization's needs. Its content combined theory with activities to practice and apply that information," said Hannah Gardi, Peace Corps Moldova's director of programming and training.
Adrian and Amir hope that the LGBTQIA+ trainings will increase local understanding and inclusivity for years to come.
"Hopefully we created even just a little bit more space for someone [in Moldova] to find and fully be themselves," Amir said.