The path from Peace Corps sister to Harvard graduate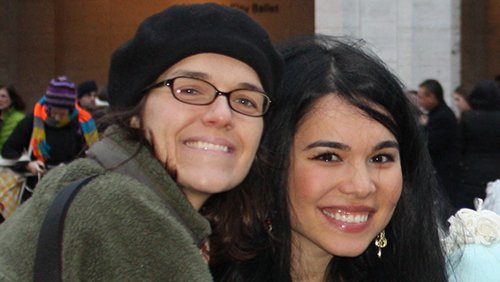 Aug. 22, 2013
The Peace Corps Volunteer who spent a year living at our house in Uzbekistan changed the course of my life.
I was 15 when a 24-year-old woman appeared at our doorstep with a huge smile on her face (Americans, I thought, certainly liked to smile more than any other people I'd met). At first I was a little intimidated by her, like I was by anything Western. America and the Americans I had been exposed to had been mostly from Hollywood movies. In our minds, everything Western was "superior."

A few weeks in, I realized how approachable my new opa (sister) was. Kristina and I would take long walks around the neighborhood and talk about things I was going through as a teenager. We cooked, went hiking, practiced her Uzbek. I felt very at home around her.

A few months after her arrival, I timidly shared my dream with her: "Kristina, do you think it is possible for me to go study in America?"
I had been studying English for quite some time and had always wanted to go to the U.S. I also thought that the quality of education would be better; the educational system at home had been deteriorating rapidly since the fall of the Soviet Union.
Kristina said, "Sure, we can look into it together!"
She asked her mother and sister in the U.S. to look into boarding schools in America. In a matter of weeks, we had a list of boarding schools that accepted international students.
The application process was more holistic than Uzbekistan's. In addition to test scores, Americans considered extra-curricular activities, family background and essays. Kristina helped edit my essays at night; she actually stayed up with me until 2 a.m. right before the deadline!
Waiting was the hardest part. Since my parents did not have the means to pay for me, I was kept up at night thinking about whether I would get in or receive a full scholarship.
But just a month later, Milton Academy accepted me. The school was providing a full scholarship and covering every imaginable expense. The email arrived at 2 a.m. my time.
I screamed with joy and ran to my parents. "I am going! I am going!"
My parents were thrilled — they have always supported my dreams. I am truly blessed; most parents must marry their daughters off at 18 rather than send them to school.
I had never even been outside the country, and suddenly it was so real.
Four years ago I finished my undergraduate degree at Harvard College. Earlier this year I graduated from Harvard Business School.
I am excited about what life has to offer. I've traveled to over 20 countries and learned from amazing people at amazing schools. I am unafraid. Ten years ago I was a little girl who had never been outside her country — one that for decades has been kept behind an Iron Curtain. I have not forgotten about my country. I have helped a few other girls come to schools and colleges here to pay forward what Kristina did for me, and I am working to start a formal program in Uzbekistan that would explain to children at home the process of applying to U.S. schools.
Peace Corps and Kristina have been a blessing in my life, and I will never forget that year that she spent with us. It changed the course of my life's history.
This post was written by Dilshoda Yergasheva, who just graduated from Harvard Business School and will be working in finance in New York and starting an education non-profit in Uzbekistan.
Kristina Yarrow is a Senior Health Technical Specialist with USAID. She was a health volunteer with the Peace Corps in Uzbekistan from 2001-2003.
The photo above was taken 10 years after Dilshoda and Kristina met and became Peace Corps family in Uzbekistan.