'Just keep swimming': My swim across Issyk-Kul
When I first landed on the tarmac and looked out my window at Manas International Airport in the Kyrgyz Republic, with the shadow of giant mountains illuminating my tired mind, I began to make a list. 
This list consisted of all of the things I wanted to do while serving in the beautiful central Asian country that is the Kyrgyz Republic. That list began to grow longer as I learned more about the country and where I would eventually be living. There were things on that list I learned would not be possible in my limited time in service and things that would be. But there was one thing I was determined to accomplish: swimming across Lake Issyk-Kul.  
For those of you who have never heard of Lake Issyk-Kul, let alone the Kyrgyz Republic, here are some facts facts. Kyrgyzstan, or the Kyrgyz Republic, is a land-locked country thousands of miles from the ocean. The mountainous countryside is a post-Soviet melting pot of nomadic life, Soviet culture and collectivism, with a side of western culture. Within this country are seven different regions, with a range of ethnicities scattered throughout. The south is full of Uzbek and Tajik influence, while further north has hints of Russian and Kazakh culture.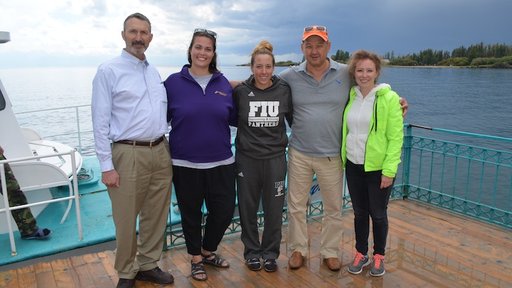 However, the Kyrgyz culture and pride runs deep and rich throughout the entire country. In the northeast region is Lake Issyk-Kul, the second largest alpine lake in the world, fed by mountain springs that ensure the lake never freezes over. The name Issyk-Kul translates to 'hot lake' (although summer temperatures only warm up to about 20 to 24 degrees Celsius, or 68 to 75.2 degrees Fahrenheit). The lake is enjoyed by locals and tourists in the summer and, thanks to my Peace Corps placement, I am lucky to partake in the fun in the warmer months.

There are multiple stories surrounding the body of water known as Issyk-Kul, myths ranging from health and gender to the legendary horse crossing. For example, it is believed that if you are sick, you can go swim in the lake and it will heal you; vice versa, if you enter the lake and it's cold, the cold water will make you sick. It's also a common belief that a girl may become infertile after swimming in the lake. 
These are only a few of the fables based on gender and misconceptions about healthy living. I knew something had to be done to break down these assumptions, as well as educate Kyrgyz youth about the benefits of getting active and the empowerment that can come from sports.
I composed a lesson plan consisting of the components that make up a healthy lifestyle: food habits, hygiene, being active and how to recognize healthy from unhealthy habits. With the help and approval of Peace Corps staff and my fellow Volunteers, we organized two lessons for students, as well as my solo 13.4-kilometer swim across Issyk-Kul. The 50 students who attended the lessons were very receptive to the information and comprehended the material better than I could have imagined. The swim was organized to enforce the healthy lifestyle lesson, the idea that you can do anything you put your mind to and to break gender stereotypes around girls in sports.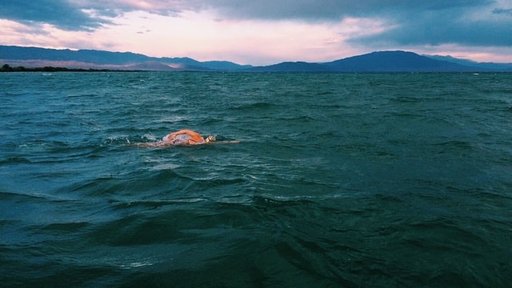 All of this flowed through my mind and powered my arms to push further and further through the waves, cold and wind that I experienced on the day of the swim. As I began shivering in the water from the cold, already more than three-quarters of the way across the lake, the two men and famous horse, Toru Aygur, who had previously swam across the lake flashed in my thoughts. I realized that it didn't matter how tired or cold I was — this swim wasn't about me or how I felt, it was for all of the girls and boys who have ever been told by others they couldn't do something or that they weren't enough. 

The support of my family, friends, local community and Peace Corps community has been overwhelming and inspiring. My hope is that others will be inspired by this story and will use sports to break stereotypes and predisposed beliefs in their communities around the world. 
I wish I could say that I did something incredible and inspiring, but it is the strong women, leaders and the everyday unrecognized heroes that have inspired me to attempt and complete this marathon swim. I simply followed Dory's instructions from "Finding Nemo" and "just kept swimming."