Jumping out of my comfort zone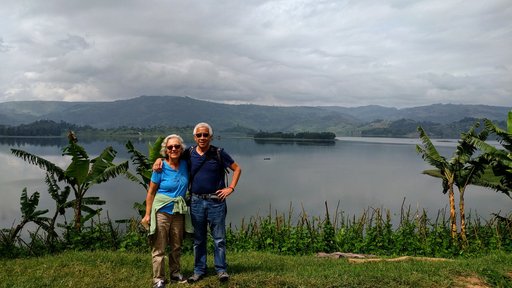 I'm an atypical Peace Corps Volunteer – over 60 and long-married (my husband is here as a Global Health Service Partnership Volunteer), three kids older than most Volunteers, first time to Africa.
Here's what I did get into: an extraordinary opportunity to immerse myself in a new culture, where almost every day something surprises, confounds, amazes, distresses or delights me. A few examples:
On a visit to a colleague's home and family compound, I was overwhelmed by all the fruits and vegetables I saw growing on our short walk: bananas, pineapples, peanuts, maize, sweet potatoes, cassava, avocados, oranges, mangos and at least 10 more crops on just a few acres. He and his extended family eat almost solely what they produce.
Uganda has one of the youngest populations in the world, yet a major concern of my colleagues is the struggle for tuition to ensure their children can attend private school, seen as essential to a bright future.
I anticipated what have been wonderful trips featuring close encounters with all manner of wildlife. An unexpected gift has been the dramatic beauty of southwestern Uganda.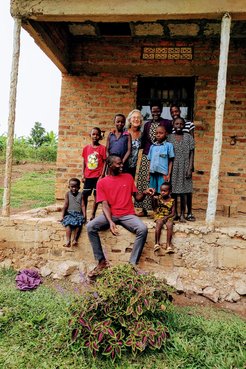 With power outages a regular and seemingly random occurrence, there's always the risk of not being able to complete a report by its due date, send a vital email, warm up the water for a shower, finish one's baking...
All but the main roads are dirt, so that when we get a downpour they are virtually impassable. Not making it to a meeting on time – or at all – because of the rain is a common – and reasonable – excuse.
I work at a mobile hospice, one of three sites of Hospice Africa Uganda, whose mission is to provide pain relief and comfort, along with family support, for patients suffering from cancer, HIV/AIDS and other life-threatening conditions. The compassionate and always busy nurses see patients in their homes, on outreach visits to rural health centers, at the nearby hospital and at the on-site clinic.
Hospice staff gather three times a day: at a brief daily morning meeting (a hymn, a prayer, and staff updates), for morning tea and lunch. This contributes to a sense of community and team spirit I have rarely experienced and greatly appreciate.
I quickly learned that with the small staff stretched thin, it would be up to me to be pro-active and show my value. Early on, I led a workshop on "Writing with Clarity," which turned out to be a great entrée. I am now called on for all manner of editing, including occasional papers for the third of the staff who are in school while working full-time and in many cases raising families. The ambition and enterprise I've witnessed at work and elsewhere are impressive; they speak to the optimism and can-do attitude of folks in the face of what seem to me some daunting obstacles, both financial and systemic.
I'm writing grant proposals with some hospice staff – a point of pride is our Peace Corps grant, through which 30 new community volunteer workers will soon be deployed to support and promote the hospice's palliative care mission in their villages. I've also found my way to the local public university's grants office, where I help with proposals and led a grant-writing workshop for university faculty and grad students.
It took decades for my husband and me to realize our long-held dream to live and work in a different culture. But it was well worth the wait for this remarkable experience, where I've engaged, stretched, learned and contributed, all the while gaining more than I could possibly give.