"I am a nurse because..."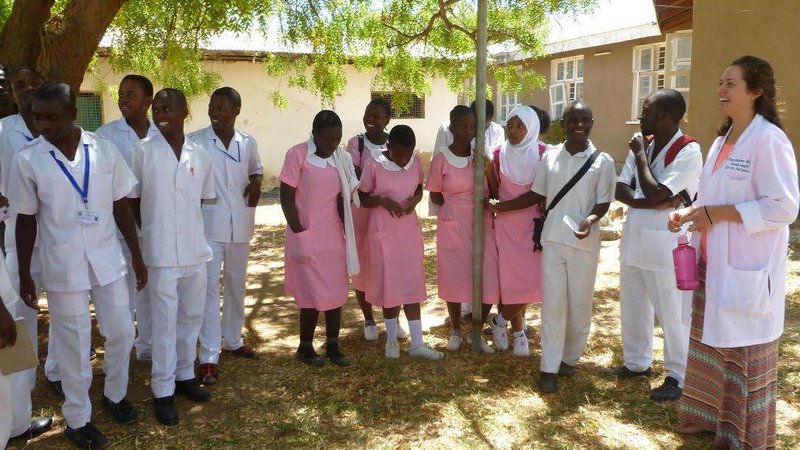 Feb. 18, 2015
What I love about life is the story. 
It's the story behind each and every one of us that not only has made us who we are today, but also gives us the drive to move forward. Moreover, through sharing our stories, we have the power to inspire others.
I had a friend in my algebra class in high school whose mother was a nurse. I was only 15, but even at that young age, I was deeply inspired by the stories my friend told me. Over the years, I heard more and more stories about the vital role nursing plays in health care and realized how nursing is one of the most impactful and meaningful careers. I had no idea where nursing would lead me or who I would meet because of it, but throughout my career, I have found that many nurses have been drawn to the field since its effects on people extend beyond the scientific reasoning underpinning the profession.
During my time as a Global Health Service Partnership (GHSP) Volunteer in Tanzania, I have heard incredible stories from my nursing students. While typically those in the United States are lauded for choosing a career in nursing, in Tanzania, the reaction is often less inspiring. Nurses in Tanzania face stigma from fellow health providers and patients, poor remuneration, and the challenges of working with limited resources. My students are nonetheless committed to becoming nurses and it is their experiences and hopes that have become constant sources of motivation for me. Their skills as nurses will impact the health of their communities for years to come and so, it is up to us to provide them the best training possible and to remind them of the nobility of their profession.
I hope these stories inspire you to help strengthen nursing education in Tanzania and in countries where there is a desperate need for more health care professionals. Everyone can help, clinician and non-clinician alike. I hope they become part of your story and your drive in life.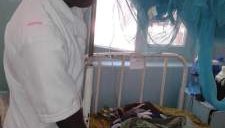 STEVEN
I asked Steven what inspired him to become a nurse and he told me the story of his grandfather's death. Steven grew up in a very rural village in Tanzania where the closest healthcare facility was approximately 75 kilometers (over 45 miles) away. In Tanzania, too many people die every day from treatable diseases because they cannot access the care they need. When his grandfather became ill, the long distance to the health facility prevented his grandfather from being seen by a health care worker, let alone receive treatment. Unfortunately, his grandfather passed away not long after becoming sick and it was then, at age ten, that Steven decided that he would become a nurse specializing in emergency care and would strive to change the health care system.
As a nursing student, Steven is already starting to create change. When I asked him what has been the most valuable thing he has learned since entering nursing school, he said, "I thought that going to the hospital would mean people were being cared for. This isn't true. There is a lack of care being provided even in hospitals and I want to change that." His response made me reflect on a situation we experienced together in the clinical setting and how even as a nursing student, Steven is improving patient care.
One morning during my ward rounds, Steven expressed concern about a patient that he had assessed and found to be hypotensive or suffering from dangerously low blood pressure. He had informed the head nurse of this ward and she responded by saying that the doctor would see the patient during ward rounds. Steven told me that he was very concerned about this patient as she was in an unstable condition and we went to re-assess her vital signs. As suspected, the patient's blood pressure had continued to drop and was now 57/45mmHG, which is considered emergently low.
I have stressed with my students throughout the year that it is one thing to have information, but our job as nurses is to do something with it. We informed the physician doing rounds and he came to the patient's bedside, and as we began to treat the patient, I was reminded over and over again of the realities of working in a resource limited setting. When we needed to start a new IV to begin fluid infusions, there were no cannulas. When we needed the fluids to resuscitate this patient's blood pressure, there were none available in the ward. Despite these setbacks, Steven showed me throughout this experience that he could handle the challenging clinical situation in front of him.
Later that day after I had returned home, I received a message from Steven with all of the information that he had documented from the first blood pressure measurement he took through the last notes from the end of the day. While this documentation is common practice in the United States, the reality in Tanzania is not parallel. Steven's documentation, however, provided me with the total picture of the patient and, as an educator, I was completely overwhelmed with pride knowing that he was able to capture this critical information successfully.
Steven has big goals as a nurse and he recognizes the need for greater access for Tanzanians not only to general health care but to emergency care in rural areas as well. Steven emphasizes the importance of his profession saying that "health care in Tanzania couldn't be without nurses. The nurses are there at the bedside to save lives and we need them in the villages to serve the people because they make the difference."
The story that Steven has carried forward with him through his grandfather's passing has already begun to leave a legacy behind that he may have never imagined. Not only did the hypotensive patient in the ward that day greatly benefit from his compassion, but the family members of this patient truly recognized the care and time he took to treat their relative. I asked Steven how he thought nurses could act as leaders in their communities and really make the difference to be the change. He told me, "I think every nurse is already leader. It is just time for us all to go out especially to these rural villages and invite them [to participate in] the education, bringing them the resources they need."
Where we have been influences where we are going. Finding the light in the dark times of our past can sometimes be the biggest challenge. In health care, we are often much closer to death than we would like to be and blame too often bubbles to the surface. For Steven, however, blame is not the solution. Instead, he strives to be a part of making positive lasting change.
We all have our own unique answer to the reason we lace up our shoes each day and go out into the world. Steven said, "I am a nurse because I want to play a role in reducing the rate of unnecessary death due to lack of access to health care worldwide and help free patients from their diseases." Students are the future and Steven is just one example of the beauty inside these classrooms and the hope for better health care in Tanzania and beyond.
This post first appeared on Seed Global Health