How I fell in love with the Peace Corps
"I'm finally joining the Peace Corps," I told my best friend at our favorite brunch place one Saturday in New York City. 
It was my last semester of graduate school, but it was no-brainer where I wanted to go after graduation. We had a similar conversation when we were graduating with our bachelor's degrees, but it never came to fruition. Three years later, I was finally fulfilling that dream. 
I was born in Korea and moved to the United States with my family when I was 10. As most immigrants' children would agree, the American Dream my parents were looking for was for their children to become successful doctors, lawyers and engineers. Unfortunately, by my junior year as an undergrad, I had disappointed them thoroughly with my subpar GPA. 
So, I made a bold move and escaped from academia, applied to study abroad, and decided to enjoy my last year in college. I flew to Spain without an ounce of Spanish, lived with a host mom in a small town, walked to class every morning and spent my evenings at local pubs watching football with Spaniards. 
This was a fun life: living in a new place and learning new culture. I wondered to myself whether perhaps this was the life and career I should pursue. Then, like a fairy tale, the Peace Corps came into my life.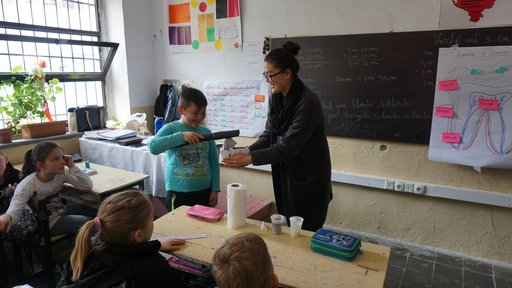 Among the other American students in Spain, I met someone who was in the process of applying to the Peace Corps. "What is the Peace Corps?" I had asked naively, and she described an organization that works in different countries, allows people to live with host families and supports local communities – and immediately, I knew I was in love. As soon as I returned to the United States, I decided to apply for American citizenship so I could join the Peace Corps when I graduated from college. 

By January of the following year, I was an American citizen and ready to join the Peace Corps; however, my parents did not approve of my decision to simply "volunteer for two years in faraway land teaching English." They were still disappointed that I was not med school-bound. 
To respect my parents, I sadly withdrew my application and decided to pursue a graduate degree that will want experience such as the Peace Corps. I wanted to learn more about effective and sustainable international development. I wanted to be a positive influence to a community through integration, respect and understanding. I wanted to pursue a career in global health program and management. 
During the years that followed, I worked full-time, took the GREs and began graduate school at New York University. I pursued a master's degree in public health and specialized in community and international health. I learned practical skills that can be transferred across disciplines and cultural boundaries. I learned to build communities and create sustainable programs to increase livelihood and quality of life. 
What began as a simple dream to live abroad among the locals had turned into my life goal of achieving an international career focusing on the health of global communities, especially those that are powerless, neglected and marginalized. 
The Peace Corps demonstrates humility and respect of cultural differences through integration, and it shows that even the people of one of the most powerful countries have a desire to love and care for those in need. We bring diversity and a piece of America (in my case, immigrant Asian America) to parts of the world that may never see it. 
When I look back on how I started my journey to the Peace Corps, I am reminded daily to do the same as a current Volunteer: to leave my comfort zone and take a chance on a new experience.