A Fulfilling Second Act: Serving as an older Volunteer in Namibia
I believe that older Americans are better prepared for Peace Corps and have huge advantages while serving abroad.
Having technical skills is a plus, but more importantly the various life experiences and perspective that you gain as you age are major assets living far from home.
Prior to Peace Corps, my business career took me to countries where I saw firsthand extreme poverty, while at the same time great wealth among my clients. I saw what many political and class systems do, and more importantly don't do, for the majority in need. This left me with a deep sense of social justice. When I retired from my corporate career, Peace Corps gave me the opportunity to fulfill the desire to do something meaningful. Most importantly Peace Corps' work centers on the community—a hands-on, bottom-up approach that connects directly with people on a daily basis.
From April 2018 until spring of this year, I lived and worked in a coastal town of Namibia. As a community economic development Volunteer, I primarily collaborated with the Namibia Chamber of Commerce and Industry. Namibia suffers from high unemployment, particularly among young adults. Providing knowledge to foster entrepreneurship is a cornerstone policy for the government. I facilitated workshops focused on business skills, entrepreneurship and financial literacy and worked with community entrepreneurs and under or unemployed youth. Engaging the local municipality, government vocational center and an NGO as collaborators was key to providing successful workshops. My secondary projects focused on mitigating food insecurity, expanding feeding programs for vulnerable children, and teaching business skills to youth.
The challenges in Namibia were the usual ones that come with living and working in a developing country where poverty is rife with many unmet needs. I also had to learn to navigate the cultural and language differences with my counterparts, clients and neighbors.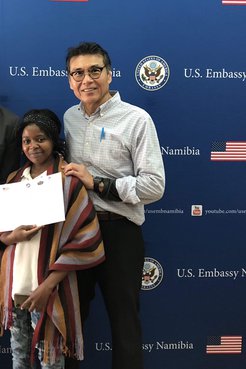 Being an older American male was definitely an advantage in a society that values elders, and particularly men. This provided instant credibility and helped me connect better with my learners, who were used to accepting advice from older authority figures. It helped me facilitate one-on-one mentor-ship to budding entrepreneurs who wanted more in-depth consultation or just a safe place to exchange ideas.
The only challenge as an Asian American was being an object of micro-aggressions, like being mistaken for Chinese. This was more an annoyance than a challenge, especially in a nation that suffered under apartheid. As an Asian American working in a non-White community, I had a certain sensitivity that a younger White Volunteer may not have had in relating to the problems in the community.
I am proud of my ability to gain new friends in a land I never dreamed I would live and work in, and especially my ability to navigate day-to-day life in a developing country. It was a joy to learn about a new culture. Cooking has always been a passion and to share that with my Namibian friends was especially rewarding.
I learned the importance of patience in Namibia. Namibia is a new nation, having gained independence from South Africa in 1990. The institutions are new, so the concept of public service and governance are still developing. The issues the country faces are far larger than what can be solved in even in one generation. I obsessed over whether I would be able to give as much as I received during my service. As a Volunteer hoping to make some change at the community level I realized that my impact might be limited given the finite amount of time I was in-country.
As I considered entering into Peace Corps service, I was able to focus on why I really wanted to join the Peace Corps. Since I am older, the Peace Corps was not a stepping stone to further my career and I experienced much less FOMO (Fear of Missing Out) than perhaps younger Volunteers did.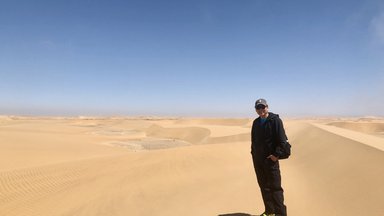 When Volunteers were evacuated in March, I still had two-and-half months left in my term and had already been approved for an extension. We had just finished our close-of-service conference on a Saturday and on Monday we received our orders to evacuate. Life is on hold at the moment. I'll have to see what the future holds when the program is restarted.
For those older Americans who want to make a difference and are willing to do it in a challenging environment, Peace Corps is fulfilling second act.
---