First-Gen Q&A: A Volunteer adapts to two new cultures while serving abroad
This is part of a series of Q&As with returned Peace Corps Volunteers who identify as first-generation college students and/or new Americans. Learn how they navigated the challenges of the decision-making process and service abroad.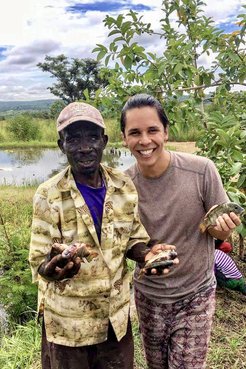 Thomas Badilla identifies as a new American and first-generation college student. He served as a rural aquaculture extension Volunteer in Zambia from 2017 to 2019.
"I was born in New Jersey and my family and I moved to Costa Rica when I was 4 years old. My parents made the decision to stay in Costa Rica, so I never went back to the U.S. as a child. I grew up in a country full of beautiful beaches, magnificent volcanoes, and kind people. My first language is Spanish, so I learned English during high school and college. I studied environmental management at Universidad Nacional de Costa Rica and, after graduating, worked for an environmental nonprofit for two years as an international volunteer coordinator prior to joining Peace Corps."
How did you first learn about Peace Corps?
I started volunteering when I was 18 years old. I had the wonderful opportunity to volunteer for sea turtle projects, national parks, and animal shelters in Costa Rica. Volunteering has shaped my identity and impacted my life in many ways.
One of my dreams was to serve people abroad and learn about other cultures, so when I met a returned Volunteer who'd served in Paraguay, I knew Peace Corps was the perfect fit for me. I did my research and fell in love with the mission of Peace Corps. When I found out that Peace Corps had programs in Costa Rica, I excitedly told my parents, and to my surprise they already knew about "El Cuerpo de Paz."
I considered serving in Latin America but decided that a different continent would offer me more of a life-changing experience.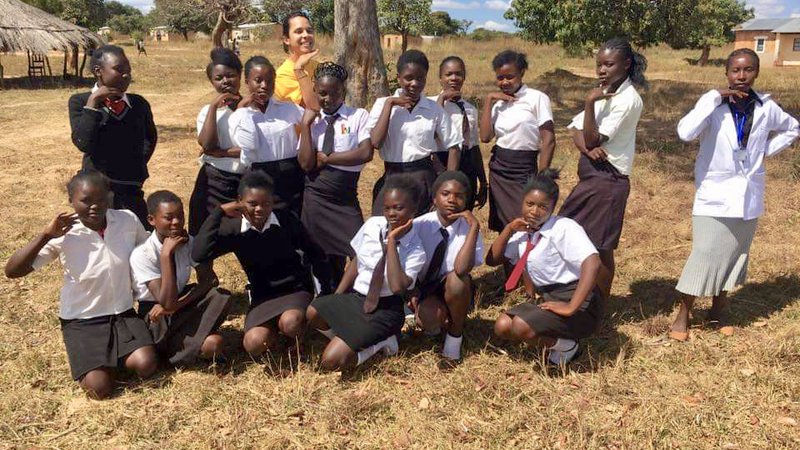 Did you face any challenges in pursuing your goal?
I was very concerned about my English. Before joining the Peace Corps, I could have a professional conversation with someone but lacked an advanced level of vocabulary related to intercultural competencies, international development, and community outreach. I was very nervous about my Peace Corps interview, so I studied and practiced a lot beforehand so I could describe my work and volunteer experience accurately.
What were your biggest challenges during service?
The biggest challenge I faced was integrating into two cultures at the same time. Since I grew up in Costa Rica, serving as a Volunteer in Zambia brought me into contact with Americans on a daily basis for the first time. In addition, I had to integrate into Zambian culture and learn the local language, Bemba.
I was very lucky to have a wonderful and supportive group of Peace Corps friends. They were very welcoming and always happy to teach me about American culture. I also made fantastic friendships with Zambians, who were extremely friendly, hospitable, and kind. All of those elements helped me to overcome my challenges.
What was a major highlight of your service?
A major accomplishment during my service was working and connecting with fish farmers. It was a great learning experience where we all shared knowledge of pond construction and management techniques as well as harvesting techniques.
In addition, along with Zambian community members and government officials, we were able to reduce malaria cases in our community by 12% between 2017 and 2018 through the distribution of mosquito nets and education about malaria prevention.
How did your family view your Peace Corps service?
My family was extremely supportive and eager to learn about my service experience and my community. I did not have good phone reception in my village so I would call them every two weeks when I had the opportunity to go to the provincial capital.
How has Peace Corps benefited you?
I appreciated that the program was free and it provided a housing and living stipend and free transportation to and from Zambia. I also valued the opportunity to learn a local language and benefit from in-service trainings and professional development.
After service, the non-competitive eligibility (NCE) status I gained helped me get my current federal job with Peace Corps. It's my first time living in the United States as an adult and it has been a very exciting experience. My job motivates me a lot because as a diversity recruiter in California I serve underrepresented communities and inspire the next generation of Volunteers.
My Peace Corps service was transformative. I was able to embrace and understand myself in ways I could never have imagined. Connecting with Zambians was an incredible experience; they taught me so much about the importance of being present and grateful. Every challenge I experienced was a great opportunity to learn, change and adapt. Overall, my service was a life-defining journey that helped me understand more what it means to be human.
Do you have any advice for first-generation Volunteers?
My advice to future Volunteers is to maintain good communication with your family and friends, do your research, check the Peace Corps website, and contact returned Volunteers about their experiences. If you are getting ready to apply, I would encourage you to connect with a recruiter who can provide guidance and support as you begin a journey of a lifetime.