Discovering community: Aisha and Eid al-Fitr
During my first year and a half as a Peace Corps Volunteer in Settat, Morocco, I had an apartment on the southern edge of the city, not far from the highway that wound its way south along the long plateau to Marrakesh, about two hours away. 
The apartment was far larger than a single woman needed with a spacious entry off of which there were doors to two bedrooms, a large living room, kitchen and a tiny bath and squat john. Sounds luxurious, right? Not. It came without hot water, kitchen appliances or heat, which meant the place was frigid during the winter. Still, as a Peace Corps Volunteer, I wasn't complaining and over time, I added homey touches to the furnishings, which consisted of a very few pieces of essential furniture. 
The apartment was on the third floor of a triplex, so I had magnificent views of the farmlands on nearby hills. A Moroccan businessman lived in the first apartment, above the ground floor garage, I occupied the second apartment and in the roof studio burrowed a Russian math professor. 
Aisha lived across a graveled, pot-holed alley in a tin-roofed, spotless, dirt-floored home furnished with cotton-filled cushions set on wood frames, seating during the day, beds at night. Outside the door, her enclosed yard was cackling, clucking, keening with diverse forms of life: rabbits, chickens, geese, chattering, complaining and gossiping among themselves. Aisha raised them all to eat, to sell and perhaps to keep her company.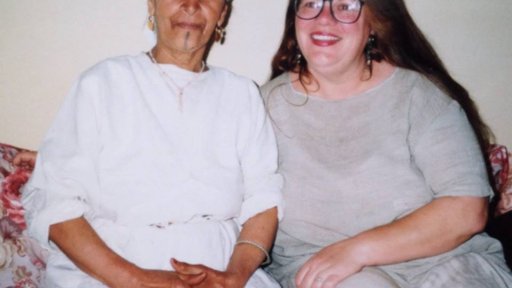 Somehow, in the first months at my site, Aisha and I struck up an acquaintance. Likely it was when she came across the narrow thoroughfare to use the tap at a neighboring building, fill two large pails with water and lug them back to fill tanks even larger than the pails with the water she needed for a day or several days. "S'bah al khair" I'd say by way of greeting, and she would respond in a far better accent, "Ahlan, k'dair?" She had no trouble or impatience with my limited vocabulary and suspect syntax, and she was truly interested in how an American of middle years managed to land in a small agricultural city like Settat. 

Soon, because I had no refrigerator and so couldn't save leftovers, it became my habit to wrap rice, noodles, bread and apple cores in one of the myriad plastic bags accumulated on shopping forays, tie a loose knot at the top and leave it on top of Aisha's outer mud wall, near the gate. These bits of food were added to others and served to Aisha's various flocks. 
Nothing is wasted in Morocco, at least among the poor, at least at that time. The garbage thrown in vacant lots or left in bags along the street awaiting infrequent trash pickups consisted solely of inedible remains. Bones of any kind — chicken, lamb and the rare beef bone — were picked so clean of flesh, cartilage and marrow that even the most ravenous creature would have turned up his nose at the offering. 
Leftover food was another matter. Settat abounded with livestock of all varieties and they all needed to be fed. If a person had land of any size, animals could feed off the silage left standing after harvest. Those without acreage, like Aisha, scrounged for morsels to keep the chicks, geese, turkeys and rabbits alive and thriving. 
Eid al-Fitr arrived at the beginning of February that year, granting me a couple of days off from my job as an English instructor at University Hassan Ist, the Faculté des Sciences et Techniques. Fully partaking of the local religious traditions, I had fasted much of the month of Ramadan, and so suffered the same pangs of hunger and nagging headaches as the devout Muslim population. No food or drink from before sunrise to sunset was the rule for one entire month. The fast had ended with the previous night's sliver of moon. I had looked forward to sleeping in and waking late, but the door buzzer blaring from 36 stairs down had other ideas. Instead of cursing ill fortune, I looked out the window and saw a form standing in the shadow of the front door awning that looked like Aisha. So I dressed quickly and traversed the staircase to the front door. It was Aisha, a welcome, familiar face. 
In nanoseconds, tears gathered in my eyes. She held a huge metal tray overflowing with traditional Eid breakfast delicacies. A short stack of msemen, or Moroccan crepes, held center stage on a large plate, dripping with honey that oozed temptingly into the pancakes' bubble holes. Next, little biscuits, several stuffed with almond paste, filled a tiny bowl. Fresh-squeezed orange juice sat in a clear glass and gave off an aroma so succulent that it filled the small entryway. Dates, probably from eastern Morocco, completed the delightful holiday meal. 
To say I was surprised doesn't cover it. This gentle woman, who hadn't a dirham to spare, thought not about the cost or time involved in preparing the meal but about the American woman all alone across the alley. It was one of those not-so-unusual Peace Corps moments when someone invites a stranger into their heart and culture.